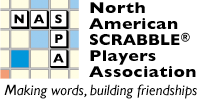 Go to: Early Bird Commentary Games Players Photos Standings Prizes
... tsh Reports ( A B C D CSW )
... Scoreboard ( A B C D CSW )
Back to NASC 2016 Live Coverage
NASC 2016 Commentary: Round 8
[ ]
Go to: Before the Tournament, Round 1, Round 2, Round 3, Round 4, Round 5, Round 6, Round 7, Round 8, Round 9, Round 10, Round 11, Round 12, Round 13, Round 14, Round 15, Round 16, Round 17, Round 18, Round 19, Round 20, Round 21, Round 22, Round 23, Round 24, Round 25, Round 26, Round 27, Round 28, Round 29, Round 30, Round 31, After the Tournament.
---
Round 8
Good Morning! John Robertson, our trusty division 1 leader, ran the ever-fabulous annual Trivia Contest last night after dinner. Of the smashing success, he writes: "The NASC Trivia Contest (with assistance and scorekeeping from Michael Gincel (Lakewood, NJ)) drew 103 participants split into 15 teams (of 6 or 7 players each). After 12 rounds of play, the team called "Rack of Lambda" finished first and won $260. Team members: Sal Piro (New York, NY), Mark Przybyszewski (Depew, NY), Richard Popper (Wilmington, DE), Howard Pistol (Oakland Park, FL), Jeremy Hall (New York, NY), and a non-SCRABBLE friend.
To give you a taste of the event's questioning flavor, the final two questions:
1. What is the only word in Abraham Lincoln's Gettysburg Address that starts with the letter "V"?*
2. Name three of the four TV shows that have finished atop the annual Neilsen Ratings for four consecutive years.**
* The answer is "VAIN."
** The answer is Gunsmoke, All in the Family, The Cosby Show, and American Idol.
Well, we are starting today with a bang! I walk by a game between Geoff Thevenot (Crystal Lake, IL) and Becky Dyer (Austin, TX) (before Geoff relocated to the Chicago area a year or so ago, they were club mates at the Austin club in Texas) and spot EtAERIO# and then Becky slaps down ANOINTED through the E for 74. Before she could even total the cumulative score, Geoff tossed down RESEATED through her A for a 131-point triple-triple! And I don't think he said thank you for that terrific opening she'd created. Later on, he got down NALOXONE. In the very endgame, she had an embarrassment of riches ELNSSS? but not a lot of open spots. She eked out several points despite not bingoing, but when it was over, they found the play she could have made: SKINLESS through an I, creating several overlaps. It would not have won the game, but it would have been much closer. A 429-386 win for him.
Matthew O'Connor (DeWitt, NY) vs. Evans Clinchy (Boston, MA). I see a string of nice early plays for Evans: RAZED for 57, TOUSTIE# for 66, and VINOLENT# for 74. Matthew, kept in it with COULOIR for 72 and RESIFTED for 89. But I revisited toward the end and saw Evans play WhEATEN for 76. Not sure of score right yet, but it was Evans' win.
So, this gorgeous board caught my peripheral vision. It was all spidery and spread out with very few plays. I watch Tony Leah (Ajax ON) grab the result slip and designate a T and then announce 90. I see RELEVANt through the second E. His opponent, Leslie Charles (Trinidad and Tobago), had that deer caught in headlights look. And then it occurred to me what had happened. That play was Tony's fifth play of the game and his FIFTH bingo in a row! They were ORALISM for 73, DELEGACY for 71, MOANERS for 70, and REsOAKED for 66. I returned at the end of the game to find Tony's sixth bingo: ASTHENIC for 67. A 564-307 win for the man from Canada! Way to go Tony!
Scott Appel (Elkins Park, PA) vs. Max Panitch (Toronto ON). The word PLAYA jumps out, as in, "you are such a PLAYA." Only works with a solid New York accent. Also, WINsOMER and DISTRAINT.
Clay Daniel (Charlottesville, VA) vs, Paul Holser (McKinney, TX): TaGLIKE, AHIMSA, REBBE, ANGARY, PELF, BHAJI, and HOURI. Sometimes I look at these boards and I shake my head. It is almost like I play another game entirely. And often, what separates the best from the just very good is the weird 5s and 6s. It is just like I play with 6 different kind of pieces in a chess game, and the experts have 257. :)
Matthew Tunnicliffe (Ottawa ON) vs. Richard Julian (Mountainside, NJ): More gorgeous words! ASSLIKE for 96 by Matthew and then BOWPOTS, QUANGO, ZAIDA, VARIX, HEMOID, FORTIES, and UNTYING.
Avery Mojica (Overland Park, KS) vs. Darrell Day (Richardson, TX): ERUV, MELIC, STROBILI, porkiest, HYALID, LIQuATE, and DAWT.
The game that has generated the most excitement though, was the one between Will Anderson (Croton, NY) and Ted Blevins (Cecilia, KY). It wasn't Will's FINCHEs for 81 or even his TRAVELOG for 74, but his BREaDNUTS through the NU for a 94-point double-double that started drawing eyes. Ted fought back, getting down OLEANDER for 62, but it wasn't enough. A 513-354 win for Will. Other fun plays: TEKTITE and TULADI, both dumps.
Mike Stafford (Columbus, OH) vs. Menachem Rosenberg (Atlantic City, NJ). I see Mike's NeIGHED for 78 and Menachem's DIOPtRIC for 84 and EPILATE for 77.
Two directors point out table 2 in division 3. Betsey Wood (Concord, MA) was playing Jason Vaysberg (Plymouth, MN). I know Betsey and as soon as I approached, she said, "Look at where I am and how good I'm doing!" I had to give her props for her record so far! What had caught eyes, was a neatly nestled play by Jason where he played PROSTiE, creating ALS, HOT, Ti, and POS. It looked like an almost impossible "opening," but he made it work for a cool 85. Betsey got down DINGIER for 73 and he played ASKINGS for 69, RAVENED for 82, and DUELERS for 91. A 509-361 big win for Jason.
Ken Dutch (Lexington, KY) vs. Edwin Roth (Philadelphia, PA): KERATIN, OUTEARN, BOOGIES, BISTROs, and INDUSIA. A 454-354 win for Ken.