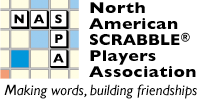 Go to: Early Bird Commentary Games Players Photos Standings Prizes
... tsh Reports ( A B C D CSW )
... Scoreboard ( A B C D CSW )
Back to NASC 2016 Live Coverage
NASC 2016 Commentary: Round 14
[ ]
Go to: Before the Tournament, Round 1, Round 2, Round 3, Round 4, Round 5, Round 6, Round 7, Round 8, Round 9, Round 10, Round 11, Round 12, Round 13, Round 14, Round 15, Round 16, Round 17, Round 18, Round 19, Round 20, Round 21, Round 22, Round 23, Round 24, Round 25, Round 26, Round 27, Round 28, Round 29, Round 30, Round 31, After the Tournament.
---
Round 14
The word TWOTImERS* jumps off a Frances Shaw (Fair Lawn, NJ) vs. Emily James (Petrolia ON) board. They have just wrapped up, a 405-360 win for Frances. I see OCCIDENT on the board.
Two of the youngest players in the NASC this year, Cooper Komatsu (Los Angeles, CA) and Knox Daniel (Charlottesville, VA) squared off the round. Cooper is 13 and Knox is 12. They aren't sure that Zachary Ansell (Los Angeles, CA) isn't even a bit younger than the two of them. ATONIES is a Cooper bingo and OVERDONe, rEGINAE, and TODDLERS are Knox's plays. No surprise then that Knox won this game, 471-289. In endgame chatter, I heard Cooper ask what ETESIAN plus a D is and Knox shot out: ANDESITE. I'm telling you, it is the voice of Adam Logan (Ottawa ON) coming out of these tiny little packages! Let me just say another thing about this generation of players: they are so polite, not only to staff and directors, but to each other. Earlier Andy Hoang (Cary, NC) brought this to my attention when he said of an earlier game "we played in the style of School SCRABBLE." He didn't mean in pairs, sharing the same rack, he meant within the spirit of the rules of the game with great sportsmanship and regard for each other. I'm making myself verclempt#!
Their game hardly started, I see REPLIERS on a Marcela Kadanka (Toronto ON) vs. Mia Kang (Chapel Hill, NC) top division 3 table.
Bryan Pepper is now offering to give his mojo to any player in need. Mad Palazzo (Richmond Hill ON) had gone 0-6 today and he pushed into her third eye and told her she would have a game any monkey could play (meanwhile Kristen Chew massaged her shoulders). When the dust cleared, she won that game by 202!
In addition to all their division 2 duties, which never end, Bryan and Kristen are locked into a deep battle of "steps." They have dueling pedometers cranking and they access them every few minutes to compare. At one point, I noticed Kristen rocking side to side, favoring one foot over another. I empathized with what looked to be her aching feet (we are on concrete covered in carpeting for hours a day—-and somehow I understand how Costco workers must feel by the end of every championship!) and she laughed and said, "Oh, my feet don't hurt at all, I'm just trying to cheat on my pedometer and add steps to my count!" This is some cutthroat competition! :)
A new name to me: Kirsten Klassen (Elkhart, IN) had just defeated Diana Bowen (Charlottesville, VA) at table 1 in division 4, 383-354. I see aNEROID and GROUpIE. Just as they were wrapping up, I heard Diana say, "Well, I have to challenge." The three of us took the field trip to the zyzzyva machine and learned that LAWNY is indeed good. When they returned, Diana waited for Kristen to situate herself before restarting her clock. Kristen played out with GIN through the I. Diana needed LAWNY to be bad to stand any chance of winning. She saw the outplay and she couldn't wend her woulda/shoulda/couldas without LAWNY coming off. Oh well.
Greg Rogers (Mishawaka, IN) had a monster win this round against Rachel Gillette (Lafayette, CO), 592-234. H points out his bingos: SHORTeN for 75, DAUTING for 81, and RELOADS for 65.
As I watch these top division 4 boards and players, I am struck by just how good they are. Division 4 players of old didn't know this many words. All the online tools and study guides are really helping raise the skill level of ALL players in ALL divisions.
The twins meet up over a game just finished between Paul Epstein (Ann Arbor, MI) and Thomas Reinke (Middleton, WI). I see INFERNOS and UNFUSED. Paul's win, 428-398. Charles Reinke (Middleton, WI) commiserates with his brother, having just lost his game, too. A dry, "Well, it would have helped to not challenge my opponent's good opening bingo, I suppose," said Thomas.
Ian Weinstein (Coral Springs, FL) has gone undefeated today and is in first in division 1.
Matthew Tunnicliffe (Ottawa ON), having had a less great day than Ian today said, "Well, I played TENABLE." I laughed and said, "Hey, I could have played that!" And he said, "That is the point." Oh, so I guess today was less than spectacular for Matthew. :)
A little bit of history, explained to me by Seth Lipkin (Hopkinton, MA). He says, "You probably don't remember this, but 10 years ago, I called you over to see my then opponent's play of CROQUETING* through the separated first E and IN. I called it an outrageous phoney and called it off." I pretend to have a vague memory. But the point of all this is that his opponent then got revenge today. Matt Canik (Austin, TX) called out Seth's CRANKIT*. Matt said he laughed out loud and challenged. A form of revenge. But Seth is getting the last laugh here. After losing his first game today, he went on to win all the rest.
About 10 people crowd around one of the last games to finish in Collins. I see FALTeRING, BIALIES, and COQUETS, but not a lot else because about 37 tiles are on the sides as Stefan and entourage try to figure out if he could have won (Jason Ubeika (Mississauga ON) won this matchup, 415-365.) I'm not sure if they ever found the resolution they wanted, but Evans Clinchy (Boston, MA) and others were trying to make it work.
Jackson Smylie (Toronto ON) is incredibly calm about losing 5 games in a row today.
Matt Canik (Austin, TX) has four winning games that are distinct by their spread: 1, 1, 2, and 3. That is 4 wins with +7 spread. Talk about squeakers!
The last game to finish this round was between Adam Logan (Ottawa ON) and Marty Gabriel (Charleston, IL). They only started after the room was almost empty! After the game was over, Adam told me he won. He ends the day 9-5 and isn't completely out of it yet. He said the games best play was made by Marty. Holding ENSSTT?, he found STATESMEN through the ME. After the game had wrapped up, David Eldar (Australia) showing why is is dominating Collins so far, walked by and tossed off, "Takes a front hook E, btw." Sure enough, ESTATESMEN# is good in Collins! Wow!
Robin Pollock Daniel writes:
Some nice words in the Matthew Tunnicliffe (Ottawa ON) vs. Joey Mallick (Cape Elizabeth, ME) game: COVERTER, (t)ENABLE, ETHMOID, and WOOME(r)AS. Matthew's win, 458-401.
I've been reading a book on epidemics and plagues (yes, in my spare time; I have no life), and so found myself attracted to the Joshua Sokol (Montreal QC) vs. Alec Sjoholm (Lynnwood, WA) board. My eyes were drawn to PARVO (a kind of virus) and MA(l)ARIAS. Considering that the parvovirus is thought to originate in cats and manifest in dogs, BARNIEST seemed an appropriately-played bingo. I also saw REVERING and PELOT(a)S. A 445-354 win for Josh.
More nice words in the Joey Krafchick (Atlanta, GA) vs Jesse Day (Berkeley, CA) game. THIRAMS/UPROARS, TALEGGIO, NAPERIES, STEELIE, and XYLAN. Jesse's victory, 396-356, and he ends Day 2 in seventh place, two behind Joey.
Some beautiful overlapping happened in the Jason Keller (Highland Park, NJ) vs. Matt Canik (Austin, TX) game. BE(n)AMES went down vertically, and so did OLEFINE to its right, making (n)O, AL, ME, EF, and SI in the process. Also on the board were URTIC(a)TE, PANTHERS, ENTRAILS and WIDOWERS. Those last three create a vivid image, don't they?
Scott Appel (Elkins Park, PA) and Laurie Cohen (Tempe, AZ) had a barnburner of a game. I saw TANAGERS, INLANDER, CRANNIES, BOA(s)TING, AILMENT, and FLE(a)BITE. Laurie appeared to be behind and set herself up beautifully to come close with a late game 78-point RISQUE. Thinking he had stuck her with the V, Scott started to play off one tile at a time, not realizing that Laurie had VOES to go out. Luckily for him, he was sufficiently ahead and, when the tiles settled, it was Scott's win, 468-455.
I didn't follow many CSW games this round, opting instead to look for fun words. Tony Leah (Ajax ON) and Geoff Thevenot (Crystal Lake, IL) had TELESALES#. On the Robert Linn (Potomac, MD) vs. Eric Kinderman (Burlington, VT) game, I noted TWERKED#. Other #-only words included CURNY, VIAE, QUINO, AMULETIC, SEANING, and ENCREASE.
Day 2 is in the books! Another wonderful day of fun yet intense games, beautiful finds and agonizing misses, and, as always, lots of love and friendship. And to end this sweet day, a dessert reception tonight!