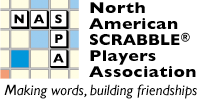 Go to: Early Bird Commentary Games Players Photos Standings Prizes
... tsh Reports ( A B C D CSW )
... Scoreboard ( A B C D CSW )
Back to NASC 2016 Live Coverage
NASC 2016 Commentary: After the Tournament
[ ]
Go to: Before the Tournament, Round 1, Round 2, Round 3, Round 4, Round 5, Round 6, Round 7, Round 8, Round 9, Round 10, Round 11, Round 12, Round 13, Round 14, Round 15, Round 16, Round 17, Round 18, Round 19, Round 20, Round 21, Round 22, Round 23, Round 24, Round 25, Round 26, Round 27, Round 28, Round 29, Round 30, Round 31, After the Tournament.
---
Awards Ceremony
A smooth and easy Awards ceremony commenced right on time at 1:30. Alan Stern (Shadow Hills, CA) thanked Nigel Richards for not showing up for the second year in a row so one of us could win and he asked Bryan Pepper to microphone.
Bryan gave a brief talk about the Rose Award (presented by Bob & Andi Schoenman to a female player who best exemplifies the fierce competitiveness and compassion that we remember in Rose Kreiswirth, gone too soon). "The recipient this year, though short in stature, is tall in compassion and commitment to our organization," said Bryan. And then he invited Judy Cole to the front. A touching and deserved moment.
Alan then brought up each division leader, one at a time: Kieran O'Connor, Daniel Stock, Bryan Pepper, Jason Idalski, and John Roberts. They quickly went through many prizes and each winner was invited up to the front to pose with Chris Cree (Dallas, TX). Patty Hocker took photos.
Applauses were showered on the winners of various prizes and a bit more enthusiasm went to the division winners (their lucite trophies were fetching!). David Eldar (Australia) got a standing ovation for his tremendous success in the Collins division, his 27-4 record was six games above the next finisher!
And then David Gibson (Spartanburg, SC) was announced and received his own standing ovation. He posed, misty eyed with Chris Cree (Dallas, TX), then with John Chew, Dallas Johnston, and the big check. He went right up on stage to the microphone and gave a great post-win talk. He said, "Hi, I'm David and I'm a Scrabaholic." We all laughed. He went on to talk about how he misses things, like new words. "It is like learning a new language and it is easier at 5 than 65!" He then referenced how he tells his students that mistakes are actually okay and that intelligent people learn from their mistakes. After the seriousness, he went funny and thanked Trey Wright, a past NASC champion (and accomplished musician and accomplished person) for not attending, because David's record against Trey is 7-0 as in 7 losses. We all chuckled at that. He referenced how he loved the community and his friends, new and old. Then he gave a shout out to Rafique Khatri (Pakistan) a new friend who was staying at the same off-site hotel. They traveled to and from the venue and ate meals together. He said, I tell people I have two birth places: Raleigh, NC, and 3rd base (referring to being born into fortunate circumstances, a baseball reference). He referred to how great his parents were, how they loved words, and how SCRABBLE was their family game of choice. He thanked his lovely wife, Nancy, who had never played a game of SCRABBLE prior to meeting him. During their first game, she played JUNTO and he knew all would be okay and that he had a winner. He thanks his caddie, Kate Watson, and told her he'd be sending her 10% of his winnings. Then, most touchingly, he opened his arms upward and wide and said, "Thank you to all of you for being so sweet to me, this game, and to our community."
Aw, David, you already had us. We love you, too.