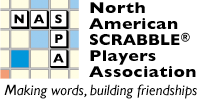 Go to: Early Bird Commentary Games Players Photos Standings Prizes
... tsh Reports ( A B C D CSW )
... Scoreboard ( A B C D CSW )
Back to NASC 2016 Live Coverage
NASC 2016 Commentary: Round 31
[ ]
Go to: Before the Tournament, Round 1, Round 2, Round 3, Round 4, Round 5, Round 6, Round 7, Round 8, Round 9, Round 10, Round 11, Round 12, Round 13, Round 14, Round 15, Round 16, Round 17, Round 18, Round 19, Round 20, Round 21, Round 22, Round 23, Round 24, Round 25, Round 26, Round 27, Round 28, Round 29, Round 30, Round 31, After the Tournament.
---
Round 31
So, this round, division 4 was going to be settled by a Doug Critchlow (Columbus, OH) vs. Marc Booth (West Lafayette, IN) rematch, their 5th game together. They were 2-2 going in. I saw rECENTLY, CATFIGHT, ASSURED, REjOICER, and STRAyING on their board. In the end, it was a 497-369 win for Marc. He was soooo very relieved, after a five-game losing streak, to win the game. Of Doug, Marc said, "He drew no blanks and still got almost 400 points. He is a very good player." Thus Marc wins the division! Congratulations!
John Karris (San Jose, CA) drew a challenge with his triple-triple gRAZIERS through the Z for 194 points. This was after his play of LACERATE for 74. His opponent, James Porter (Cleveland Heights, OH) got down ISOLINE (blank L). No surprise, it was John's win!
I noticed something strange this round: David Gibson (Spartanburg, SC) played Ian Weinstein (Coral Springs, FL) and table 2 with Jason Idalski at the end of the game, observing. It turned out I missed half the news last round. Both David and Ian earned their spots and were gibsonized as of last round's results. Instead of having them play others out of contention, they played each other and they were observed so there would be no throwing the game to many affect prizes for others down the line.
Matthew Tunnicliffe (Ottawa ON) and Orry Swift (Houston, TX) longtime friends and game fanatics (SCRABBLE and video), played at board 3 in division 1. I see Matt's TITTUPEd and IDEOGrAM and Orry's UNHOLIER. In the endgame, I heard Orry say, "you blocked it." Matt said, "You had TERRIFIC?" Orry said, "Of course I did!" I saw a C on the bottom of the triple lane and a quick glance seemed to flesh out Orry's tiles and that possibility. I walked by and before I knew it, it was gone and picked up, a 431-360 win for Matthew, last year's NASC champ.
Matthew O'Connor (DeWitt, NY) is all smiles. He is one of the first to finish this round. He ends up 17-14 and he's happy with that record. He played Brian Bowman (Villa Hills, KY) this round and got down HANGARS and OUTVOTES. From memory, he tells me that Brian played LANGUES# and REGRADE. Matthew, a recent high school graduate, is off to Skidmore in upstate New York for college this fall. He says he'll probably study computer science. Best of everything to you, Matthew. I have a feeling you will accomplish anything you set your mind to.
Everyone else long gone from the tables around her, I find Lauren Werner (Kenmore, NY) looking over her completed game against Ben Greenwood (Florence, MA). It was a good game, Ben's win, 407-393. She admitted she hadn't played in about 4.5 years, and that she has the general goal to p ay in division 1 before she dies. I tell her how possible it all is. She got down INSIDEs and DESTAINS and Ben played REACTION and had the outbingo NAtURES, which won him the game based on her rack: EMQRY. Ouch. She got the Q in her last draw. This means that Ben, who had to win his last two games did just that! Congratulations to Ben for again winning an NASC division title!
Dylan Sharma (Singapore) had his crack at David Eldar (Australia) this round. He had basic early bingos of NUTSIER and DINGOES, but David was able to get enough points turn after turn to eke out the win. Let it be known: David didn't play one bingo that game!
Peter Armstrong (Portland, CA) and Winter Zxqkj (Houston, TX) had wrapped up their game and Winter was gone in the ether (probably, sensibly, to get lunch). Peter was looking over the board and thus I could (and did) pounce on him. He said the toughest choice he had to make was one of the first plays. He had to decide on GENTILIC. He wasn't totally sure and it drew a challenge so then they were both sure that it was good. Peter got the fun double-double down while playing only four tiles through DEX on the board: INDEXED for 64. Peter also got down LEGATEE (blank L). Peter was afraid of being Q-stuck, but two good things happened. One, he drew UA on the last draw. Two, Winter didn't block the open E, so he played QUARTE for 70 (gulp). A 474-398 win for Peter, but a game that was closer than that score would indicate.
So, a very unique thing just happened to me. Richard Popper (Wilmington, DE) approached me with his paperback Tournament Word List. He said he was finding players who had names in the book. I had two names in the book: JOHN and SAINT, so he had me sign by SAINT (makes sense, there is a lot of competition in the John arena!).
Just as Richard walked away, I was still sitting by the Peter vs. Winter game and Evans Clinchy (Boston, MA) came up chanting, "Richard, Winter, Richard, Winter, Richard, Winter, Richard, Winter...." Frankly, I was a bit mystified, what did he mean? Well, he looked at Peter's scoresheet and said, "Oh darn, Peter! That just cost me $300!!" I guess he already figured where he finished in the division!
Mike Baron (Corrales, NM) comes up to give me a heartfelt hug goodbye. He is going back to the desert of New Mexico and to Pamina, his lovely wife. I sent my regards and asked how he did. He said, "Oh, it was the big fade...."
You can see this game in the annotated game section (last Collins matchup), but I get a little insight from the game winner, Adam Logan (Ottawa ON). Evans Clinchy (Boston, MA) started the game with AFIII?? Adam opened with BUBU and Evans then dumped 5. On his next turn, he made the lovely QuIXoTE for a bunch of points. Adam went on to win the match with a bunch of high-scoring smaller plays, like PINKEYE 40, JUNTA 38, HOAST# 49, INDIA# 37, TUPELO 38, and STELLED# for 75.
The game picked up, Joe South (Piqua, OH)and Roy Kamen (Covina, CA) tell me that Joe won their game, 444-437. I think their game came down to a block Roy made and that he got stuck with no vowels in the endgame.
David Turissini (Chapel Hill, NC) defeated Mark Fidler (Waltham, MA) to win division 2! Congratulations! David reported that it was honestly an incredibly lopsided game that he know from the third turn he would win. He played RELATION through the O for 66, OSTrACOID through the T for 70, HERTZ for 54, and JUDY for 30. When Mark opened up the bottom lane, David was able to get down SIMPLEr for 108, GIARDIA for 67, then KAF for 38. A friend stopped by and he said, "I couldn't believe it! I averaged 66 points per turn for the first 6 turns!" It was after game 6 that David was last in first place and it took until round 31 to finally get back! A 546-325 win for David. Despite joining competitive SCRABBLE at least four years ago, this is David's first nationals. He reasoned that because he was from Indiana, he could work out a family & friends visit afterwards in Indianapolis. David is doing his postdoc as an evolutionary geneticist at UNC (at Chapel Hill). I said, "wait, do you know Andy Hoang (Cary, NC)?" He said he did and that he thought Andy would be soon taking a class in the lower level of this building he works in. Maybe there will be after-work game sessions in their future!
Big thanks to Dallas Johnson and Sue Grogan-Johnson for running another flawless nationals. If you have ideas for improving our annual event (even if you didn't attend), please go to the survey on the NASPA web site. NASPA is looking for your input! Thanks to Rashad Miller for coming in and producing the great TwitchTV coverage again! Thanks to the folks in Fort Wayne for making our stay so enjoyable!
Try to get yourselves to the next Nationals in New Orleans!