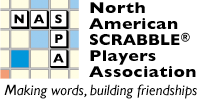 Go to: Early Bird Commentary Games Players Photos Standings Prizes
... tsh Reports ( A B C D CSW )
... Scoreboard ( A B C D CSW )
Back to NASC 2016 Live Coverage
NASC 2016 Commentary: Round 16
[ ]
Go to: Before the Tournament, Round 1, Round 2, Round 3, Round 4, Round 5, Round 6, Round 7, Round 8, Round 9, Round 10, Round 11, Round 12, Round 13, Round 14, Round 15, Round 16, Round 17, Round 18, Round 19, Round 20, Round 21, Round 22, Round 23, Round 24, Round 25, Round 26, Round 27, Round 28, Round 29, Round 30, Round 31, After the Tournament.
---
Round 16
So, my helper this morning, Conrad Bassett-Bouchard, is wearing two event name badges: Mack Meller (Bedford, NY) and Will Anderson (Croton, NY). Sigh. Since he had them on, I showed him how the cool QR reader thingy worked!
Early on in Mark Fidler (Waltham, MA) vs. Andy Hoang (Cary, NC): WAITERED. Mark didn't like his tiles and did a big trade. I think he didn't like that all he seemed to get were Os and Ts!
So, big excitement in division 3. Phyllis Koselke (Hammond, IN) squared off against the indomitable Ben Greenwood (Florence, MA). Early on I saw his AVERTING for 64 and her GAZetTE for 87. She was a bit ahead when Ben had an OUTGRIP* rack. He tried OUTGRIPe* and off that came. Then, he tried OUTERTIP* and off that came. I decided to slink off for a bit in case he went in for a third phoney! She ended up with the win, 462-352, despite him coming back with DELETORS in the endgame. She laughed after she handed in the slip. Unluckily for Ben, she had just looked that rack up yesterday since she'd had it then. And she KNEW that OUTGRIPe* was a phoney. Just his luck. This is only Ben's second loss and it was an exciting win for Phyllis.
Josh Greenway (Toronto ON) vs. Knox Daniel (Charlottesville, VA): DONATeD and BUtANES are by Knox and the game is about 2/3 done. Knox writes in about 4-point type (okay, maybe I exaggerate, 6-point), and I can't read his scoresheet, even with reading glasses!
Alan Stern (Shadow Hills, CA) vs. Mark Garrod (East Lansing, MI). I see five bingos so far. Three for Mark (OUTWILe 73, ENDIVES 79, and GLOMERA 68) and two for Alan (ANOTHER 67 and INTImAS 89). I find out later, after the game is up, that Mark won, 489-389.
Tim Weiss (Jersey City, NJ), wearing a Kevin Bowerman (Chapel Hill, NC) name badge, played Bradley Whitmarsh (Attleboro, MA) this round. I see Tim's CUSPATE for 87 and Brad's TINWARE for 72, ROOTAGeS for 59, and MARRIERS for 72. A 413-361 win for Bradley.
You can tell this game is tense—-there is a sheen of smoke rising up in the air. Brian Bowman (Villa Hills, KY) has played DASHIkI and SPORRAN. Adam Logan (Ottawa ON) has OUTRIDES and WOOLLESS*. I wonder how TURIKS has gone down but their scoresheets are beyond hard to read. I gander back a few times and they are still concentrating. At my last pass, I see Adam with 7 seconds on his clock, a Q and at least one other letter upside down on his rack (poised to go onto the board, oriented upside down to go down without turning the board around to save seconds). I run away, so as not to cause any further stress. I find out later that Adam did play upside down but he transposed tiles (?) or something went wrong and he lost the game. A great turn of events for Brian (who, remember, missed three games due to a flat tire he got on the drive here day 1), but a bummer for Adam. Brian is playing at the top table despite his late start and forfeit losses on day 1.
Jason Keller (Highland Park, NJ) is playing Scott Appel (Elkins Park, PA) this round. I see Scott's VOMiTAL for 77 and UNTIDIER for 63 and Jason's PLATIEST for 61 and SORCErY for 81. I am waiting for Jason to appear on the new game show 500 Questions. After he won a quarter million on Jeopardy!, he would be terrific on the new show (he's smart and exudes a lot of personality -- something the new show thrives on).
Steve Bush (Richmond, KY) vs. Jerry Lerman (Foster City, CA): ASTRINGe for 83 and DEAIRED for 97 for the Marlboro Man and INTERMAT for Jerry.
David Gibson (Spartanburg, SC) vs. Seth Lipkin (Hopkinton, MA): AGONIES for 74 and the nonbingo ENOUNCE for Seth and a bunch for David: RESHAVED 80, FUSIBLE 82, and QUAiNTER for 101. A 476-408 win for David.
Table 1 in division 4: Greg Rogers (Mishawaka, IN) defeats Diane Sleek (Freeport, ME), 484-237. He got down REMISED (which drew a challenge) and DASHERS. Greg went on to tell me about the names of reindeer and German words for thunder and lightning.
Conrad Bassett-Bouchard writes:
It's a round of -INGS words! I'm inspired by Dave Krook (Mississauga ON) and Michael Bassett (Port Clinton, OH), who have the word ALIASING one spot short of the "triple lane". I happen to know ALIASING is a noun, due to my music background, but will Dave try to play his bingo of POINTES there? He eventually opts for a different bingo, but now the -INGS words are showing up everywhere!
I see BONDINGS and TUFTINGS which are both good. READINGS on another board is of course good, but did you know REREADING is also good? How do people decide whether or not an -ING word takes an S? To cap it off, on a pretty Division 4 board between Roger Blaine (Mishawaka, IN) and Cindy Zimmerman (Unknown city, NE), LEAVENING is on the board. Would you add an S to that? I know this one, thanks to, I believe Charles Reinke (Middleton, WI) confidently hooking an S on it versus, if I recall correctly, the legend Dave Wiegand many years ago (it's good!)
My absolute favorite game of Round 15 has got to be a division 3 game between Nola Hembrook (Marshfield, WI) and Shelley Kirk (Wyoming, OH). I have to ask them about their game, as I see a plethora of unlikely bingos! There's GLITTERY and UNKINDLY and SOFTIES, and Nola's game-winning AVIaTRIx. Shelley notes that it was a very nice even game until Nola found the low-probability X bingo to pull away. So close, in fact, that prior to the bingo, it was just a one point game! This former champ is seriously impressed by these two.
COENZYME is on a board between Clay Daniel (Charlottesville, VA) and Cesar Del Solar (Albany, CA). I can tell Cesar played it because he looks happy. He won that one, too.
The Orioles fans are in full force today as I've seen multiple bright Orange shirts. I'm a diehard fan of the other orange and black team, but...Go O's?
Dan Stock points out SUNDANCE*. Awesome phony! And if you were wondering, MOONDANCE isn't a word either.
Good friends Mack Meller (Bedford, NY) and Avery Mojica (Overland Park, KS) have an intense game going. I eventually find out that Mack wins on the strength of AUNTIES, INFERrED, JUDOKA, TRAVESTY. While I'm writing about the game, Avery notes that Mack unwittingly blocked the natural ZOOMA(N)IA, a play which may have greatly changed the outcome. Avery's CaREENED and SIRENIAN are not enough, as an ill-timed Q draw seals the deal for Mack.
in CSW land Brian Bowman (Villa Hills, KY) and Adam Logan (Ottawa ON) have a picturesque arrangement of words on their board including DASHIkI, OUTRIDES, SPORRAN, WOOLLESS, and TUGRIKS. They are the last game to finish this round. When the game finally ends, I take a look at Adam's scoresheet and find that Brian won the round something like 442 to AARGH.