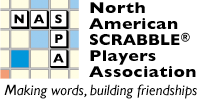 Go to: Early Bird Commentary Games Players Photos Standings Prizes
... tsh Reports ( A B C D CSW )
... Scoreboard ( A B C D CSW )
Back to NASC 2016 Live Coverage
NASC 2016 Commentary: Round 18
[ ]
Go to: Before the Tournament, Round 1, Round 2, Round 3, Round 4, Round 5, Round 6, Round 7, Round 8, Round 9, Round 10, Round 11, Round 12, Round 13, Round 14, Round 15, Round 16, Round 17, Round 18, Round 19, Round 20, Round 21, Round 22, Round 23, Round 24, Round 25, Round 26, Round 27, Round 28, Round 29, Round 30, Round 31, After the Tournament.
---
Round 18
I yield my Will Anderson (Croton, NY) vs. Matthew Tunnicliffe (Ottawa ON) colour to RPD below.
David Gibson (Spartanburg, SC) continues his winning ways (all four this morning!) against Paul Holser (McKinney, TX)this round, 467-369. This is his 9th game in a row where he's been in second place to Ian Weinstein (Coral Springs, FL), who is two wins ahead. I see DELUsORY, TRINARY, EQUALIZE, GUMSHOED, RENEWALS, and DISEASED on their board. I note the play of TIZ, kind of hanging out near the right triple lane. I hear Paul say, "That TIZ killed the board, David." I asked if he'd done it on purpose and David nodded. He said he had to kill lanes as Paul was coming on strong. They shook hands at games end as friendly competitors. Great to see.
Mark Francillon (Marlboro, VT) vs. Tony Leah (Ajax ON). Game in progress, I see SQUALORS for 101 and COVERLET (blank L and T) for 72 (Mark's plays) and RESISTING for 70 (by Tony). I missed the rest of the game, but it was Mark's win, 430-381.
Pretty board between Bradley Whitmarsh (Attleboro, MA) and Peter Armstrong (Portland, CA). I think this is a rematch, Peter won the last game (in round 15) and Bradley took this one, 497-405. I see ULTIMATA 63 (blank L), DRIBLET 72, HOLdOUT 68, and ETHANOL 69 for Bradley. I think PLESSOR 85 and SCANNER 79 were Peter's.
I finally find Zachary Ansell (Los Angeles, CA) again. He reports that he is 12, like Knox, but no idea who is a bit older or not. I guess young kids don't compare their ages and birth months that often—-too busy with video games, right? Zach is 2-2 today and in great spirits. His overall record is 8-10.
I run into Puneet Sharma (Cambridge, MA) and tell him he was my only Sharma until this NASC when I met Dylan Sharma (Singapore). Punnet quipped, "Yeah, my wife loved our unusual last name until I brought her back to visit family in India where nearly everyone has that name!" I said, "the Smith of India?" He laughed and nodded. Inspired by the conversation, Evans Clinchy (Boston, MA) dug out his pocket anagram program and started looking up alternate spellings or words like Sharma. He found SHAWARMA.
David Eldar (Australia) is yawning again. He won all four this morning and has developed a callus from that same chair at the annotated Collins top table.
Both top table games in division 4 wrapped up late this round. At table 1, Greg Rogers (Mishawaka, IN) was working on Doug Critchlow (Columbus, OH). By the time I happened by, Doug was down to 7 seconds on his clock and it was his turn. I kept going, worrying for his overtime deb. I spotted RETINAL, TOADIeS, FRITTERS, and REANOINT on their board. It ended up a 430-383 win for Greg and Doug explained how Greg had been masterful in blocking the board, preventing LINSEED from going down.
Diana Bowen (Charlottesville, VA) lost a tough one to Marc Booth (West Lafayette, IN)this round, 400-431. I see his NERoLIS for 64 and DOTTERS for 73. She got down REACTInG for 89. He is distinctive in his eye chart inspired T-shirt. I congratulated him on his win and he said, "I got a blank this time. She won our last game, but she had both blanks." I guess he only needs 1!
John Robertson, division 1 leader, is officiating at the Nationals for the 13th consecutive year. He was a baseball and softball umpire for 30 years in and around his hometown of Cambridge, ON. One of his umpiring colleagues, Fred Malatches, will be working at the ISC World Softball Championship tournament next weekend in Iowa. He tells me, "I told Fred that we've both reached the apex of officiating—-one is SCRABBLE and one is softball. Not bad from two guys from Cambridge, ON."
Off to lunch. :)
Robin Pollock Daniel writes:
Most people are pretty happy after a victory, but the lovely and sweet Will Anderson (Croton, NY) is often found lamenting his prowess. In his game agains Matthew Tunnicliffe (Ottawa ON), Will responded to Matthew's ENSILES with INVESTOR, and then, straight out of the bag, drew ABEHOTX, giving him a stunner to the S*. Lucky? Yes. Would we all have found it? Right. (I'm not talking about you, Marlon.) Will then double-blanked Matthew to play LI(q)UATE and R(a)NCHER for a 493-377 win.
Joe Edley (Port Jefferson, NY) IV-injected some life into his bid for a spot in the finals, scoring a 390-361 victory against Clay Daniel (Charlottesville, VA) (no relation!) to play PR(i)(v)ATION through the TI. Also seen were CRAALED and LONGTIME. Remembering: if you have MOTELING* on your rack, you have LONGTIME.
I've rarely met anyone with such equanimity as Jerry Lerman (Foster City, CA), and he was as poised and phlegmatic as ever after what felt to me like a pummelling at the hands of Alec Sjoholm (Lynnwood, WA). An early PHOCINE for 73 by Jerry was swatted away by the 1-2-3 punch of ANEROIDS (72), RETIAR(i)I (64), and ZOOEY (60) by Alec. Jerry tried to uppercut with the lovely natural TRUEBORN for 70, along row 2, but Alec, holding the blank and an ING jabbed back with L(o)UTING along the overhead triple row to secure the 456-394 TKO.
In CollinsLand, I spotted EPICEDI(a) to the A on row 15 for 95 , BLUSTERY, TOPAZ for 51, UNCAGED, and ASTHENIA in the board pitting Joel Wapnick (Montreal QC) against Brian Bowman (Villa Hills, KY). A 498-416 win for Dr. Wapnick.
You know those games where you start the game with a 4-point vowel dump, then your opponent also decides to rack balance by dumping for 6, and it takes about six turns to hit 100 points? Not so in the game between Marty Gabriel (Charleston, IL) and Ben Schoenbrun (Ardsley, NY). Marty started with TREAGUE#, Ben responded with GELIDLY, and then the real fun began. On the board were STA(r)WORT, FIREBRAT, INCUSED, INOSINE, ANISOLE, and KETCH for 48 before I had to pull away. And now that I see the final score, I wish I had stayed: 505-501 for Ben! Wow!
* HATBOXES
Conrad Bassett-Bouchard writes:
Doug Lundquist (Evanston, IL) versus Mike Baron (Corrales, NM) has some nice bingos in SYRPHID and ATAVISM, accompanied by HOARSELY, TEGUMINA, and INTERNED. I think Doug is winning this one big.
Longtime Los Angeles players Paul Rickhoff (Saugus, CA) and Jim Laris (Altadena, CA) have TABBIEs hooked, forming SONICATes. I return a minute later to see Paul put down IGNITED for 96, overlapping three tiles in a triple lane, gaining a lead of about as much.
You usually are in trouble when your rack sports the combination of CGG. Unless, of course, you are Cesar Del Solar (Albany, CA) and you find the lovely G(I)GANTiC. When last I checked, however, Cesar was holding onto a not-so-gigantic lead against Chris Cree (Dallas, TX).
Chuck Armstrong (Saline, MI) and Morris Greenberg (Brookline, MA) are analyzing a game that most importantly sports the word ANALYSER (along with WAGGLED, OUTSAVED, tSARINA, and FlEECER). Morris notices me checking the game score, and notes that Chuck won this one, before continuing on with his analysis.
Chris Sjoholm (Lynnwood, WA) walks up from Division 4 to tell me the story of his final game before lunch. He was running out of the gates with POX/AX for 58, ANISEED for 62, and ZINc for 64. His opponent, Donna Leigh (Menomonee Falls, WI) got back in it with SEDATION for 64, but Chris found himself up 124 points at the end of the game after getting away with the phoney PUNITIES*. Thinking Chris is headed for a big win, I am surprised by the story's end! Turns out Donna promptly plays WALKERS and hooks an S onto PENCE (i.e. SPENCE, not PENCES*), catching Chris with the Q, and after an unsuccessful challenge, wins the game 421-410! Great sport, and a great story as I hungrily meander off to grab some grub!