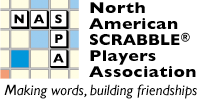 Go to: Early Bird Commentary Games Players Photos Standings Prizes
... tsh Reports ( A B C D CSW )
... Scoreboard ( A B C D CSW )
Back to NASC 2016 Live Coverage
NASC 2016 Commentary: Round 5
[ ]
Go to: Before the Tournament, Round 1, Round 2, Round 3, Round 4, Round 5, Round 6, Round 7, Round 8, Round 9, Round 10, Round 11, Round 12, Round 13, Round 14, Round 15, Round 16, Round 17, Round 18, Round 19, Round 20, Round 21, Round 22, Round 23, Round 24, Round 25, Round 26, Round 27, Round 28, Round 29, Round 30, Round 31, After the Tournament.
---
Round 5
We all enjoyed lunch on this beautifully sunny day in Fort Wayne. The oppressive humidity broke overnight and players were gathered in bunches outside, sunning themselves like turtles on rocks.
Darrell Day (Richardson, TX) handed me a note that said, "Rack was AABGLO? and I found ALGArOBA vs. Cesar Del Solar (Albany, CA)."
Matt DeWaelsche (San Antonio, TX) was telling Alan Stern (Shadow Hills, CA) that he managed to play ISO onto CHORE for ISOCHORE in his game with Roy Kamen (Covina, CA) earlier today. Then Matt launched into his game with Howard Pistol (Oakland Park, FL). Matt saw a way to play PATHWAY and was hoping Howard wouldn't block it. Not only did he not block, but he made the play even better by making a parallel with the W. So, Matt played a non-triple-triple PATHWAY for 132 points! At lunch, he saw Howard with his computer opened, studying his games, and right there was the PATHWAY play, still plaguing Howard!
Before the round began, Alan Stern (Shadow Hills, CA) pointed out the four folks here this year who were at the first nationals in 1978: Jim Pate, Steve Polatnick (Miami, FL), Joel Wapnick (Montreal QC), and Paul Avrin (New York, NY). Way to hang in with the game guys!
Jason Li (Dollard-Des-Ormeaux QC) vs. Panupol Sujjayakorn (Thailand). SELECTED for 80 and FoNTINA for 78 for Jason and PADRONI for 75 and SAtIRIZE for 84 for Panupol. Despite only being a few turns in, Jason was ahead, 318-195. I could see that Panupol was struggling, trading and making low-scoring plays besides his bingos. I walked by a few more times and gleaned in the end that the score discrepancy never changed and Jason was victorious, 540-364.
Will Anderson (Croton, NY) vs. Paul Epstein (Ann Arbor, MI). Fun fives at the midway point: Paul's TABID and Will's VAKIL, FAQIR, and VERTU. Paul also got down PROCESS And RETINULA to Will's ENGRAFTS. In the end, it was Paul's win.
HEELTAP for 74 and BOOGeRS for 84, an early-game bingo-bongo for Max Panitch (Toronto ON) in his game with Richard Julian (Mountainside, NJ) pulls me over to their board. I see Richard's FATHOMED and AVAUNT and ZINCKY.
Alan Stern (Shadow Hills, CA) vs. David Turissini (Chapel Hill, NC) at board in in division 2: ARRIVEES, DONATERS, ENCySTS, and ATONERS.
Mark Fidler (Waltham, MA) vs. Curtis Lee (Jacksonville, FL) at table 2 in division 2: QuITTERS, rETOOLED, and REGENTAL.
Bryan Pepper, division 2 leader, wanders over and says, "Another in the pantheon of 'is it good?' for you. SKEEN: is it good?" I ponder and think no, I am wrong, it is good.
Deep in the middle of a big loss to Cooper Komatsu (Los Angeles, CA), Anita Rackham (Austin QC) can't help herself and she says aloud to me, "He is killing me, Sherrie." Their racks are down to a tile or two each and I smile and nod. I get it. These School SCRABBLE phenoms are taking everyone down today. They play their last tile and she asks if I know the oldest person here since we so clearly know the youngest, and she points to Cooper. John Chew leans in and advises that "of the people who would tell us their ages, the oldest was born in December of 1927!" In this game, Anite played SEQuOIAS and Cooper got down POTLInES, which drew a challenge. He also played DAINTIER and SNAILED, and it was his win, 503-358. He is 5-0 so far and going strong.
Ben Greenwood (Florence, MA) vs. Michelle Davis (Riverdale, GA): I see HAVENING and FADEOUTS on their board (and both are written on the game result/challenge slip, so they probably drew challenges). Also PRONOUN, BRAILEDm and sImILES.
Andrew Gardner (Conyers, GA)vs. Menachem Rosenberg (Atlantic City, NJ): UNARMED and RESOJET for Andrew and ONESELF, VeSTIARY, COMITIA, and SPOROID for Menachem. Woo hoo!
ELUTRIATE jumps off the Seth Lipkin (Hopkinton, MA) vs. Joel Sherman (Bronx, NY) board. Seeing me scribble, Seth points at the word and then points at Joel. I find out later that this is the second 9 today played by Joel (first was IDENTICAL against Fern Lindzon (Toronto ON) in game 1). This 9 was played from the E through the first T and it drew a challenge. What. A. Find. Joel. wow. While Seth got down OuTRACED, the rest were Joel's: SHIVAREE, OBTAINER, and AULDEsT (in addition to his 9). A 527-359 win for the former NSC and WSC champ. Way to go Joel!
I stop Jackson Smylie (Toronto ON), on his way to visit a buddy in division 1, to check in. He is 4-1 now, having just "stole a win." Against Ed Saunders (Oro Valley, AZ), he tried SUDORITY* for 89 and it stayed on the board. The SCRABBLE gods, not down shining down on him, then gave him SPICULE from the bag and he managed to bingo out the next turn to win by 30 points. Jackson's only loss so far is to Dave Leifer (Alpharetta, GA) and Jackson said that he'd heard Dave was known to beat David Gibson (Spartanburg, SC) every now and then. So, Jackson and David Gibson are brothers in the losing to Dave club!
Rafi Stern (Seattle, WA) started strong: ANTIpOT and WEIRDIES for his first two plays. So, already, after two plays each, it was a 162-12 situation with Scott Appel (Elkins Park, PA) on the losing end. Scott played REALIZES and DECREtAL, but Rafi came back with NEUTRINO and it was over. A 465-394 win for Rafi.
I missed it, but Morris Greenberg (Brookline, MA) tells me about his 579 game with Sal Piro (New York, NY) this round. His favorite play was PERCOIDS for a 103-point outbingo. He confesses that he got away with OBLIQUER* early in the game (turns out BELIQUOR is good!).
Jesse Matthews is doing Facebook live videos today which you can see at the NASPA Facebook page. Both his and Kate Fukawa-Connelly's coverage can be round there.
Conrad Bassett-Bouchard is here en route to Carnegie Mellon in Pittsburg. Not playing, he asks if he can do a bit of coverage. I say, Uh, YEAH! So, he will start next round: look for his contributions.