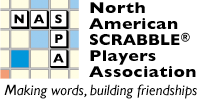 Go to: Early Bird Commentary Games Players Photos Standings Prizes
... tsh Reports ( A B C D CSW )
... Scoreboard ( A B C D CSW )
Back to NASC 2016 Live Coverage
NASC 2016 Commentary: Round 27
[ ]
Go to: Before the Tournament, Round 1, Round 2, Round 3, Round 4, Round 5, Round 6, Round 7, Round 8, Round 9, Round 10, Round 11, Round 12, Round 13, Round 14, Round 15, Round 16, Round 17, Round 18, Round 19, Round 20, Round 21, Round 22, Round 23, Round 24, Round 25, Round 26, Round 27, Round 28, Round 29, Round 30, Round 31, After the Tournament.
---
Round 27
Dan Stock, ever the fount of great game information in division 3, tells us about a game between Mia Kang (Chapel Hill, NC) and Joan Knobelsdorf (Palm Harbor, FL). First bingo sINNERS, next bingo DEMIGODs from the D.
TwitchTV is now up to 2000 in the chat room. Join in!
Well, as I sit down, we have a winner in the Collins division. After a barnburner of a game this round, and a recount to make sure, David Eldar (Australia) defeated Winter Zxqkj (Houston, TX) 461-460, and this win makes him unreachable, thus he is Gibson-ized. He will move off the top table and compete with players out of the money while the other top players vie for the other money spots. After the game was over (all but for the crying), Winter admitted he missed the play that have David the win. He missed the overlap, as he called it. He could, he said, have blocked the winning play and he could have won that game himself. I later talk to Jesse Matthews who had been doing live video commentary and he agreed that there were two plays that might have turned around the result. I'm speaking vaguely so you will check out the annotated and/or live stream coverage and see for yourself! David sat at board, a bit stunned by it all, saying "cheers" to anyone who congratulated him, including Dallas Johnson, Jason Idalski, Stefan Fatsis (Washington, DC), me. :)
In division 4, Jack Peters (Nantucket, MA) defeated Greg Rogers (Mishawaka, IN). I see OUtLEAD and TEARIESt on their in-progress board. Turns out Jack won, "again," said Greg. Jack has defeated Greg three times at this NASC!
Jack and Greg were waiting around for the game at table 1 to wrap up because they were slated to play them for round 28. The game between Doug Critchlow (Columbus, OH) and Marc Booth (West Lafayette, IN) ran long and was a 395-263 win for Doug. Marc is still the sole 22-6 in division 4 with Greg and Jack two and three games back.
Orry Swift (Houston, TX) pulled out the win at table 2 in division 1 against Joel Sherman (Bronx, NY). Early on I see Joel's REINLESS and not a lot more. But toward the game's end, Joel put down FLEApIT/EFF/DAL/HIDE for 96 points and the lead. Fortunately, Orry had the right pick at the right time and bingoed out with DRAcONIC and took the game.
Mack Meller (Bedford, NY) has made a tremendous comeback, having won his past 7 games, including this one against Rafi Stern (Seattle, WA), 430-409. I see COESITE, LOIASES, and NUDZH. The sad thing? Mack played a triple-triple for 176 through the T: JoINTERS. He was so wildly excited to find it, that he failed to look elsewhere and only after hitting his clock did he see he could have played JUNIPERS on another triple lane for 18 more points.
Adam Logan (Ottawa ON) and Evans Clinchy (Boston, MA) were locked into a tense battle at board 2 in Collins. I see Adam's STEATITE for 59 and AsCARIS for 85. Evans had played SLURRIED for 61 and FEAZE for 64. The game came to an excruciating crawl toward the end and I saw a plank on Evans' rack, but he explained afterwards that the blank was not a bingo thing at that point. They were just embroiled in a "don't let the other one win" thing. However, one of them did win and it was Evans, 424-394.
Next door at board 3 in Collins, Steve Polatnick (Miami, FL) reveled in a 3-point win over Bradley Whitmarsh (Attleboro, MA), 432-429. They even did a recount. I see RAWINGS#, BLEARING and INsTILLS on their board.
Bryan Pepper told me to check out the binder that Matthew Ridout (Lexington, KY) used and I quietly opened it and saw this great child's handprint and general finger paint design. So cute. I could hear Bryan say awwww from 20 feet away! In the process of doing this, I mistakenly hit Matthew's pen, knocking it on the floor, during his game. Queue the BAD SHERRIE comments. He smiled and was super cool about it. I stayed away for the rest of their game. I saw BENTHIC and ALEURON. I found out, later, that Mark won, 405-371.
Joe South (Piqua, OH) vs. Mark Schmidt (Asheville, NC): I see SATUrATE PREeLECT, and DRAINER.
After pulling into division 3's first place last round (ousting Ben Greenwood (Florence, MA) who had held it since round 5!), Jason Vaysberg (Plymouth, MN) played Lauren Werner (Kenmore, NY), the player in 3rd place. I see Jason's BOOTHER* (he admits he was desperate!), RHENIUMS, ANnOYED, and LEaRNINGS. A win for Lauren, 442-390.
Speaking of Ben Greenwood (Florence, MA), he played Marcela Kadanka (Toronto ON) this round and I saw mERRIEST, GRADIEnT, and SPRINTS early on. He went onto win, 460-323, to overtake first place in the division again when the dust settled.