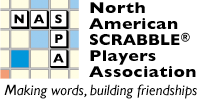 Go to: Early Bird Commentary Games Players Photos Standings Prizes
... tsh Reports ( A B C D CSW )
... Scoreboard ( A B C D CSW )
Back to NASC 2016 Live Coverage
NASC 2016 Commentary: Round 25
[ ]
Go to: Before the Tournament, Round 1, Round 2, Round 3, Round 4, Round 5, Round 6, Round 7, Round 8, Round 9, Round 10, Round 11, Round 12, Round 13, Round 14, Round 15, Round 16, Round 17, Round 18, Round 19, Round 20, Round 21, Round 22, Round 23, Round 24, Round 25, Round 26, Round 27, Round 28, Round 29, Round 30, Round 31, After the Tournament.
---
Round 25
Our last game before lunch and I am all backed up with color, because to sit and type means I am not out culling for more information and more fun!
Marc Booth (West Lafayette, IN) finishes up this game with Chuck Jones (Danville, IL) and he tells me this is his 14th win in a row! Wow! I see three bingos on their board, MARVELS for 84 (Mark) and TANGLING for 61 and FAERIES for 75 (Chuck).
Jack Peters (Nantucket, MA) and Kirsten Klassen (Elkhart, IN) just wrapped up their game. I see DRUBbED and ALIASING, but the plays they think were the best were the QI play Jack made hooking M to FLOW with MIDFLOW* (the story was better when they didn't know it was a phoney—they both thought it was good!). She replied with TORRID/ hooking to the D in MIDFLOW* and under the Q for QI. zhrt win, 442-370.
Players are rushing out into the warm sunshine for lunch break, so it is hard to get any words from them about their games. I watch Ian Weinstein (Coral Springs, FL) and Matthew Tunnicliffe (Ottawa ON) a lot and before I know it, I see Ian heading out the door. I spot TORSADES, INVADINg, PEMICAN, and BELaCED on their board. A 442-363 win for Ian.
A big win for Evans Clinchy (Boston, MA) this round against Joel Wapnick (Montreal QC), 622-403. I see Evans' RASpING 83, PTILOSI# 83, and two other bingos written in shorthand, but way to go, Evans!
Mack Meller (Bedford, NY) has won all 4 today and should move up into 5th place, he thinks, after all the results are in. Great change in fortune.
Mark Francillon (Marlboro, VT) may have beat up on David Eldar (Australia), but Peter Armstrong (Portland, CA) wasn't having any of it in this round. He got down gROSBEAk for a 149-point triple-triple. Mark played TOADIES for 70. Peter's win, 510-289.
While we were sitting there, I asked Mark about his big win at annotated board 1. He talked about the I hanging down, one short of the triple lane, which created a way for him to hook. He held DEENOZ?. He knew DOZEN would fit and would give him points, but he needed more than points to beat this guy (David Eldar (Australia)), he needed risk. So, he rationaled that nothing risked would be nothing gained and he threw down DOZENED, not at all sure of it. It as good and gave him a monster score.
Matt Canik (Austin, TX) has told me about his two previous triple-triples (FARNESOL through the E for 149 and HEKTARES for 194) and he's had a third: UnDERAGE through the G for 140. The latter took place this round against Panupol Sujjayakorn (Thailand). And, from the frustration file, in a game with Joey Krafchick (Atlanta, GA) today, Joey block Matt's 275-point LYRICIZE through the last I for 275 points. Now that hurts.