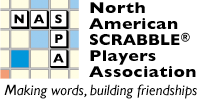 Go to: Early Bird Commentary Games Players Photos Standings Prizes
... tsh Reports ( A B C D CSW )
... Scoreboard ( A B C D CSW )
Back to NASC 2016 Live Coverage
NASC 2016 Commentary: Round 29
[ ]
Go to: Before the Tournament, Round 1, Round 2, Round 3, Round 4, Round 5, Round 6, Round 7, Round 8, Round 9, Round 10, Round 11, Round 12, Round 13, Round 14, Round 15, Round 16, Round 17, Round 18, Round 19, Round 20, Round 21, Round 22, Round 23, Round 24, Round 25, Round 26, Round 27, Round 28, Round 29, Round 30, Round 31, After the Tournament.
---
Round 29
Today players just out of the cash will be given a Merriam-Webster Book Prize. And in each division, a set amount of cash prizes are going to be awarded. The exact breakdown can be seen at the Prizes link on the left bar of this web site. Reduced for simplification, 10 cash prizes will be awarded in divisions 1 and 4, 12 in divisions 1 and 2, and 5 in the Collins division.
The senior event intern, Jamie Chew, is already circulating the Starbucks run order (we normally have been getting it during the fourth game of the morning sessions and today we won't have a fourth game!). Our event webmaster and his children have been keeping us in Starbucks coffees/teas all of the NASC, thanks team!
People have already been coming up and saying goodbye to us, gulp. We all know how busy it is going to get and often there isn't time to see everyone at the same time.
Our crew met early this morning to plan for packing/unpacking in New Orleans next year where our new directing team of Art Moore and assistant Diane Moore take over. Art and Diane will do an amazing job, but after 5 years, we will miss the team of Dallas/Sue (just as we missed Mary Rhoades, unable to be with us this year, after she stepped down from directing our Nationals).
During opening announcements this morning, Alan Stern (Shadow Hills, CA) once again thanks Jeremy Hildebrand for our great T-shirts and event art. He invited everyone to the awards ceremony which is scheduled to take place at 1:30 in the Anthony Wayne Ballroom around the corner from this playing room (where our Town Hall was held a couple night ago). We are getting better and better at this event stuff and the prize ceremony seems to be moving up each year. Not a long wait at all! Alan pointed out the current first place leaders in the remaining four divisions, each sitting opposite the person who has plans to dethrone! David Gibson (Spartanburg, SC) vs. Ian Weinstein (Coral Springs, FL) in division 1; Mark Fidler (Waltham, MA) vs. Joe South (Piqua, OH) in division 2; Ben Greenwood (Florence, MA) vs. Marcela Kadanka (Toronto ON) in division 3; and Marc Booth (West Lafayette, IN) vs. Diana Bowen (Charlottesville, VA) in division 4.
Dallas Johnson then thanked the Fort Wayne Visitor Center and Convention Center staff for all they'd done for us this week. He reminded us that we'd be pairing the next two rounds based on the previous rounds' results and that we'd need slips in swiftly and all players to congregate and wait outside so that games could finish in relative quiet. Just as he was to start up the games, Art Moore took the microphone from him, called Sue Grogan-Johnson and up to join her husband. He thanked the duo for their 5 years of NASC work and presented each of them with a spa gift certificate and gave Dallas a shirt that said NMP. Dallas' favorite mantra this year when presented with a potential future problem: NMP (Not My Problem). He was touched by the gifts and applause, but then modestly said it was time to get back to the business of SCRABBLE and started the morning session.
So far, we seem to have only one tardy player, David Eldar (Australia). His opponent this round, Randi Goldberg (Phoenixville, PA), is waiting patiently for him to arrive. And just as I type, about 10 minutes or so into the round, David arrives. Methinks there may have been some celebrating last night that required more sleep this morning (a division winning requirement).
Diana Bowen (Charlottesville, VA) vs. Marc Booth (West Lafayette, IN)at division 4's table 1: midway through the game, I spot MEATIEST for 72 by Diana and GOONIEST for 60 by Marc. She hooked a S onto WOOLEN and played MINKS on the triple for 45. Drew a hold and then challenge, it is good. Her win, 450-329.
At table 2 in division 1, Joey Krafchick (Atlanta, GA) defeated Mack Meller (Bedford, NY). Early on, I watched Joey play BANTERER for 72. The fun NApOLEON was on their board, too.
And, at table 1 in division 1, Ian Weinstein (Coral Springs, FL) defeated [error: no such id: david]. Check out their game on twitchtv!
So, in the game with Randi Goldberg (Phoenixville, PA), David Eldar (Australia) continued his lockbox ways. He got down a double-double for 90, fORDABLE, and then spent some time filling out his W-8BEN (certificate of foreign status of beneficial owner for US tax withholding and reporting form). Then he got down SISTERLY as a 150-point triple-triple. His skill level high, David then drew the tiles to play SUPERFAN (through an existing tile, I guess), but Randi blocked him with SMOOTHES. He won, yes, but by only a mere 170 and she sniffed, "he should have won by more, don't you think?"
"So, how did you do, Peter?" "Well, I beat him the first two times we played. I think it a lot to ask me to do it a third time." This is my way of gleaning that Adam Logan (Ottawa ON) vs. Peter Armstrong (Portland, CA) went 488-376 in Adam's favor. Words: TEAZLED, CARpALE, EPIFAUNA, NITRATED, RETIRES. Among Adam's best feats was to block, unknowingly, Peter's INTERCOM for a triple-triple.
Ben Greenwood (Florence, MA) vs. Marcela Kadanka (Toronto ON). Both blanks have been made into Os, that means a 10-O game, too many! I see OUTSoAR, but not sure who played it. Then Marcela triple-tripled for 140 with MoNSTERA. This the first triple-triple played against Ben this event, he reports. Good going, Marcela! She won their game (scores held up in Albuquerque somewhere).
At the next table Jason Vaysberg (Plymouth, MN) fell to Lauren Werner (Kenmore, NY). She sure has been coming on strong these past two days! And this win puts into first. I see mOORAGE, sEVERAL, and STRIDES on their board.
Ben tells me that he has to win his next two games to win division 3 and I tell him he's accomplished even greater things!
Joe South (Piqua, OH) takes a win from Mark Fidler (Waltham, MA) at board 1 in division 2. I see NUtATES and TANKINIS on their board. They report a 386-363 win for Joe.
At nearby table 2 in division 2, Roy Kamen (Covina, CA) vs. David Turissini (Chapel Hill, NC) turns out to be a 392-381 win for Roy. I see SARSENT, ALEUrONE, and GRAnDEST on the board as it is scooped up. I overheard David say to Roy, "Your FOIBLE blocked by DATEBOOK triple-triple."
Bruce Shuman (Wilmington, NC) tells me that in his game with Zarrine Banerji (Columbia, MO) this round, he played the 140-point triple-triple GREETING through the R.
In the old days, we played SCRABBLE online and I used to see Joey Mallick (Cape Elizabeth, ME) there. We played with a player, Gregg Foster, who went by the online name ESPY. Joey told me that in round 26 yesterday he thought about Gregg because he played ESPYING. The reason Joey felt compelled to share this is that ESPY is my husband. :)
Alec Sjoholm (Lynnwood, WA) tells me that his opponent, Will Anderson (Croton, NY), played FIBrOMATA though the OMA for a 66-point non-bingo 9, pretty! I think Alec won this game.
Alec then tells me about another non-bingo 9. Panupol Sujjayakorn (Thailand) played HEROIZING for 44 points through ZING already on the board.
When writing up color on games, there is always a winner and always a loser at every board (kinda how it rolls, unless there is a rare tie). And often, one person's glory is another's "shucks" moment. I want to thank all the players who accept gracefully when they lose and let another shine sometimes, even if it at their own expense, sometimes.