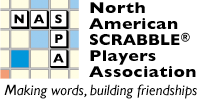 Go to: Early Bird Commentary Games Players Photos Standings Prizes
... tsh Reports ( A B C D CSW )
... Scoreboard ( A B C D CSW )
Back to NASC 2016 Live Coverage
NASC 2016 Commentary: Round 6
[ ]
Go to: Before the Tournament, Round 1, Round 2, Round 3, Round 4, Round 5, Round 6, Round 7, Round 8, Round 9, Round 10, Round 11, Round 12, Round 13, Round 14, Round 15, Round 16, Round 17, Round 18, Round 19, Round 20, Round 21, Round 22, Round 23, Round 24, Round 25, Round 26, Round 27, Round 28, Round 29, Round 30, Round 31, After the Tournament.
---
Round 6
I am typing away when sweet Andy Hoang (Cary, NC) came by the table. He said, "I just played the ultimate School SCRABBLE game. In that, both of us are from the School SCRABBLE program and that we play as good sports." I love hearing this from Andy and as we walk over to his game, my heart warms, because the things he is saying as a young adult are the things we have tried hard to instill in all School SCRABBLE players. Take out a tissue and move on, Sherrie. I find Zachary Ansell (Los Angeles, CA) sitting at the board. Andy explains that it came down to a story of the bag. There was a V and an O left. If Andy got the V, he was going to lose, but he got the O. Cooper made three plays that drew holds (but no challenges): FUHRER, IMmUNER, and DERRY. Of the last word, Andy admitted to knowing it, but just wanting an extra second or two to verify. Andy's bingos were ASTILBE and NItERIES. As I wrote that down, Zach took away the S tile and said, "it is one of those rare words that is good with or without the S." I learn something new nearly every round! A 403-373 win for the older of the two School SCRABBLE champs, Andy.
A crowd has gathered around Jackson Smylie (Toronto ON) vs. Stefan Fatsis (Washington, DC). The average age of the throng is about 13. Jackson started strong with ACRIDITY and later got away with a phoney: FOSSATED*. Turns out FOSSATE doesn't take an end hook. Stefan got down CLEANING and SLANTED, but lost the game to Jackson.
Mark Fidler (Waltham, MA) is 6-0 in division 2 and he claims he has no idea how. I check out VIDIOT on his board and he says it was his favorite play of the game and it was made by his opponent, David Turissini (Chapel Hill, NC). I see Mark's REQUEST, DeVALUE, and OUTRACeD. A 557-242 win for Mark.
Knox Daniel (Charlottesville, VA) is 5-1 so far and just defeated Marcela Kadanka (Toronto ON). She smirks and talks about how he got away with GAUNTS*/SOOTIER. She was thinking of challenging, but then admits she was wondering if she could hook an S onto it, too, he just pulled the trigger first.
Ben Greenwood (Florence, MA), a School SCRABBLE teacher/administrator/coach, just handed Cooper Komatsu (Los Angeles, CA) his first loss, 449-389. While Cooper got down AUDITOR and INTENDS, Ben played GRADIATE and BROILER. When I asked Cooper what Ben did to eke out win, he said, "Well, he was excellent at closing down the board and blocking my bingos!"
Our last game today is coming up. I need to get out and absorb the excitement.
Robin Pollock Daniel writes:
Some very exciting games in Division 1 this round! Charles Reinke (Middleton, WI) met Morris Greenberg (Brookline, MA) across the board, which featured BASEMENTS being front-hooked by A to create ABASEMENTS along row 1, which was bad enough; that the word was a bingo, PALLETS, added to the pain. Other lovelies included BEIGE(s)T, REOVIRUS, and a late-game (b)ORNITE by Charles, who emerged victorious, 531-324. The players must be very anxious to move on after their games, as every game I followed had already been cleaned up, the tiles squared, by the time I got back for an in-depth discussion. On the Orry Swift (Houston, TX) vs. Ted Blevins (Cecilia, KY) board, I see the unusual but delicious (b)LIN(t)ZE, taking me back to my Bubbie's kitchen. Our defending champ, Matthew Tunnicliffe (Ottawa ON) got taken to the sewers by Paul Epstein (Ann Arbor, MI), who triple-tripled with SEWERAGE for 157. Other bingos included INBREED, STABILE, and SEAML(i)KE. Seems like Paul got the best of our repeat wannabe, with a 559-433 victory, just 8 points shy of the vaunted 1000-point mark. After his game with Michael Fagen (Montreal QC), Rafi Stern (Seattle, WA) pointed out to me that he played LINAGES twice! Neither of the gerund anagrams fit.
Over in CSW country, recently-recrowned Canadian Nationals champ Adam Logan (Ottawa ON) seemed in control of a tight board in his game with (winter). AMORETS, SAUCIEST (do you know the fun anagram?*) and what I presume was (d)RIVIN(g) were on the board and, from the looks of the intentional congestion, I don't think another bingo got down. A 417-410 squeaker for Dr. Logan. I was mesmerized by the game between Stefan Rau (Rhinebeck, NY) and Bradley Whitmarsh (Attleboro, MA). Over an intense endgame, I tried to stay out of sight as I noted a panoply of bonus words: E(v)ALUATES, TERPINOL, AUDITION, DISHIE(r), DISOWNED, and PULLETS. A very satisfying 551-396 win I'm sure for Dr. Rau.
* SUITCASE. I once asked a fellow Scrabbler to carry home several jars of tomatoes for me after a tournament, which unfortunately opened in transit. I consequently will always remember this anagram pair!