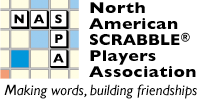 Go to: Early Bird Commentary Games Players Photos Standings Prizes
... tsh Reports ( A B C D CSW )
... Scoreboard ( A B C D CSW )
Back to NASC 2016 Live Coverage
NASC 2016 Commentary: Round 28
[ ]
Go to: Before the Tournament, Round 1, Round 2, Round 3, Round 4, Round 5, Round 6, Round 7, Round 8, Round 9, Round 10, Round 11, Round 12, Round 13, Round 14, Round 15, Round 16, Round 17, Round 18, Round 19, Round 20, Round 21, Round 22, Round 23, Round 24, Round 25, Round 26, Round 27, Round 28, Round 29, Round 30, Round 31, After the Tournament.
---
Round 28
Joe South (Piqua, OH) squared off with David Turissini (Chapel Hill, NC) this round, currently in second and third place. The fight to win division 2 is red hot! I caught their game in progress and saw BENEDICT, SUbSIDE, and REVIVES. It was big 460-295 win for David and now they are both 21-7 going into tomorrow's three final games, one game behind Mark Fidler (Waltham, MA), who played Roy Kamen (Covina, CA) at table 1. The game was defensive and low-scoring. For the longest time, I only saw one bingo, AROINTS, and then the board was gone. A 346-322 win for Mark, who ends today one game ahead of the field in first, 22-6.
After last round's results went in, Ben Greenwood (Florence, MA) resumed first place in division 3, with a larger spread than Jason Vaysberg (Plymouth, MN) and this round he played Lauren Werner (Kenmore, NY), again. I arrive just as their game finished. Ben had played DEGErMS and Lauren played DELETeRS and SENTRIES. A 340-326 win for Lauren, her second game and second win against Ben. She told me that of her nine losses, seven of them have been to women and she joked that she had told Ben that prior to their game, trying to subtly psyche him out. He laughed and said it didn't work, because of his eight losses so far, ALL of them have been to women! He knew he was in trouble going in!
Clay Daniel (Charlottesville, VA) brings me to his two-nine game. By the time we get there, a crowd has gathered to check out the board. Seeing me coming, his opponent, Chuck Armstrong (Saline, MI) joked, "You know, you could come to a game I win sometime, Sherrie. I win them, too!" I guess he's been on the losing end of a few write-ups this NASC (sorry Chuck! but I rarely see ties!) The first 9 that went down was ENTANGLED played to the ED, which was nice but the next play, YAMmERERS played through the first R and E for and 167-point triple-triple was the star of the show! I spot Chuck's SHAIRDs and the fun new AIYEE.
Almost like boxers, both former NASC champs, Joel Sherman (Bronx, NY) and Matthew Tunnicliffe (Ottawa ON) squared off at table 2 in division 1. The board was pretty much taken apart in endgame "what ifs" but Joel quickly put it back and pointed out the bigger plays. TURNICAL, a 90-point double-double; WOULdEST 72, and ANEARED 64 for Matthew. CYTOSINE 73, DEPRIVAL 84, and AEROSOL 69 for Joel. Overhearing their endgame chatter, the last tiles in the bag were M and ?. I think that Matthew, who lost the game, 440-467, was trying to envision how he would have won with the blank. He had the Q and a good opening but then he had to maximize points with an S, too, and which play should have gone down first, etc. I'm not sure what the upshot was, but it was a very tight game that either of them could have won (the best kind!).
Holy Moly! Former Canadian, North American, and World SCRABBLE champions, Joel Wapnick (Montreal QC) and Adam Logan (Ottawa ON) showed their stuff at table 3 in the Collins division this round. Six bingos in a row, back and forth, in a rat-a-tat fashion! BASSOON for Adam, REHEATED for Joel; AUDITING for Adam, CHIGETAI for Joel; WATTAGE for Adam and GOALIES for Joel. A 506-406 win for Adam. A few select observers had gathered to admire their board.
I could have stayed longer and soaked in more post-game chitchat, but Terry Kang Rau (Rhinebeck, NY) came over and said, "Hey Sherrie, want to see a game where I triple-tripled against my husband and still lost the game?" Do I!?!? The play was TRIZONEs# played through the Z for 194 (+5 for the challenge, so 199 total). I see Stefan's CAMELINE#, BEWAILS, and SPOnGES. His 482-474 win. For those not up on this, Collins games use a modified challenge system (challenged players gain 5 points per word challenged if a word is acceptable and the challenger doesn't lose a turn for a "bad" challenge). Of Stefan's win, Collins director, Jason Idalski said, "Stefan played the dragon, eh?" I looked at him, mildly alarmed. Was he inferring that Terry was a dragon? He laughed and said, "Oh no, no, no! When a player defeats his/her opponent despite said opponent playing a triple-triple (which usually means game winning play), is referred to as 'slaying the dragon.' No Terry/Stefan inference meant!" We both laughed, but it is the end of three days of game play. We are all a bit punchy!
Lisa Kessler, discussing annotating board 1's game this round, referred to it as the Mel Gibson game. More slack-jawed lack of understanding from me and she said, "Sherrie! Mack Meller (Bedford, NY) and David Gibson (Spartanburg, SC), get it?" When she held my hand, yes, I did! Speaking of Mack, he won that game at table 1, 501-399 (David was still shaking his head long after it was over)—-check it out in the annotated game section and on the twitch TV feed (with Jesse Matthews and Robin Pollock Daniel on commentary). Mack has won his last 8 games in a row and he is on fire!
We end today with David at 22-6, one game ahead of Ian Weinstein (Coral Springs, FL), 21-7, and Mack and Joel Sherman (Bronx, NY), two games back at 19-9. Tomorrow is going to be exciting!
Speaking of spouses playing each other. Penny Sitler (Knightstown, IN) played her spouse, Chris Sitler (Knightstown, IN) in round 24 and she won, 368-341. Surprisingly, when she filled out the slip, she spelled her husband's name wrong! Talk about being thrown off your game!
Joel Horn (Reading, MA) is 5-2 today and 15-13 overall (he wanted better, don't we all at tournaments, right!?). He finally has three plays to tell me about, all from today. In round 23, he payed SWARMERS through the ER for a 158-point triple-triple. In round 26, he was 104 down and bingoed out with TZARIST for 107 and won the game! In round 28, ht opened with EXCITED for 100. All great plays. :) His wife, Judy Horn (Reading, MA), had an even better day today, going 6-1.
Division 4's Greg Rogers (Mishawaka, IN) checks in with me. He reports a 2-1 afternoon, defeating Doug Critchlow (Columbus, OH) and Marc Booth (West Lafayette, IN) and losing to Jack Peters (Nantucket, MA), who he is convinced he can never defeat (he's lost their three meet ups at this NASC!). In round 28, against Marc, Greg played UNFAIRLY and bingoed out with NUANCING, winning, 447-320. So, the state of division 4 is Marc in first, 22-6; Greg in second 21-7; and Doug in third, 20-8.
Can't wait for tomorrow!