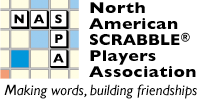 Go to: Early Bird Commentary Games Players Photos Standings Prizes
... tsh Reports ( A B C D CSW )
... Scoreboard ( A B C D CSW )
Back to NASC 2016 Live Coverage
NASC 2016 Commentary: Round 11
[ ]
Go to: Before the Tournament, Round 1, Round 2, Round 3, Round 4, Round 5, Round 6, Round 7, Round 8, Round 9, Round 10, Round 11, Round 12, Round 13, Round 14, Round 15, Round 16, Round 17, Round 18, Round 19, Round 20, Round 21, Round 22, Round 23, Round 24, Round 25, Round 26, Round 27, Round 28, Round 29, Round 30, Round 31, After the Tournament.
---
Round 11
Dan Stock runs up at the beginning of this round (while I'm finishing up typing round 10) and says: "VERTICAL went down as a 167-point triple-triple! The bad news? It was played horizontally." Queue the drums! I wander by and see that it was played by George Bissonnette (Seattle, WA) in his game with Teresa Schaeffer (Durham, NC).
I'm just about 10 yards too far away. I see David Gibson (Spartanburg, SC) and Joshua Sokol (Montreal QC) going toward the zyzzyva machine. David types and then Joshua hits enter and just as I round the table to peer at the screen, Joshua hits the clear button. I sigh and turn around and try to rush to their table to see the play there. The guy with the 7-foot wingspan outpaces me and gets the tiles up into his hand before I can be the wiser. David's respectfully mum about it all. Thwarted, I settle for words still on the board: Joshua's SOOTIER and REASONED. David got down EROTIZE and MASONITE, but what probably sewed it up was his pretty outbingo of UNBENIGn. David's win, 420-359.
Scott Appel (Elkins Park, PA) vs. Paul Epstein (Ann Arbor, MI): MONOXIDE, SWEATER, UNIFIERS, and GeLATINE.
Over on the dark side of the moon (er, I mean, the other side of the room where divisions 2 and 3 reside), Ben Greenwood (Florence, MA) is "beating up" on another School SCRABBLE kid, Knox Daniel (Charlottesville, VA). I see Ben's CHILLIEr down the triple. Ben points out Knox's overlapping PAM/ABYE/MAE play. He called it a "nice nestle." A 455-302 win for Ben.
Kevin Leeds (Austin, TX) is a happy guy. He just delivered Jackson Smylie (Toronto ON) his second loss of the tournament, 411-290! Kevin played DEADBEAt and NEBuLAR. Fun nonbingo words: THENAGE, UNITIVE, FILBERT, and KANJIS. As I was typing it, Jackson said, "It's KANJI, not Kenji," making a joke about one of our top experts who isn't here this year, Kenji Matsumoto.]
Cooper Komatsu (Los Angeles, CA) walks by to turn in his winning result slip. He is now 8-3 after defeating Betsey Wood (Concord, MA) this round. He opened their game with ENDEAVOR and later got down tRAIPSE. Betsey played CORNETS and Cooper tells me about his MATZOT, a 77-point nonbingo. He traipses off to lunch in a great mood. :)
Sharmaine Farini (Toronto ON) vs. Risa Horowitz (Regina SK): TINNIESt, REWATERS#, and DECIdED.
Nicole Kazarian (Worcester, MA) vs. Kay Adam (Volin, SD): ANTIReD, PARBOIL, and SNEAKERS.
Kevin Sears (Louisville, KY) vs. Josh Greenway (Toronto ON): SpEAKER was the only interesting word at the very start of their game.
Cecilia Huber (Cleveland, OH) vs. Don Rathberger (Joliet, IL): DUETTED, WELDING, and AERATING.
The battle of the Sams! Sam Rothbart (Southampton, NY) vs. Samantha Orleans (Bryn Mawr, PA): iNITIATE and FLAnGES.
Zachary Ansell (Los Angeles, CA) wants to talk about his last game against Mike Johnson (Decorah, IA), but it is already picked up, so he turned over his old scoresheet and started drawing the board and telling me plays. While he was composing, I noticed his bright blue and orange sneakers and his diminutive height, but he sounds like Adam Logan (Ottawa ON) when he speaks! In the endgame, Mike had VOTROY and Zach had EAU. The score was 422-421. Mike reasoned out that his best play was VOLT through the L for 22, which created a 444-421 score. He saw the best and only play for Zach was EAU/AGE hooking onto AG for 10 points. This play, even combined with Mike's leftover tiles, would create a 1-point win for Mike. Zach saw this inevitability, too, and he pondered and pondered and then figured out that he could play EAU over one space, creating NE/AGA for two more points and the one-point win, 445-444. I was delighted with this clever news and he said, "Well, let me tell you one other story. Just before this, he played off ENATION for 18, trying to block the triple from one lane above, but I was able to play FROW to the triple for 55 under his play, which made the win even remotely possible." Then he said, "he got 18 and I got 55" and then he gave me the biggest grin.
Greg Rogers (Mishawaka, IN) handed Diana Bowen (Charlottesville, VA) her first full loss this round. She got down FORAGING and MAESTER* and he played DELISTS and the outbingo LINGIER. Perhaps his best play was QIBLA for 52. Very nice!
Herb Lewis (Cherry Hill, NJ) and his wonderful wife, Sunshine, who worked these events with us for years, were featured on a Philly-based sports show recently. They were interviewed in a restaurant as a couple who loved baseball enough to incorporate games on their honeymoon. Sunshine was her usually sunny self, playing the supportive spouse to a sports-crazed husband. When the reporter was done the segment and then the show went back to the studio, the hosts went on and on about what a great spouse Sunshine was and how lucky Herb is. Doesn't he know it. Thanks to Herb for sharing the clip with us and hi to Sunshine!
The Journal Gazette, a Fort Wayne based daily, has a great article about the NASC! Check it out:
http://www.journalgazette.net/news/local/Scrabble-tourney-participants--Playing--chess-with-tiles--14524804