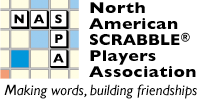 Go to: Early Bird Commentary Games Players Photos Standings Prizes
... tsh Reports ( A B C D CSW )
... Scoreboard ( A B C D CSW )
Back to NASC 2016 Live Coverage
NASC 2016 Commentary: Round 13
[ ]
Go to: Before the Tournament, Round 1, Round 2, Round 3, Round 4, Round 5, Round 6, Round 7, Round 8, Round 9, Round 10, Round 11, Round 12, Round 13, Round 14, Round 15, Round 16, Round 17, Round 18, Round 19, Round 20, Round 21, Round 22, Round 23, Round 24, Round 25, Round 26, Round 27, Round 28, Round 29, Round 30, Round 31, After the Tournament.
---
Round 13
David Pearl (Long Beach, CA) brings me to his game, just finished, with Morris Greenberg (Brookline, MA). The games around them were still in progress, and they were anxious to talk, so I had them pick it up and bring it over to one of the high tables used for the challenge laptops on the side of their division. OUTLIVES is a Morris bingo and ERASERS is a David bingo. Later in the game, with them very close, Morris played CAPED to block. David replied with AsCITES/sCAPED (which hardly made the block work!). A turn or two later, having tracked AEEGHINOOO remaining in the bag, Morris played BoRTZ parallel to AsCITES to block the triple lane. Well, the pool actually was AEEGHIMNOO (note the mistracked M) and David slapped HEGEMON/OBE/NoS for 99 on the triple lane. This created a 425-387 win for David. :) Two new words on the board: JANNY and FIXITS (it now takes the S). Morris notes, "I would've won 29/30 possible racks even with the mistake, but it turns out David had that one tile!"
Seth Lipkin (Hopkinton, MA) admits to having a revenge game against Matt Canik (Austin, TX) this round. I think he said he'd lost three times in competitive play so far. His favorite play was JOKINESS played through an O and Matt tells me that he got down PURPLISh through the U.
In an endgame paperwork moment, I watch Winter Zxqkj (Houston, TX) and Peter Armstrong (Portland, CA) realize that Peter had played a phoney. I see REANOINT, dISINTER, and CUDGLEs*. Suddenly, Peter isn't sure that it isn't EL instead of LE. Instead of walking 4 feet to the challenge machine to look it up, I see Adam Logan (Ottawa ON) walk by and ask him. "No, not good, only EL." So, now we know! After the dust settled, I asked Winter how the game went and he said, "it wasn't even close. My most horrible game." So, off I went.
Michael Baker (Portland, OR)had a rough day 1, winning only one game. Today, he has 5.5 wins (meaning, I think he snuck a tie in). And he is hoping to extend it to 6.5.
Joshua Sokol (Montreal QC) vs. Jason Keller (Highland Park, NJ). DECLINES and TAUNtED are Joshua's and CITOLAS and NETTERs. A phoney, in our dictionary, went down for Joshua: SURGIEST# and Jason called it off. Nine-point win and relief for Jason.
About the cow bell: Jason's parents attended the World Alpine Skiing Championships in 2015 and got him a souvenir. He uses it as a little good luck charm and gets into "race mode," thinking about racers shooting down the slopes with cow bells cheering them on.
Ben Greenwood (Florence, MA) is 12-1 so far and pinching himself!
Robin Pollock Daniel writes:
Lots of nice words in the Will Anderson (Croton, NY) vs. my fellow Canuck Jason Li (Dollard-Des-Ormeaux QC). It was almost entirely Jason in the bingo department, getting down CLERISY for 83, LI(t)HIUM(s) for 82, and ECOTONAL, along with the lovely ZONULE for 50. Will managed to keep the spread reasonable by playing RADIOES and well-scoring words such as BARFI for 42, PIX for 49, ZEIN for 39, and the pretty yet simultaneously ugly AGAPAI. Final score was 490-419 for Jason.
Rafi Stern (Seattle, WA) took a 181-point lead at one point in his game against Alec Sjoholm (Lynnwood, WA), 269-88, yet managed to hold on to win by only 33 points. Rafi scored huge points in turns 2, 3, and 4, getting down RADDEST for 80 (the 'new' anagram of ADDREST), HEILING for 70, and then VERANDAS for 66, bingo bango bongo (my spell checker is not happy with me at all writing up these commentaries, let me tell you). He followed that in turn 5 with another newie, BUTOH for 39. But Alec stayed patient and positive, playing SEATRAIN for 60, ELE(c)TRIC for 77, and then (b)ARITONE for 74 late in the game. A great lesson: never give up!
Over in Collins, I managed not to get Joel Wapnick (Montreal QC) to notice me hanging around his board in his game against Tim Weiss (Jersey City, NJ) long enough to espy the CSW-only REALTIE# (OWL anagram?*) and MHORRS#. I also spotted DISUS(e)S and ELATION(s) before I decided I had better skedaddle and respect Joel's preference not to have reporters around his game. Joel's win, 435-419. Hmm... maybe I brought him good luck?
* ATELIER