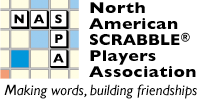 Go to: Early Bird Commentary Games Players Photos Standings Prizes
... tsh Reports ( A B C D CSW )
... Scoreboard ( A B C D CSW )
Back to NASC 2016 Live Coverage
NASC 2016 Commentary: Round 20
[ ]
Go to: Before the Tournament, Round 1, Round 2, Round 3, Round 4, Round 5, Round 6, Round 7, Round 8, Round 9, Round 10, Round 11, Round 12, Round 13, Round 14, Round 15, Round 16, Round 17, Round 18, Round 19, Round 20, Round 21, Round 22, Round 23, Round 24, Round 25, Round 26, Round 27, Round 28, Round 29, Round 30, Round 31, After the Tournament.
---
Round 20
Apologies to John Cougar Mellencamp, but here goes, "A little ditty about Jack & Diane.... And on table 3 in division 4, Jack Peters (Nantucket, MA) played Diane Kerner (Beverly Hills, CA). When he walked up to hand in his slip at the nearby Division 4 table, I asked how it went and he said, "It was my best game, ever." That caught my attention. A 611-255 blowout for Jack. He singled out her first play, played parallel to his opening bingo with a five-word overlap as her best play: AWAY for 27. He got down NEGATED, TINGLiNg, REAVERS, RALLIED, and a series of 30-40-point J, Z, and Q plays. He admits to drawing well: both blanks, all Ss, and most of the monster tiles. Sometimes it goes that way, we all get to be on either side of a blowout like that every once and awhile! Jack's uncle, Ben Greenwood (Florence, MA), is currently leading in division 3 (a division he won about 10 years ago). SCRABBLE is a family affair!
Greg Rogers (Mishawaka, IN), from his perch atop division 4 for the past 6 rounds, squared off against Marc Booth (West Lafayette, IN) again this round. For the second time Mark won their matchup, 441-340. I see JACKINg, TORULAE, CLOSING, EQUALED as the their tiles get squared up.
I watch Doug Critchlow (Columbus, OH) play BRAINIER and before he can draw replacement tiles, Diana Bowen (Charlottesville, VA) replied with her own bingo, PRECENT/PI/RE/ER for 92. Later one, I see her vIOLATER and his SEMINAR for 75. A 471-371 win for Doug. Now they have a win against each other at this NASC.
Game in progress: SUnFAST for 76 for Seth Lipkin (Hopkinton, MA) and RAPHIAS for 74 for Matthew Tunnicliffe (Ottawa ON). A 399-317 win for Matt. As I glance at the board before the tiles are squared, I see cOVETING. Today has been a winning day for the 2015 NASC champ!
Panupol Sujjayakorn (Thailand) vs. Joshua Sokol (Montreal QC): BRACKETS, NARRATERS, DENUDES, and MOSQUEs. A close game and tough loss for Joshua, 455-460.
Pretty, in-progress game between Clay Daniel (Charlottesville, VA) and Jason Li (Dollard-Des-Ormeaux QC): TENAILLEs, DiQUAT (to the triple), NAYSAID, DATIVAL, and sCRAPED. A 404-381 win for Jason, the Montreal-based chemistry teacher.
In the old days, one of SCRABBLE's early tournament organizers, Alan Frank, used to give an award at his tournaments: The best comeback. So, players who won games that at one point seemed impossible can be recognized for skillful turnarounds. Having inherited one of Alan's events, I awarded this prize, too, for years. And, a player who won it often, Mark Fidler (Waltham, MA) called me over to his board to point out his comeback. He was watching Joanne Cohen (Owings Mills, MD) chew him up and spit him out with her 258-107 lead early on, but he ended up winning the game, 456-402, by playing three bingos in five turns: CHARRIER, SWEEPIER (which drew a challenge), and TENONER.
Bradley Whitmarsh (Attleboro, MA) did it again! He continues to be the only Collins player who can put a dent into the domination of David Eldar (Australia) in the Collins division! As he did in round 12, Bradley went up to the annotated table 1 and won another, 474-454. Check it out in the annotated game section!
One more game to go!