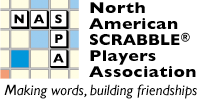 Go to: Early Bird Commentary Games Players Photos Standings Prizes
... tsh Reports ( A B C D CSW )
... Scoreboard ( A B C D CSW )
Back to NASC 2016 Live Coverage
NASC 2016 Commentary: Round 2
[ ]
Go to: Before the Tournament, Round 1, Round 2, Round 3, Round 4, Round 5, Round 6, Round 7, Round 8, Round 9, Round 10, Round 11, Round 12, Round 13, Round 14, Round 15, Round 16, Round 17, Round 18, Round 19, Round 20, Round 21, Round 22, Round 23, Round 24, Round 25, Round 26, Round 27, Round 28, Round 29, Round 30, Round 31, After the Tournament.
---
Round 2
Kieran O'Connor, division 4 director, just walked by. He said to Patty Hocker, "My favorite part of these events are the lunches. Looking forward to what we have today." She and I both agreed.
Patty and I both notice that Nigel Richards isn't here again. He's won this event so many times (in TWL, not his main SCRABBLE book), it seems strange to have him missing.
Kate Fukawa-Connelly has a Facebook blog up on the NASPA Facebook page! Check it out: bit.ly/NASC2016Blog
We have two of the best interns this year: Jamie Chew and Liam Chew. They are busy drawing and playing Pokemon Go right now, but they have been running errands and plugging cords in and being generally very helpful! And now, they are gold star interns: Jamie just took a Starbucks drink order from me: Venti iced chai with soy milk!
Late-breaking news, Adam Logan (Ottawa ON) lost round 1 to Eric Kinderman (Burlington, VT). Check it out in the annotated game section!
Evans Clinchy (Boston, MA) vs. Kevin Bowerman (Chapel Hill, NC): CAUDAtES for 61 (Kevin) and Evans' METANOIA for 70 and DREARING# for 72.
Not much going on in the game yet, but a svelte-looking Chris Cree (Dallas, TX) is playing Mark Przybyszewski (Depew, NY) this round in a division 1 top table.
The identical (I mean, even their mother has trouble telling them apart), Charles Reinke (Middleton, WI) and Thomas Reinke (Middleton, WI) are here again this year, wearing no name badges (cut a gal a break here!). I stare, peer keenly, and then trip over the obvious atop Thomas' score sheet. It says Thomas. Phew! And then, as if the angels are here to help, Charles has a ponytail today. So, we are covered for today in the which is whom department. On Thomas vs. Bruce D Ambrosio (Los Angeles, CA) board: OPIOIDS and SWEATER.
On the Charles Reinke (Middleton, WI) vs. Mike Baron (Corrales, NM) board: sEASIDE and WANtING. Also TOQUE and the awesome rack dump of VILLI.
Ian Weinstein (Coral Springs, FL) vs. Jeff Fiszbein (South Lyon, MI): REVIOLATE and eTERNAL. Also, PRIVATES, DOMINOES, SADIRONS, and RABBET.
And to show that we are international enough to have two Sharmas here this year in Collins, Puneet Sharma (Cambridge, MA) vs. Steve Polatnick (Miami, FL): FRoNTAGE and INMATEs so far.
Winter Zxqkj (Houston, TX) has a perfectly round 200-point win, 541-341, against Scott Kitchen (Bridgewater, NJ) this round. I see: PARADISE, VELiGERS, and RELIVINg.
"ETAERIO# for 63 and out," says Becky Dyer (Austin, TX) to Stefan Rau (Rhinebeck, NY). It wasn't enough to win though, a 464-426 win for him. Fun words: MAUBY#, QUOPS#, and rEFACES. Midway through, Becky played LIGhTISH hanging the first L into the triple lane. He held her a bit, but then found the awesome triple-triple NOTELETS.
Shauna Petrie (Mississauga ON) clad in a polar fleece parka, is trying to make a point: the air conditioning is high in this room. I, on the other hand, find it comfortable, so I'm not telling anyone in charge about this.....
So, Jackson Smylie (Toronto ON) faced a dilemma this round against Marty Fialkow (Moorestown, NJ). Marty played REREaDs, but circled the blank sheet from top to bottom as S A, so that he actually played REREsDa*. So, Jackson challenged and off it came. In that game the new SLURVES went down. Jackson is 2-0.
Joey Krafchick (Atlanta, GA), also 2-0, is sporting a new tattoo on his right shoulder: a SCRABBLE tile J with a subscript 8. Looks great! He is 2-0 so far and when forced, tells me about his favorite play so far: NEPALITO to the O. His opponent opened with JOB.
The 2015 School SCRABBLE champs are here. Noah Kalus (New Paltz, NY)is playing in division 4. I need to find him next round. Zachary Ansell (Los Angeles, CA) is sitting at a finished board, playing Pokemon Go. He is 2-0 so far and has to game between rounds to keep from getting too board. I empathize and ask about his fav play so far: REFOUNDS through the U for 98. Good find! He defeated the top seed in division 2, Roy Kamen (Covina, CA), in round 1. Division leader, Bryan Pepper, tells me that he by far the youngest and smallest division 2 player thus far. Way to go Zach!
Another 2-0 School SCRABBLE alum, Matt Canik (Austin, TX), is visiting with Jackson Smylie (Toronto ON). They laugh about the possibility of Jackson being a division 2 sandbagger. All said with love, of course. Matt is winding up a cross country trek which took him to many states including Delaware, New York, and then up to Montreal and then into Toronto, where he spent nearly a month. He glows when talking about how much fun he finds Canada and how he wants to move there. Maybe they will invite him up to be a resident SCRABBLE expert?
For the first time in a long time Michael Early (Fort Worth, TX) reports that he went over on his clock this round and lost 20 minutes.