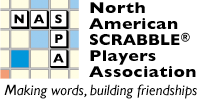 Go to: Early Bird Commentary Games Players Photos Standings Prizes
... tsh Reports ( A B C D CSW )
... Scoreboard ( A B C D CSW )
Back to NASC 2016 Live Coverage
NASC 2016 Commentary: Round 10
[ ]
Go to: Before the Tournament, Round 1, Round 2, Round 3, Round 4, Round 5, Round 6, Round 7, Round 8, Round 9, Round 10, Round 11, Round 12, Round 13, Round 14, Round 15, Round 16, Round 17, Round 18, Round 19, Round 20, Round 21, Round 22, Round 23, Round 24, Round 25, Round 26, Round 27, Round 28, Round 29, Round 30, Round 31, After the Tournament.
---
Round 10
I hear a soft "challenge" and realize Noah Kalus (New Paltz, NY) has challenged Diana Bowen (Charlottesville, VA) at table 1 in division 4. And sure, enough, he was right. PINUOLE* is bad and off it comes. But it seems to matter not as she is way ahead anyway. I see ISOLATE, EDITORs, and WETTING on their in-progress board. A few minutes later, I stop by and it is a 425-325 win for her. She confesses that the reason she tied last round was that she was playing upside down in the endgame and she transposed two tiles and her play got challenged off. Despite not winning, at least she didn't lose!
I watch Joshua Sokol (Montreal QC) play INGRATE/eRA/ET/BE for 68 and "out." But despite his outbingo, the game belonged to Ian Weinstein (Coral Springs, FL), 534-375. Joshua's other bingo was MEDICATE and Ian got down DAFfIEST, SYNDROMe, DASHEEN, and REBUILT.
Two champions vied at board 3 in division 1. A Worlds champ, Panupol Sujjayakorn (Thailand), vs. an NASC champ, Matthew Tunnicliffe (Ottawa ON). I see AILERONS and ONSTREAM and a few minutes later the game was already over and half picked up. Matt said, "I drew both blanks and that is why I won." Panupol protested and assured Matt he would have won anyway. Nice guys.
Okay, who can resist a board with DONJONS on it? Also SEMIWAR. It was Joel Sherman (Bronx, NY) vs. David Gibson (Spartanburg, SC), big time champs. Let's see, Joel is a Worlds and Nationals Champ and David has a Nationals under his belt, too.
Matt Canik (Austin, TX) vs. Rafi Stern (Seattle, WA). I see SILAGEs, DURRIES, and NANCIFY*. I wander over and chat with Mark Przybyszewski (Depew, NY). I ask if it means what I think. He thinks so. Then Mack Meller (Bedford, NY) puts us out of our misery and said, "It is a phoney." Several others chimed in that it couldn't be. He leaned over to the Zyzzyva machine and typed: NANCIFY* not acceptable. NANCIFIED, acceptable. Well, whaddya like about that?
Two of the nicest guys in the room squared off, and they drove here together from Pennsylvania: Will Anderson (Croton, NY) and Scott Appel (Elkins Park, PA). And, as often happens in these situations, one of them had to win. However, I don't think the whipping Will delivered was quite fair! A 574-277 whopping. NEUTRONS 68, vOLLEYS 76, HOISTED 66, CATALOGS 74 (blank L), and the gorgeous RAMILLIE 74 (through the M that Scott played). Will has offered to do all the driving on the way back home.
Winter Zxqkj (Houston, TX) and Geoff Thevenot (Crystal Lake, IL) are at board 2 in Collins. Geoff has 5 seconds on his clock and Winter has more than 7 minutes. And Winter is just aggravated. He needs to make at least 8 points with an L to at least tie the game, and he just can't find it. So, he mutters, and outright talks, and gesticulates. In the end, he couldn't eke out enough and it was a 491-483 for Geoff.
So, I see Kate Fukawa-Connelly visiting with David Eldar (Australia) by the annotated Collins table. They are both tall and I have to crane up to talk to them. I say, "so, how many wins you got now, David?" And he stretches his arms up and out as if in mock yawn and says, "how many have we played." We all laughed. Not a bad couple of days to be David Eldar, tromping on everyone. The Aussie native is now living in England and he assures me that everyone thinks he is American. And when I give him a "you have got to be kidding me" look, he smiles and says, "Well, Americans don't think so, but everyone else does."
Robin Pollock Daniel is done studying for the morning and she assures me she is buckling in to help. I'm delighted to have her on board! Look for her pearls next round.
As we go into the last round before lunch, I note that Ian Weinstein (Coral Springs, FL) has taken over the top of division 1, Alan Stern (Shadow Hills, CA) has put his Master of Ceremonies juju into taking over division 2, Ben Greenwood (Florence, MA) and Marcela Kadanka (Toronto ON) are the only division 3 players with a 9-1 record, and that 9.5 record is keeping Diana Bowen (Charlottesville, VA) as the division 4 top shot.