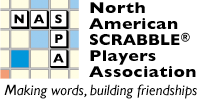 Go to: Early Bird Commentary Games Players Photos Standings Prizes
... tsh Reports ( A B C D CSW )
... Scoreboard ( A B C D CSW )
Back to NASC 2016 Live Coverage
NASC 2016 Commentary: Round 23
[ ]
Go to: Before the Tournament, Round 1, Round 2, Round 3, Round 4, Round 5, Round 6, Round 7, Round 8, Round 9, Round 10, Round 11, Round 12, Round 13, Round 14, Round 15, Round 16, Round 17, Round 18, Round 19, Round 20, Round 21, Round 22, Round 23, Round 24, Round 25, Round 26, Round 27, Round 28, Round 29, Round 30, Round 31, After the Tournament.
---
Round 23
Yesterday it was Ian Weinstein (Coral Springs, FL) in the hot annotated table 1 seat and today it is David Gibson (Spartanburg, SC). That means that Ian is occupying the chair that David sat in all day yesterday at table 2 in division 1. This round, he played Mike Frentz (San Mateo, CA). I see Mike's RESOLVE for 77 (boy, do I!) and COBNUTS for 75. Ian got down MOUNTeRS for 62, GREENING for 77, NONHARDY for 69, and ALTERTED for 70. A win for Ian, 509-410.
Orry Swift (Houston, TX) pulled out a win over his very good buddy Matthew Tunnicliffe (Ottawa ON) this round. They both are big online gamers so very close. And I have to be careful when talking to them because they mock tease each other so relentlessly that I sometimes miss it and take them even a bit seriously (big mistake). Anyways, of this game, Orry says, "I lucked into two late-game, non-bingo double-doubles and that was the difference between winning and losing, it was that close." I see the double-doubles: POULARD through LA and CLAWERS through WE. Orry also played EMIRATES and SANTOOR for 76. Matt opened with SERIATE for 66 and played the lovely MAIeUtIC (I know, you all are thinking that what that rack needed was another vowel, right? Sorry that I'm not sure which letter he played through.). 449-424 for the man from Texas.
Mike Johnson (Decorah, IA) sweetly finds me where I live (in the middle of division 1 with my mouth agape) and brings me to his board in division 2. He laments that he lost two challenges as we walk over. I see Mike's NOTATES and EDITORS which hooked his opponents bingo for 90. He also was so proud of playing a new Q play, ESQUE* for 52. But then he looked it up and yelped (quietly). It is EQUES! Not what he played, gulp. And it got away with it on the triple, too! Jeff played REFLATE, THANATOs, BROkAGE, VENERIEs, and JANNY for 46. A 525-369 monster win for Jeff.
A pretty board between Menachem Rosenberg (Atlantic City, NJ) and Mark Fidler (Waltham, MA). I see NERVIEr, RATSBANE, PRESAGER, DISCeRNER, TREMOLO, ENABLES, and YTTRIC. Mark's win, 513-453.
I know that Vermont's own Mark Francillon (Marlboro, VT) just defeated David Eldar (Australia) at annotated table 1, 492-350. Just as soon as I can corner him to ask some questions, I'll let you all know what went down! Woo hoo Mark!