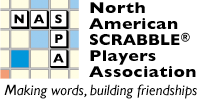 Go to: Early Bird Commentary Games Players Photos Standings Prizes
... tsh Reports ( A B C D CSW )
... Scoreboard ( A B C D CSW )
Back to NASC 2016 Live Coverage
NASC 2016 Commentary: Round 12
[ ]
Go to: Before the Tournament, Round 1, Round 2, Round 3, Round 4, Round 5, Round 6, Round 7, Round 8, Round 9, Round 10, Round 11, Round 12, Round 13, Round 14, Round 15, Round 16, Round 17, Round 18, Round 19, Round 20, Round 21, Round 22, Round 23, Round 24, Round 25, Round 26, Round 27, Round 28, Round 29, Round 30, Round 31, After the Tournament.
---
Round 12
A new division 4 leader, Jack Peters (Nantucket, MA) and he squared off against Elaine Livers (Kaplan, LA) this round. On his third play, Jack played GRiFTING for a 98-ppoint double-double, but that was about all that happened for him and Elaine went on to win their game.
Jesse Day (Berkeley, CA) and Jason Li (Dollard-Des-Ormeaux QC) have a great looking board. I see CURATIVE, WOOFED (down the triple lane), SNEAkBOX, OXLIKE (later extended to FOXLIKE), AQUIVER, MATERIEL (also down a triple), and ETALONS. Jesse's win at division 1's table 3.
Jason Keller (Highland Park, NJ) vs. Joey Krafchick (Atlanta, GA): how many JKs can the world take at once!? I see HOUsiER early on and the next time I happen by, the game is gone. A 472-386 win for the young man from Georgia.
Joey Mallick (Cape Elizabeth, ME) vs. Mike Frentz (San Mateo, CA): 68 points for Mike's UNPROVED and 79 for Joey's ADVICeS. 475-359 win for Joey from Maine.
Matt Canik (Austin, TX) started strong, laying down biGUINE for 68, but the rest of the game was all Alec Sjoholm (Lynnwood, WA): INKIEST for 73, PROTAMIN for 82, and the lovely outbingo of LEEWARd. A 522-354 win for Alec.
Their game winding down, Seth Lipkin (Hopkinton, MA) holding ?N is looking for just the right outplay. Avery Mojica (Overland Park, KS) across the board, holding two Is, looking for all the world like he wants to be put out of his misery. I see CROAKIER, ELUATES, SNARFLED, BAYONET, TAPPING, JUBILES, LOITERED, and OVERRUN jump off the board. His clock running, Seth surprised me by leaning back and saying: "We still have no idea who is the better player because I was so lucky in this game, it provides no answer! Okay then!
Kevin Leeds (Austin, TX) vs. Alan Stern (Shadow Hills, CA) at table 1 in division 2. I can read some of the scoresheets: ANTISIN, 69, CUITTLE 72 for Kevin and sOAPIER 69 for Alan. It gets confusing on who played which of the two J plays: JERRIES and jERRIES! I sense what I can't get from the scoresheets and from their expression when Alan leans back and whispers, "I am being evicted from first place!"
Table 1 in division 3: Ben Greenwood (Florence, MA) vs. Nick Purifoy (Kansas City, MO). RETCHINg, INSIDeR, ad TANGIEST jump off the board.
Marcela Kadanka (Toronto ON) vs. Timothy Long (Fort Wayne, IN): WONKIER, EMITTED, and ROASTeD.
Steve Bush (Richmond, KY) vs. Joel Sherman (Bronx, NY): LUNACIES and vINIEST.
Two Collins players, both Canadian, National, and World SCRABBLE champs squared off this round. Who are they? Can you tell? I see ENDOGEn (Robin Pollock points out that it takes a Y), DETRACT, ENDPLaNE, VOMITY/LETCH played close together, and NOISIER are board highlight plays. A 418-325 win for Joel Wapnick (Montreal QC) vs. Adam Logan (Ottawa ON).
So, I dropped my notebook. I saw Mark Fidler (Waltham, MA) standing with a muscly young man and I wonder who the man is. I check out his name badge. It is Ross Fidler (Waltham, MA), Mark's youngest (and tallest!) son! A math teacher (like his dad), at Hebron Academy in Hebron, ME. Last I saw him, about 8 years ago, he was very short and very young, a kid. He is loving being at this tournament with his dad and good family friends, Scott Leifer (Mansfield, MA) and Dave Leifer (Alpharetta, GA).
Robin Pollock Daniel writes:
We still refer to them as "new words", and Cesar Del Solar (Albany, CA) said as much, pointing out both QIBLA and ZINCO in his game against Mark Przybyszewski (Depew, NY). BURQA was played through the Q in QIBLA, making that two U-less (as in, U after Q) Q words in a single game! Mark played DISAVO(w) and AIRTIME, but then it was all Cesar, getting down PLANNERS, WINTERED, and finally U(r)INALS to bingo out for a 477-387 win.
Speaking of new words, I saw CONTANGO in the Joe Edley (Port Jefferson, NY) vs. Orry Swift (Houston, TX) matchup. I managed to also espy THEELIN, but then backed away the game as Joe was self-flagellating over some perceived error.
Whoever played BOISERIE H1-8 in the game between Joshua Sokol (Montreal QC) and Will Anderson (Croton, NY) either set himself up nicely, or was very generous, because BROWNE(s)T was then played to the triple off the B, and INVADERS got down off of the I, making a lovely F shape. ALOGICAL and ZOON (for 69) were also played, a 528-373 win for my School Scrabble Championship co-commentator, Will Anderson.
Shades of Archie Bunker's racist slurs entered my mind upon seeing CZAREVNA (for 116) and PINKO on the Maddy Kamen (Covina, CA) vs. Paul Holser (McKinney, TX) board. Also spotted were (d)AMAGES and MOULTI(n)G. 511-387 for Paul.
I'm not sure how this went down, although I'm thinking that maybe SEA was the first play in the game between Mack Meller (Bedford, NY) and Kevin Fraley (San Jose, CA). From that, SEASONALLY eventually got played. Beautiful! I also noted the triple-triple CO(r)POR(a)L for 157, capping off a very exciting 526-505 nailbiter for Mack.
I finally was able to talk to some players following their game, as the fast tile squaring and room abandoning continues on Day 2. "I have nothing to say; it was a boring game" said Evans Clinchy (Boston, MA) of his CSW game with Peter Armstrong (Portland, CA). Evans got down MITTENS when Peter decided not to play CLEANER, opening up a triple-triple when he had a large lead and this was the only way he could blow it. But, in the process, his alternate play of RECLEAN gave Evans the spot to get down his bingo. Peter also scored big with his opening play of A(t)HEOUS#, E(n)VISAGE, and EBONIST#, a Collins-only anagram of BONIEST. "Lucky game for me," said Peter afterwards of his 465-395 victory. "I needed one."
The lovely trio of ENTICED, TURGIDLY, and INPOURE(d) was played in the Stefan Rau (Rhinebeck, NY) vs. Marty Gabriel (Charleston, IL) game. I have no further comment.
How many times do you want to dump an excess I and are lucky to get 4 points for it? How about 27? That I got played in front of SLANDE(r)S at A15 in the Steve Polatnick (Miami, FL) vs. Geoff Thevenot (Crystal Lake, IL) game to make ISLANDE(r)S. Neat. The Collins-only ACH(a)RNE# and PEENGE# were also spotted, along with RAILWAY, EBONITE, and GAITERS. Steve's win, 468-427.