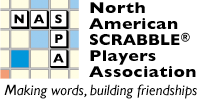 Go to: Early Bird Commentary Games Players Photos Standings Prizes
... tsh Reports ( A B C D CSW )
... Scoreboard ( A B C D CSW )
Back to NASC 2016 Live Coverage
NASC 2016 Commentary: Round 4
[ ]
Go to: Before the Tournament, Round 1, Round 2, Round 3, Round 4, Round 5, Round 6, Round 7, Round 8, Round 9, Round 10, Round 11, Round 12, Round 13, Round 14, Round 15, Round 16, Round 17, Round 18, Round 19, Round 20, Round 21, Round 22, Round 23, Round 24, Round 25, Round 26, Round 27, Round 28, Round 29, Round 30, Round 31, After the Tournament.
---
Round 4
David Pearl (Long Beach, CA) vs. Michael Early (Fort Worth, TX). I see ORDERING, PAR?NGS, RELAXINS, and HEI?IES. I see I and N circled on their result slip and I'm perplexed on the blanks. Kate Fukawa-Connelly assures me it was PARaNGS and I pointed out the blanks. She looked it up and sure enough, both PARaNGS and PARiNGS. That makes it HEInIES!
Joey Krafchick (Atlanta, GA) vs. Kevin Fraley (San Jose, CA). Joey pulled out a 451-383 victory. He got down REQUINTO and then late in the game hooked an S and played SAFARIS/REQUINTOS for 93 points! He also played TwEEDIER and Kevin got down ReVISAL. After the game was over, the soft spoken Kevin said, "So, I was sitting there with a rack of HOOSIER and Joey actually played a C (harken back to the opening comments by Alan Stern (Shadow Hills, CA)), but the C didn't have enough space around it to get down CHOOSIER or the ISOCHORE." An A for paying attention to Alan and for the great no-gos!
Stefan Rau (Rhinebeck, NY) vs. Evans Clinchy (Boston, MA). The latter is sitting back, nibbling his fingernails, barefoot and cross-legged in his chair, (hard to do when you are nearly 7 feet tall—-I exaggerate only a bit!). He has ABETY? on his rack. Stefan is down to 7 tiles and he's putting words down and then picking them up. It is a 443-409 lead for Stefan at this point. I see Stefan's TOENAILS (and, appropriately enough, Stefan's are currently silver!) and also SCURRILE and RENTABLE. Then I see it, the word of the event since I last saw a word on Evans' board: THREAPIT#. When he game wrapped up, I discover that Stefan did win, 462-451, but by less than either of them thought. Evans found BETrAYER to the last two tiles, ER, on the triple lane, for 53. Not enough to win, but enough to catch up and scare Stefan a bit!
Terry Kang Rau (Rhinebeck, NY) vs. Kevin Bowerman (Chapel Hill, NC): tELEOSTS, PENSION, EULOGIAE, and STRAINER.
Their game finished, Bradley Whitmarsh (Attleboro, MA) said, "I blocked his TORTELINI*, but he still won." A 479-400 win for Ben Schoenbrun (Ardsley, NY). I see OVERTURES, ISLEMEN, GLEAnERS, and PISCINE. As I write down my notes, it occurs to one of them (and me actually but I was too polite to say so) that TORTELLINI has two Ls. So, Bradley blocked a phoney, but good for him. He's going to change the world. :)f
Lisa Brown (Charleston, IL) vs. Jason Ubeika (Mississauga ON): SPRAINeD, DAIQUIRI, SEITHER, and GROANER on their in-progress board.
Nice to see so many foreign players here for the NASC. I think the CSW division is drawing more and more. This round Eric Kinderman (Burlington, VT) (of the, "Oh, I beat Adam Logan" club) played David Eldar (Australia). I see the fun HELLFIRE and ANISETTE on their board.
Mike Frentz (San Mateo, CA) is standing out today. He's at the annotated board 1 this round, playing Will Anderson (Croton, NY). All I can see is Mike's hat, a white fedora. Patty Hocker, who has also been arrested by it, tells me she thinks it is a "Cuban" hat. Any way you slice it, cool city.
Kate Fukawa-Connelly, bless her, tells me about a play that impresses her at the very end of division 1. GOUTWEeDS has gone down. Joshua Sokol (Montreal QC) played it through eD, nice nice nice. He went on to be even nicer by also playing MOCKABLe, INDOLENT, and DEMERGES. Chuck Armstrong (Saline, MI) managed COEQuATE, but it isn't enough. A 532-321 win for the tallest, best piano/player singer in the room!
David Gibson (Spartanburg, SC) vs. Jesse Day (Berkeley, CA). I see ELENCHUS and PROVERS, which were David's and then WArRIGAL, AEDILES, NIQABS, and INOSINE, which were Jesse's. I suppose it is no shock that Jesse won this dustup. David is now 2-2 and feeling good.
Two of the quietest, politest, and sweetest players are in a barely audible endgame chat in division 1. One of our past SCRABBLE champs, Panupol Sujjayakorn (Thailand) is discussing his game with Laurie Cohen (Tempe, AZ). They are both smiling, but what they are talking about goes down in the record books as a big secret. :) I say this only because I couldn't hear and they wouldn't repeat. :) OLESTRA, SHORTENS, gLEANED, and ZOARIA are on the board. A 463-376 win for the one-name wonder, Panupol.
Max Panitch (Toronto ON) walks up to me on his way out of the room for lunch. He admits the round 1 loss wasn't the best, but he managed to win his next 3, and one game was against David Gibson (Spartanburg, SC). As I told David earlier, just a win against a top dog like him can make a person smile for months. Max was smiling!
Bob Bolender (Austin, TX) is walking around in a distinctive Coca-Cola shirt. I mean, you can tell it is a Coca-Cola shirt by the distinctive red with a white logo, but only upon closer inspection can you tell what is special about it! The font is in a stylized Hebrew. It is, he explains, an Israeli T-shirt. I like!
Matt Canik (Austin, TX) lets me know that he has every plan of relocating in Canada. He's found the immigration info and he knows how to do it. I wish him luck and think I may even see him more than I do when he resides in Austin, Texas! I get to Canada more often!