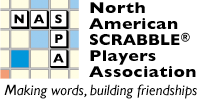 Go to: Early Bird Commentary Games Players Photos Standings Prizes
... tsh Reports (A B C D CSW)
... Scoreboard (A B C D CSW)
Back to NSC 2013 Live Coverage
NSC 2013 Commentary: Round 8
[ ]
Go to: Before the Tournament, Round 1, Round 2, Round 3, Round 4, Round 5, Round 6, Round 7, Round 8, Round 9, Round 10, Round 11, Round 12, Round 13, Round 14, Round 15, Round 16, Round 17, Round 18, Round 19, Round 20, Round 21, Round 22, Round 23, Round 24, Round 25, Round 26, Round 27, Round 28, Round 29, Round 30, Round 31, After the Tournament.
---
Round 8
Michael Donegan (Austin, TX) has a goal today: to tell me about his 7-bingo game. I got my pen out to write and he said, "But first, I need to actually have the game."
Richard Popper (Wilmington, DE) pops by (see how I did that? I kill myself!) and tells me about a low-probability 8 he made yesterday: HARDTACK.
Maureen Morris (Calgary AB) dropped her banana peel in the can beside my table and said, "I've been coming to these events since 2004 and you are always sitting there typing, nice to see you!"
Surprise of surprises! John Babina stopped by this morning with his wife and one of his children. They were in town on a family vacation and couldn't pass up the opportunity to come and say a quick hello. He looks great, those blue eyes flashing. He says that the kids are finally getting old enough and he's thinking of coming back.
Daniel Novinson (Unknown city, GA) tells me that he read my color and he liked it. He said he loved seeing the words that other players were putting down. I'll try to find some more of those words today!
So, the photographer from the Las Vegas Review-Journal was true to his word and in today's Nevada & West Section a photo of our event entitled Hard Scrabble Persistence appeared. The image is about half a page large and features a long view of the room with Scott Appel (Elkins Park, PA), Jan Cardia (Hockessin, DE), and Alan Stern (Shadow Hills, CA) playing.
Announcements were short and quick this morning, reminding us to sign up for shuttle rides to the airport, for nighttime shows, and to turn in our paperwork. Thanks to Robin Gates (Dallas, TX) for her work organizing all the transport stuff.
Dan Stock comes up to me, his teeth set on more edge than normal. He'd gotten a "director" call. When he go there, the players said they had flipped their board and lost an O. They had tracked, looked all over the floor, everywhere, and the O was gone. He asked if they checked their shoes and socks, purses, bags, and he got down to look on the floor, too. Flummoxed, he grabbed the bag reflexively like you do when you know you are looking in the wrong place for the 100th time again. But guess what? The "lost" tile was in the bag all along!
So, Hasbro is in the house! Kevin Belinkoff (Burbank, CA), VP of Game Reality Show Production & Development at Hasbro Studios, has stuck his foot in the waters of competitive play. He is in 33rd place at 4-2. I hope he enjoys his time with us!
At the very next table to the last lost tile situation, a player wrapped in a blanket (this room was a bit chilly yesterday for some) managed to knock a tile off her rack into her gear bag. That took a while to find, but they managed. Thanks Dan for your tile finding skills.
Daniel Moglen (Davis, CA) at table 1 in division 4 played Chris Autio (Missoula, MT) this round. Game in progress, I see STAMENS, FAQIRS, and XENIC down the triple on their board.
Division 3, table 1 featured Katya Lezin (Charlotte, NC) vs. Gary Skowronski (Silver Spring, MD). As I walk by, she says, "He is the nicest guy to play, we are having great fun here." I see PLENTIES for 72 for Gary and FARTERs* for 71 for Katya. He held her on it, but figured a mother of three probably knew that word well.
Mark Milan (Laguna Niguel, CA) vs. Trip Payne (West Hollywood, CA). I see LUNCHEONS and LaTRINEs on their board. They are both smiling and laughing with each other as the game winds down. Trip pointed to the bathroom play and asked if I liked that high-probability rack. I did. Trip is so long and lanky. He sat with his legs crossed to the side and still had enough body length to do an entire "Vanna White" pass across the board as he spoke to Mark. He doesn't need two chairs stacked upon each other as some of the shorter set do!
Mark Przybyszewski (Depew, NY) vs. Michael Early (Fort Worth, TX). This was a Mark holding on with his teeth to salvage a 1-point win kind of game. Mike got done IPOMOEAS for 65 and CYANITE for 73. Mark played SADIROn and had the lead when the bag got him. He played VINIER to get "his" bingo down, but it was Mike who had the tiles. He slapped down ASTRINGE through the N and caught Mark with CQEIH on his rack.
Ryan Fischer (Charlotte, NC) vs. Ken Kasney (Meridian, ID) at the next board. They got up to challenge AWAYS* and away it goes (too bad, it came down from the triple for some nice points!). I see ENDBRAIN, PLATEAU, TONNeRS, and UNbODIED on their in-progress board.
Will Scott (Versailles, KY) had a barn burner of a game this round with Linda Oliva (Lisbon, MD). There were four bingos played in the first four turns, three of them his. He opened with DOLEFUL, which drew a challenge. Then he played GLIMPSER through the E. She played UNSIGNED and he replied with DRAINERS from the D. Nice rack management, there, Will! Later in the game she played RELEARNT and he got down TRACTION which led to his 522-381 victory.
Matthew Tunnicliffe (Ottawa ON) got his crack at table 1 this round against Orry Swift (Houston, TX). It was Matthew's turn to shine. Do check out their annotated game this round! I leaned in and hear Matthew talking about his "zed" word choices. He said the word about five times in a short period. When I teased him he said, "When I say 'zee' people think I say 'cee' so I think 'zed' is clearer." With this kind of logic, who can fight with him? Time for a shootout for Adam Logan, who couldn't be with us this year, but just won the Canadian National SCRABBLE Championship, which Matthew played and placed in, too!
Morris Greenberg (Brookline, MA) has slain the undefeated dragon in division 2. Sarah King (Cave Creek, AZ) was his victim this round. She played GRANtORS, which drew a challenge (it is good) and LEGALISE. He got down FELONIES and point-rich plays like QUOTH for 64 "over and over" and won the matchup.
Okay, the game of the confused internet reporter's day. Evan played Evans in the Collins division. Evans Clinchy (Boston, MA) explained that it was pretty close until he got three bingos in a row. This of course, cracked everyone up. They were BLASTIER for 83, CHICAnER for 101, and GRAPPLE for 89. To his credit, Evan Berofsky (Oxford, MI) played SUIDIANS#. Evans defeats Evan this time.
Siddharth Murali (Collierville, TN) just lost a "boring" game to Chris Canik (Austin, TX). They both agreed to the description as the 376-342 score will attest. I see Chris' PAVEmENT and ESTRUAL and Sid's LIGATURE.
Martin DeMello (San Francisco, CA) is not doing very well so far game-wise, but he tells me that he is having great fun and enjoying the large Collins division here this year.
Geoffrey Newman (Brampton ON) vs. Trevor Halsall (Australia): BLOWIEST, nERVATE, SANDIEST, and URALITES are on their board. They are deep into a chat and folks were standing around wanting their board, so I moved on.
Last Night
John Robertson held a trivia contest that started at 8pm. 68 players and 11 teams showed up to demonstrate their knowledge of history, geography, sports, current events, literature, science, math and pop culture. Teams were treated to worksheet rounds on movie quotes, trivia by the numbers, and abbreviations. Each player paid $5 to participate. John collected $340 ($15 in poker chips and $5 in Canadian funds!) and gave out $305 in prizes, $15 to Ross Brown (Ottawa ON) for doing scorekeeping (which he projected onto a screen for easy viewing), and the rest for himself (which almost covered the cost of the photocopying needed!). Dressed in a beautiful silver sequined shirt, Judy Cole (Concord, MA) acted as Vanna White, bringing slips of papers back and forth to the teams.
A favorite question: The 1939 Nathanael West novel The Day of the Locust has an important character that shares the same name as a famous animated character. Name the character.*
The event ran for 1 hour and 45 minutes and there were questions about Honey Boo-Boo and a category called "Necrology of Famous People Since the Last NSC."
Jason Keller (Highland Park, NJ) has one complaint: no questions about classical music or opera. The rest of the contestants groaned when he said that, so I assume they liked the questions as they were.
The competition was neck-and-neck for its entirety, but the winning team who stayed one step ahead of everyone was O? Est Bob L'Eponge?, featuring Jason Keller (Highland Park, NJ), Stefan Fatsis (Washington, DC), Terry Kang Rau (Hudson, NY), Bradley Whitmarsh (Attleboro, MA), Dan Stock, Michael Bray (Regina SK), and Michael Gincel (Lakewood, NJ).
Thanks to John for the enormous amount of work that went into the contest.
*Homer Simpson
The other happening last night was "An Evening of Music" hosted by Alice Ching-Chew. What a total delight! She held one at last year's NSC and it was attended by few musicians. This year, they exploded out of the sky! The performances were really spectacular. She promises to put the majority of them up on youtube (she recorded almost all of them), so keep your eyes peeled!
Alice kindly typed up a bit about each performer and their music and I've added a bit that I gleaned. Please forgive any mistakes or omissions. Kudos to Alice for helping to rent a piano for the evening. It added SO VERY much to the caliber and variety of performances.
Before the night officially started, Andy Hoang (Cary, NC) impressively practiced with the piano, as well as Maria (girlfriend to Cesar Del Solar (Alhambra, CA), Brian Galebach (Columbia, MD), Michael Early (Fort Worth, TX), and Joel Sherman (Bronx, NY). Right before the event started, Brian and Robert Felman (Nokomis, FL) performed a lovely piano/clarinet duet.
When the event officially started at 8:30pm, there were 16 participants. They were: Alice Ching-Chew on mandolin/small guitar; Rafi Stern (Seattle, WA) (boxbeating) and Noah Walton (Portland, OR) (rapping), doing a SCRABBLE-themed duet; Noah (impressively) singing a song of his own with Michael Early (Fort Worth, TX) accompanying; Maria (girlfriend of Cesar Del Solar (Alhambra, CA), two classical pieces; Kay Patterson (Fair Oaks, CA) on the accordion, three Italian-ish songs (her playing was amazing and the instrument a beautiful work of art); Joel Sherman (Bronx, NY) played piano and sang two Billy Joel songs; Pablo Moreno (here with Sam Towne (Kempton, PA)) played an oboe solo (adapted from a piece for clarinet); Carl Johnson (Beaverton, OR) played the piano, doing one song of his own creation and another based on "Modern Major General" about crossword expertise; Brian Galebach (Columbia, MD) did a Rachmaninoff on piano; Robert Felman (Nokomis, FL), a clarinet solo; Andy Hoang (Cary, NC) did three songs on the piano, the "Maple Leaf Rag," "The Entertainer," and a classical piece; Chris Cree (Dallas, TX) performed two songs on his singing/guitar, "Leaving on a Jet Plane" and "Starry Starry Night;" Michael Early (Fort Worth, TX) played piano, one his own composition and another classical piece; Supriya Devnani (Orlando, FL) sang a Bollywood piece accompanied by Joshua Sokol (Montreal QC); Supriya then did a duet mashup on "500 Hundred Miles" with Alice in English and Hindi; and Joshua did two songs solo, "Yellow" and "Hey Jude." Now, we can say he did them alone, but he encouraged us all to join in on the Beatles number and we did. B this point it was past 11:00 and the few people still around sang another song. Joel did another Billy Joel song, Chris sang "Harvest Moon,", Noah sang acapella a tune from the musical "Rent," Carl did another composition of his own, Josh sang "Yesterday, and Supriya and Alice did another duet mashup on "When I Need Love."
It was a fun and terrific evening of beautiful music. If you come to an NSC, please join in next time!