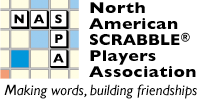 Go to: Early Bird Commentary Games Players Photos Standings Prizes
... tsh Reports (A B C D CSW)
... Scoreboard (A B C D CSW)
Back to NSC 2013 Live Coverage
NSC 2013 Commentary: Round 23
[ ]
Go to: Before the Tournament, Round 1, Round 2, Round 3, Round 4, Round 5, Round 6, Round 7, Round 8, Round 9, Round 10, Round 11, Round 12, Round 13, Round 14, Round 15, Round 16, Round 17, Round 18, Round 19, Round 20, Round 21, Round 22, Round 23, Round 24, Round 25, Round 26, Round 27, Round 28, Round 29, Round 30, Round 31, After the Tournament.
---
Round 23
Art Moore cracks me up. He walked by all of us up on the command center with a bright orange tile with a U on it singing, softly, "I got U babe" from the Sonny & Cher hit of the mid 1850s. (joke)
Sam Kantimathi (Sacramento, CA) has withdrawn from the 2013 NSC. Tournament officials have no further comment on this matter at this point.
Denise Mahnken (Tillman, SC) slinks into the tournament room this morning and purrs at me, "Two things. First, I am the only player from South Carolina here in this entire room. Secondly, I daresay I'm the only one that has a new tattoo since we got here, too!"
Daniel Moglen (Davis, CA) tells me after the fact that he looooooost against Kevin Bowerman (Chapel Hill, NC) this round. I saw their board and FLORIST, OUTRAGES, and SNOUTED were all Kevin's. So, this School SCRABBLE kid told Daniel a thing or two. :)
Katya Lezin (Charlotte, NC) defeated Barbara Drinkwine (Menasha, WI), 360-324. I see LONELIER (blank L) and INVITER on their board. It was very close toward the endgame, so I had to walk away until it was over.
Andy Hoang (Cary, NC) has his Mac ibook out after every round, this game is no different. He just defeated Steve Moniz (Manchester, NH), 417-325, who he said was a fun person to play (He hails from my neck of the woods, I know this to be a fact!). Andy got down SUNNIER and BOATERS. Steve played TENDRIL. In the endgame, Andy tracked and knew Steve could bingo out with TEARIEST, so he blocked that play with CAIN, which drew a challenge.
Morris Greenberg (Brookline, MA) vs. Bob Becker (Jefferson, MA). I see BUFfETS, STATION, and VORLAGE. I get called away....
Gerry Greenside (Las Vegas, NV) vs. Mark Rosenberg (Atlantic City, NJ) at table 1 in division 2: dAUBIEST, REWETTED, SENSORIA, CHARKAS, and ATAXIC are on their board.
Conrad Bassett-Bouchard (Piedmont, CA) had some fun with Richard Popper (Wilmington, DE) this round and Richard brings me over to see. ATELIERS, ASTONiED, SADDLING, GUTTIER, and ABATING for Conrad. I see FLUMPS on their board.
Michael Baker (Portland, OR) comes over, smiling. He's got a story. Yesterday Joel Sherman (Bronx, NY) "taught" him SNOOZLE "the hard way." In today's first round game, Mike got the chance to play that word: sNOOZLE for 100 points (which drew a challenge from his opponent, Mike Baron (Corrales, NM)). He did not play it safe. And on his next turn, drew an S and played SETAE/sNOOZLES for a bunch of points. He later got down LEADIER, EPAULETS, EVINCING, and INTARSIA to rack up a monster 614-231 win. Wow Mike! Great game for you!
We have a new leader! Noah Walton (Portland, OR) defeated Nigel Richards (Malaysia) this round (check out their annotated game!) and Kenji Matsumoto (Berkeley, CA) defeated Dave Wiegand (Portland, OR), 411-317. I see wINTERS for 75 and tENDRIL for 68. There are nonbingos: ABIOTIC, VAWNTIE, HEXAD, and INKLES. Of this last play, which was high scoring, I told Dave it was nice. He replied, "I would rather have played SONLIKE, but the board was not cooperating."
Peter Armstrong (Milwaukee, CA) vs. Will Anderson (Croton, NY): CRANNoGE, OESTRONE, REBATINg, and AMITOTIC.
Komol Panyasophonlert (Thailand) vs. Scott Appel (Elkins Park, PA): vIRIONS and DIPTERON by Scott and VERATRUM to the M for 92 and DEODARs for 93. Komol's win, 491-353. GHYLL is also on the board. Scott told me afterwards that Komol is a terrific player with great board vision and word knowledge. Yet another fan of the Thai player!
So, Shelley Ubeika hands me a note. It says, "If Judy Cole (Concord, MA) got a tie, you don't know what ecstasy I would be in," -Reese Daniel. I read it, looked around and said, what?!? So, I had to find Reese and have him explain. He's got his personal number pad leaning against his iPad as he types in results, very efficient. When I managed to get his attention, he said, "There are only two joys in my job. 1. When Judy hands in a slip because she has beautiful and perfect handwriting. 2. When there is a tie. So it goes to follow that her perfect handwriting with a tie would be over the top." This kid is a hoot. Earlier today, he had his fingers sticking through tissues. I asked him what was up. He said, "Oh these? They are my fingerless gloves. Dallas won't turn up the heat in here." Shelley almost fell on the floor laughing. The two of them are having more fun together in this room than anyone!
John Stardom (Ottawa ON) played Carol Kaplan (San Diego, CA) this round. She got down WITLESS and INsANE/CLINICs down the triple and SiTUATED through the first T. She was ahead by 187 at this juncture. At one point, he held DDIIIOO (it is a bingo, folks), but he could not get it down, so he played OIDIOID through the first I. Then, in the endgame, he was opening lines, hoping to get a late-game bingo and she blocked the one he thought he wanted, but he found and got down ETERNIZE to the last E for an outplay and lost by only 93! He considered it a victory.
Marty Gabriel (Charleston, IL) vs. [error: no such id: john]: nOTITIAE#, ENTRAINS, PRIORATE. Things are tense there. Marty down to 1:38 on his clock and John at 7:12, but they are tracking and configuring, counting and recounting the tiles in the bag over and over, and trying to figure it all out, so I stay back.
Paul Sidorsky (Calgary AB) takes me over to his game with Tom Bond (Everett, WA). Tom played SPERMIC and LINGUINE to the E in the endgame and it pretty much won him the game. "My one highlight," said Paul, as he pointed to STeNTORS through the second T. Tom also played VIOLATES and LOQUAT down to the triple.
Brian Galebach (Columbia, MD) is fond of his windbreaker and he wears it a lot, but today he has THREE coats: a shirt, his windbreaker, a fleece jacket, and a winter coat. And then he's got on a hat which he rolls down over his ears. He says, "I hardly wear anything when I curl, but in here, I'm freezing!" I ask, "you curl? As in on ice with the broom thing?" (We, in the US, are required to act like we don't know what this sport is all about). He nodded enthusiastically, he loves curling! I'm sure he'd share more about it if you chose to attend his tag team tournament this evening.