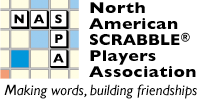 Go to: Early Bird Commentary Games Players Photos Standings Prizes
... tsh Reports (A B C D CSW)
... Scoreboard (A B C D CSW)
Back to NSC 2013 Live Coverage
NSC 2013 Commentary: Round 16
[ ]
Go to: Before the Tournament, Round 1, Round 2, Round 3, Round 4, Round 5, Round 6, Round 7, Round 8, Round 9, Round 10, Round 11, Round 12, Round 13, Round 14, Round 15, Round 16, Round 17, Round 18, Round 19, Round 20, Round 21, Round 22, Round 23, Round 24, Round 25, Round 26, Round 27, Round 28, Round 29, Round 30, Round 31, After the Tournament.
---
Round 16
Okay, this Collins stuff is getting crazy! Jason Idalski came over to tell me that Brian Bowman (Villa Hills, KY) LOST his game this round despite playing FIVE bingoes. So, I go over to check it out. Evan Berofsky (Oxford, MI) opened their game with HEIFERs and on his next play got down vALORISE. Then Brian had a bingo/bango/bongo of LABELING, LEVATED (blank L), and DEEMING. Later in the game, Brian played OVERSMAN#. So, things were tight, the endgame was upon them. Brian played NUTRIAS, his fifth bingo, which was probably the right thing to do and drew PMDL from the bag, which was NOT the draw he wanted to see. Down came ANCIENTS through the second N (which was the first N in NUTRIAS) for an outbingo. Ouch. 505-489, Evan's win.
Evans Clinchy (Boston, MA) is eking closer to Geoff Thevenot (Austin, TX) and is now only one game back on him, defeating him this round. I see DEPICTS and NITHERED# for Evans. He wanted to point out that Geoff played peTRONEL for a triple-triple that game. 468-423 for Evans.
Evan and Evans in the same division, at the same table is killing me in the "keeping it straight" department.
John Chew explains that due to fact that the top 12 have pulled away from the open field and have mostly played each other, it is now time (as of last round) to begin re-pairing in the Collins division. So more grudge matches to come!
Table 2, division 1, Kenji Matsumoto (Berkeley, CA) "won by a lot] against Trip Payne (West Hollywood, CA). He said, "if it is a bingo, I played it." I see BIRTHED, ERICOID, PENATES, and COATTAIL.
So, I sat down in a quiet moment with Jackson Smylie who is annotating Nigel Richards (Malaysia), who was sitting beside us as we chatted. I asked it Jackson was learning some stuff and he said he was and he wasn't. He mostly admitted to not knowing why Nigel did the things he did when he did them. I said, "If I had it sum up, I think Nigel plays without fear. And he thinks most folks play scared and it hurts the in the end game." Nigel nodded and they spoke about a play that Nigel had made today and Jackson admitted he wouldn't have dared do it, but that he didn't have the word knowledge Nigel had. In time, Jackson, I'm sure you will, if you choose that path!
I asked Nigel if he missed playing Collins in this event, so many of his friends are playing it across the room (Nicky Huitson (United Kingdom) and Nuala O'Rourke (Northern Ireland) had come over to visit with him) and he said he didn't. He finds it more of a challenge to play TWL and he enjoys that challenge. Also, the old adage holds true, even for Nigel, that "absence does make the heart grow fonder." He'll be back in Collins land shortly!
Ben Schoenbrun (Ardsley, NY) lost the last two games. He said, "Kenji Matsumoto (Berkeley, CA) bagged me last round. Ask him, he'll agree! And, Nigel Richards (Malaysia) beat me by bingoing out this round. I needed that last letter in the bag to NOT be an X and it was. I did get down a 9: REORIENTS from the RE!"
I asked Nicky Huitson (United Kingdom) if she would be in Prague and she said yes, but not to play probably. She'd be cheering folks on. She admitted how nice she found Nigel and said she doesn't want it to get out because he has the reputation for being the "dour man of SCRABBLE." I was scribbling and Nigel said, "Well, so much for that." They had the chance to tell me not to repeat it! :) Her accent has been getting in the way of this trip. She tried several times to order a "mocha" at the coffee shop and the barista could not understand her so she said, "just give me a cappachino instead." The barista understand that! Nigel said, "do you know how much a dime is Nicky? He pulled one out of his pocket and showed it to her. She kept turning it over and over and she guessed, "5 cents?" We laughed and he said, "No, it is 10 cents, but it doesn't say that on it anywhere." I grabbed the dime, surely this wasn't true: it is. He said when he first came to this country he thought the dime was a penny because it was the smallest. Nuala O'Rourke (Northern Ireland), when asked about her last game, said, "You would not believe the rubbish I had and I only lost by 40. All Is and Us, but somehow I got 385." Rubbish is a word we don't use all that often and she said, "You want to hear a good Irish saying? You arrive at someone's house with two arms that are one length. Know what that means?" I shook my head, she said, "You haven't brought a gift!" She promises me more of these later on. Meanwhile I'll be working on my arm length.
Oh yeah, SCRABBLE, we're playing that, right? At table 2 in division 2 a crowd had gathered. Gerry Greenside (Las Vegas, NV) had defeated Nick Fraher (Los Angeles, CA), 389-411. I see FArNESS, SLITTER, BOATING, and CREEPAgE. Tiles are splattered on the sides and Rahn McKeown (Cary, NC) and Morris Greenberg (Brookline, MA) are offering ideas on how Nick might have wrested a win out of the distribution. Not sure it was ever resolved.