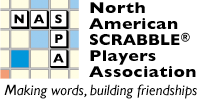 Go to: Early Bird Commentary Games Players Photos Standings Prizes
... tsh Reports (A B C D CSW)
... Scoreboard (A B C D CSW)
Back to NSC 2013 Live Coverage
NSC 2013 Commentary: Round 26
[ ]
Go to: Before the Tournament, Round 1, Round 2, Round 3, Round 4, Round 5, Round 6, Round 7, Round 8, Round 9, Round 10, Round 11, Round 12, Round 13, Round 14, Round 15, Round 16, Round 17, Round 18, Round 19, Round 20, Round 21, Round 22, Round 23, Round 24, Round 25, Round 26, Round 27, Round 28, Round 29, Round 30, Round 31, After the Tournament.
---
Round 26
Alan Stern (Shadow Hills, CA) started us off this afternoon with a reminder about the 6-game sprint to the end: three games this afternoon and three tomorrow morning. He asked if folks knew the NASPA motto and few seemed to know it. So, he said, "Making words and building friendships." And he asked us all to applaud the member who came up with it: him. :)
Michelle, wife of Eric Miller (New Braunfels, TX) came to check in on him today. She's spent most of the day at Canyon Ranch spa, but she wanted to see him in action. He's moved up to table 17 and she was cheering him on remotely. He doesn't know she's here and she wants to keep it that way. She fears making him nervous!
At table 1 in division 3, Katya Lezin (Charlotte, NC) was playing Shauna Petrie (Mississauga ON). I see Katya's GLEAMING and Shawna's STITCHES. Also the word COUGAR.
Table 1, divd 4: Kenny Hoang (Cary, NC) vs. Phil Seitzer (Davis, CA). DUNITES, REALiSM, DECLAWED, VIEWY, and PReZ to the triple.
Daniel Moglen (Davis, CA) vs. Conchita Deprospo (Unknown city, FL), who is sitting atop a cushion that is on top of two stacked chairs, which works to give her more visibility of the board since she is a smaller person. However, she plays a mean game. I see STUNNERS, LEASING, fRIVOLS, and FLIRTIER on their in-progress board. It was decided by 10 points, his win, 385-375.
Vail Palmer (ALBANY, OR) and Andy Hoang (Cary, NC) are at the challenge machine. LABTESTS* is ruled unacceptable and back they return to their game. So far, I see SANDIER on their board. I would call this matchup one of the largest age spreads between opponents in the room!
Board 1, division 3: Brett Jackson (Pensacola Beach, FL) vs. Guy Ingram (Ellenwood, GA): STARTING, LIVENEsS, STORING, and AERAToR. Also FRIEZE.
Board 4, division 2:Paul Avrin vs. Mark Rosenberg (Atlantic City, NJ): ENRAgED and NIELLOS are Mark's bingos and Paul got down LOUNGING through the first G and TRUMPInG. I walked off but later in the round heard him complain bitterly that he's been playing SCRABBLE for years and years and he's never had a game before without and Es until this game. His first 6 turns he had IOUU (a total for four vowels) and he dumped twice. He is amazed he only lost by 60 when the tiles were so unfairly distributed.
Nick Fraher (Los Angeles, CA) vs. Sam Towne (Kempton, PA). Okay, Nick is super cool and he wears a fedora. Secondly, he tracks on a small white board that he leans on his lap up against the table. He just wipes it off after every round. Environmentally strong play, right there. I see ANCeSTOR, TURBETH, SPONDEE, REMOVES, and SOUTANE on the board. Also, IGLU and ADDAX. Sam is looking sharp himself today in his soft gray dress shirt and tie.
Siddharth Murali (Collierville, TN) vs. George Asaka (Omaha, NE): MARGInAL and SORInGS are on their in-progress board.
Just wrapping up, Morris Greenberg (Brookline, MA) vs. Doug Lundquist (Chicago, IL). They met at the Dallas 2011 NSC and played each other in a lower division, their first nationals. Of this game, Doug said, "I totally bagged him." I see his DOURINE, ASTATIC, FRUCtOSE through the C, and the fun nonbingo XANTHAL through the first A for 50. Morris got down PARGETS and lost this game, 300-540, as he did at their first meeting. He will get revenge, though, I'm sure!
Board 1, Collins: Sandy Nang (Malibu, CA) vs. John OLaughlin (Cambridge, MA): OXIDIC, GLARERS, MEOWED, and TENCH.
David Eldar (Australia) surrounded by his tape and post-it notes is playing Robert Linn (Potomac, MD) this round: TINIEST, EpISOdES, and RIANCIES#. Also PROBIT.
"It was ugly," said Scott Appel (Elkins Park, PA), as I approached his board 2 game with Nigel Richards (Malaysia). I see Scott's ROSEATE and Nigel's HERALDRY, VEStALS, and VAUNtIE. Scott got down my favorite play: UMIAKS. A 484-389 win for Nigel. Yawn. :)
Will Anderson (Croton, NY) vs. Noah Walton (Portland, OR). Noah says, "I was leading by 100 after the first four turns, and then I just tried to keep the board closed." He started off with AEOLIAN, then FRINGER, and then HAVIORs. Will snuck in NEUROSAL to try to even things out. Later in the game, Will played HOOKEY one short of the triple lane. It screamed for an S. Noah played TAWSED/HOOKEYS and Will had to challenge. It was good. Noah's win, 492-343.
"Sherrie, want to see a 9 through disconnected letters?" Uh, yes! So, off we go to the Reid Hattaway (Moscow, ID) vs. Yukiko Loritz (Anaheim, CA) board. They both got down thee bingos each. Yukiko had AGNAILS, sWEEPIER through the I, and TANGOeD. Reid played OBTAINER, hooking the O to make FADO, MANTEAUS, and the lovely COWINNERS through the W and second N for 82. Wowsa, pretty play. A 463-460 win for Reid even after the recount.
Komol Panyasophonlert (Thailand) vs. Dave Wiegand (Portland, OR): So, Komol had some nice tiles at a nice time. On his first turn he played REPINING and on his next turn triple-tripled through the G in that word with APOGOGEs. Dave managed to get down ROULAdE. Other plays: REBEGINS, SEROTINE, and DIZENS. A 483-449 win for Komol. Dave has been having a hard day today.
Chris Cree (Dallas, TX) vs. Trip Payne (West Hollywood, CA). "It came down to the endgame," said Trip as I approach. I see Chris' ASTERNAL and VIPERINE through the P. Trip played PoRTAGE and MANTrAS and front extended ZA to CORYZA. Chris' second bingo was one short of the triple and he tried VIPERINES*/SOY, but Trip challenged it off, explaining that VIPERINE is an adjective. Trip's win.
Okay, Susi Tiekert and other fans of Robin Pollock Daniel (Toronto ON). She came to me this round and said, "Okay, Sherrie, I finally have something to show you." And she brought me over to her game with Joey Mallick (Cape Elizabeth, ME). Robin played AYIN to open, leaving three vowels in her rack. She said she had no right to the bingo that then went down: ENTAILS/AYINS. She later played ECHIDNAE for 82, SALUKIS, and BAGPIpER. Joey played OUTPOuR. She said her ability to draw balanced racks this event has been zilch until this game and the one last round.
She goes on to tell me about her game last round with Jim Kramer (Roseville, MN). She said, "I finally got the chance to play DYSTOCIA. It is so satisfying to see that all that hard work [error: no such id: studying over the years ] pay off!" The play wasn't even that many points (she made more on other plays in the game), but that she saw it and knew it and got the chance to play it.