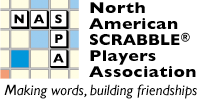 Go to: Early Bird Commentary Games Players Photos Standings Prizes
... tsh Reports (A B C D CSW)
... Scoreboard (A B C D CSW)
Back to NSC 2013 Live Coverage
NSC 2013 Commentary: Round 10
[ ]
Go to: Before the Tournament, Round 1, Round 2, Round 3, Round 4, Round 5, Round 6, Round 7, Round 8, Round 9, Round 10, Round 11, Round 12, Round 13, Round 14, Round 15, Round 16, Round 17, Round 18, Round 19, Round 20, Round 21, Round 22, Round 23, Round 24, Round 25, Round 26, Round 27, Round 28, Round 29, Round 30, Round 31, After the Tournament.
---
Round 10
The first game to finish this round was a blowout between Rahn McKeown (Cary, NC) and Michael Bassett (Port Clinton, GA). The latter joked that I could leave his name off the report if I wanted. It was a 641-275 win for Rahn in a game that went so fast, it took less than 10 minutes to complete. Rhan played ACTUATOR for 63, BOATMEN for 76, BESMILE for 98, ERRATICs for 87, and the lovely out-bingo of QUERIED for 89. Michael played ELASTIC and INGESTAS* which Rahn accepted, blaming it on being "caught off guard." To make things work, Michael was caught with PIUNEXV on his rack!
Mack Meller (Bedford, NY) vs. Noah Walton (Portland, OR). Noah is sitting on his knees with his stockinged feet wrapped under his torso. That is a lot of leg: not sure how he quite bends them to fit! I see FLOUNCE, COLLAGENS, and uNDREST on the board, game in progress. Other words: RUBUS, AHED, TEIID, and KAZOO. I wasn't around when it wrapped up, but it was Noah's win, 466-356.
So, this morning, a few of us met up in the hotel exercise room. Only one person, Darrell Day (Richardson, TX) studied word lists on the tread mill! Winner! He'd introduced me to his dad last night, a man who still competes in chess tournaments to this day. Darrell asked me to guess his age and I said 70 based on Darrell's age, which I assumed was 50ish. Well, he's 86! Good genes!
John Luebkemann (Bermuda) tells me about a 188-point triple-triple that he made this round in a game with Reid Hattaway (Moscow, ID). The play COInMATE made a few overlaps, LI/ON/UM/ET and was prettily nestled in. The board was already mostly picked up when I got there. A 556-359 win for John. A nearly 200-point single play will do that to a score!
Dave Wiegand (Portland, OR) vs. Jerry Lerman (Foster City, CA): ANTILEFT, VOLUTED, NARCIsT, JOSHERs, ONEFOLD, BOWSES, and CLERID. It was a 447-357 win for Dave.
Jason Keller (Highland Park, NJ) got down CRISTAE in his game with Amit Chakrabarti (Hanover, NH) who played DELEGATE and SLINGER. In the outgame, with AYE on the board, Jason played OUTPRAYED to go out. Great kind, and maybe autobiographical, but it was 12 points short of winning the game for him.
Charles Reinke (Middleton, WI) vs. Conrad Bassett-Bouchard (Piedmont, CA): LEVATOr and REVUIST are their midge bingos. I also see WILCO, DUMBO, and ASKOI.
The women nearest the top of division 1 right now are Jan Cardia (Hockessin, DE) and Maddy Kamen (Covina, CA) and they squared off this round at the top table row in their division. I see SPAWNED and SEPaLINE, which Jan played to the E as I watched. It was a 433-307 win for Maddy. They both were sad one of them had to lose, since it knocked one of them back a bit.
I get waved over to a game between Kenji Matsumoto (Berkeley, CA) and Komol Panyasophonlert (Thailand). Kenji needs to leave the game after his next turn and I call John Robertson over to help explain to Komol if need be why Kenji was outta there. I see OnAGERS, MUSSInG, and ETESIAN on their board.
Scott Appel (Elkins Park, PA) vs. Jesse Day (Berkeley, CA): TUGrIKS for 86 by Jesse was the play that caught my eye, but it was all Scott's show. He opened with EVENTIDE for 66, then played MACHREE for 73 and ADHESION for 66. Fun other words: ABULIC and FATWA. Scott's win, 405-368.
Ted Rosen (Rochester, NY) stops by to tell me that an earlier opponent this morning, Jason Li (Dollard-Des-Ormeaux QC), played WARPLANE for 98. Ted replied instantly with SOLARIZE for 104. Ted lost that game. Then in his next game, Ted played two nonbingo double-doubles: UNSOUND for 32 and ROILIER for 28.
Joel Sherman (Bronx, NY) vs. Adam Ginzberg (Swarthmore, PA): SQUADRON, TREENAIL, KALAM, and COVEAL are on their board. I find out later that Joel won, 382-350.
Scott Jackson (Minneapolis, MN) vs. Matthew Tunnicliffe (Ottawa ON). All I can see is HAWFINCH for 138 played by Scott, but it turns out that Matthew's less flashy, but more plentiful bingos won him the game, 456-371. Matt played ABOIDEAU, CREATINE, EPAULET, and SOLATED. Other fun words: KALAM, COVEAL, KOUROI, and MAHUANG. Oh, a later discovery: Scott played JINX down the triple lane, which hooked to make ADIEUX for a ton of points, too!
Wallace Schultz (Las Vegas, NM) vs. KC Frodyma (San Francisco, CA). A barn burner for sure. The first five plays were bingos: Her bACKLOT for 80, his UNCINATE for 70, her JETTIES for 93, his REEDITED for 74, and then her POWDERY for 77. Wow! Later on, to make sure we were paying attention, she played EXPIRIES for 88 and he got down VARIATES for 71.She won, 523-407.
In a moment of candor, Nigel Richards (Malaysia) admits he once played IR* in an annotated game at the WSC against Pakorn Nemitrmansuk (yeah, he's from Thailand!). So, even the best slip up every so often.
Steve Glass (Dade City, FL) is playing Kolton Koehler (Portland, OR) this round. He says he is very much looking forward to the game as he's spent much of last night at the poker tables with Kolton. Every dealer who came out, Kolton would tell them what their name anagrammed to. Steve remembers him telling one dealer that her name with the letters BLACK spelled three different words (he could not remember what they were now, but that is a neat party trick. I think Brian Cappelletto used to do that, too!). Of his own name, Kolton says that it plus a blank makes only one word: KILOTON.