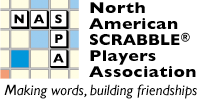 Go to: Early Bird Commentary Games Players Photos Standings Prizes
... tsh Reports (A B C D CSW)
... Scoreboard (A B C D CSW)
Back to NSC 2013 Live Coverage
NSC 2013 Commentary: Round 30
[ ]
Go to: Before the Tournament, Round 1, Round 2, Round 3, Round 4, Round 5, Round 6, Round 7, Round 8, Round 9, Round 10, Round 11, Round 12, Round 13, Round 14, Round 15, Round 16, Round 17, Round 18, Round 19, Round 20, Round 21, Round 22, Round 23, Round 24, Round 25, Round 26, Round 27, Round 28, Round 29, Round 30, Round 31, After the Tournament.
---
Round 30
Justin Yurkanin from the Las Vegas Review-Journal writes, "The article on the 2013 NSC will be coming out tomorrow. The website is lvrj.com. There will be 150,000 copies distributed tomorrow on racks and through home delivery." So, check that out!
Nigel Richards (Malaysia) won at table 1, 428-385, (check out the annotated game he had with Kenji Matsumoto (Berkeley, CA)). And so all eyes, and I mean ALL, were on table 2 where Noah Walton (Portland, OR) was playing Komol Panyasophonlert (Thailand). Their board had IMPACTING, NEBULOSE, and bROOMIER on it. Noah's half-eated peanut butter sandwich and glass of milk which surrounded his game last round were gone. He was folded atop his chair again, and there was steam coming out of the top of his head. At first there were only 15 watching, but then it grew to twice that. If Noah won this game, then Nigel was going to be crowned champ. If not, then Komol and Nigel would play for all the marbles. I felt for Noah. He held EEGLOR? and he was not finding a spot. Komol had only three tiles on his rack. Both players had their hands on the sides of their faces, blinders to block out the glare of attention. Down by more than three minutes on his clock, Noah tried bEGLOwER* in desperation. The players ran up to the challenge machine and every single person watching crowded in to see what he'd tried. John Chew had them scatter so the players could return to their engulfed seats. Komol went out quickly and won the game, 331-419 (with the -40 for his clock added on). They shook hands immediately after it was over and started talking about the game. John nudged Komol to fill out his result slip. He got as far as poising his pen over it before he was back to talking quietly about the options. More nudging, slip was done, but the clock time was not taken off. So, Komol returned before turning it in so they could adjust it. David Eldar (Australia) came over beside me in the throng and wrote BELONGER# on my note pad. Oh well. Will Anderson (Croton, NY) vs. Trip Payne (West Hollywood, CA): ESOTERIcA, TRANSECT, and CoNFLATE on their board. Also GANEV, GROSZE, and VENENE.
Scott Appel (Elkins Park, PA) vs. Peter Armstrong (Milwaukee, CA): AUTOPENS to the S for 83 played by Scott as I watched. BLATHERS through the A, RAInBIRd, CONFIDES, and SINKAGE on the board.
Mack Meller (Bedford, NY) pulled out a win against Conrad Bassett-Bouchard (Piedmont, CA) this round, 389-378 but inadvertently blocking Conrad's bingo slot, he explained. I see Mack's GERMIEST and nonbingo double-double of TRIPLED for 40. Conrad played STOURIE. Oh, and then there is Mack's phony of REHEWiNG* that Conrad missed challenging. Mack seemed totally surprised, certain it was a good word. I also see THOLES, UNCUS, and ABORAL.
Rafi Stern (Seattle, WA) vs. Dave Wiegand (Portland, OR): LAUGHED (nonbingo, but we need that now), SOvIETS, and EOLIpILE played through the L (Rafi did it while I watched).
Jesse Day (Berkeley, CA) vs. Rob Robinsky (Hopkins, MN): PERIGEE for 69, BLUDGeON for 74, LOrDOMA for 75, and TEACARTS for 64 were all Jesse. A 438-383 win for Jesse. Rob was Q-stuck and said it was one of the best games he's ever played.
Board 1 in division 1 had EUPATRIdS, bRITTLER, CINEOLES, and ANTLERS on it when I walked by about the halfway mark.
David Eldar (Australia) vs. John OLaughlin (Cambridge, MA) board 1 in Collins: DIKTATS, ELOPSES, TINHORNS, IRIdIZED, and UNDERAGED are on their board. I see David later and he said, "Oh, I lost miserably. I played differently than usual, more open because I desperately needed spread and got crushed for it."
Table 1 in division 4, another Daniel Moglen (Davis, CA) vs. Phil Seitzer (Davis, CA) game. Daniel played SPACING, SELFiSH, and RETIrEES to the S. Phil played REALISE. Daniel's win.
Table 2 in division 4: Kenny Hoang (Cary, NC) vs, Daniel Novinson (Unknown city, GA): PLANNERS (blank L), LATENED, HELIOT, and EIDER on their board.
Yukiko Loritz (Anaheim, CA) had a 6-bingo game this round with Judy Newhouse (Houston, TX). While Judly played DETAILS/ZIBETS at a 77-point outbingo, this game was all Yukikos! She had a 4-bingo consecutive dance: CODEINAS through the A, OUtFLOWS from the O, FLASHIER through the E, and DAEMONIC. She then got down NOVENAE and OVERHAND. She blushed to admit neither she nor Judy noticed that one of her bingos created AF* when it when down. Neither of them had noticed it and Yukiko almost didn't tell me about this game because of it, which is silly, we ALL do it! A monster 634-307 win for Yukiko!
Katya Lezin (Charlotte, NC) defeated Guy Ingram (Ellenwood, GA) this round. I missed the board. She said he is the nicest guy ever. I told her I keep hearing this from everyone who plays him. :) Katya is happy to play Andy Hoang (Cary, NC) for all the marbles next round.
Table 1, division 2, Siddharth Murali (Collierville, TN) played Joshua Sokol (Montreal QC). I see that Joshua added PRE to VENTED to reach the triple. Nice. He also got down TANGLIER and cHARGES. Sid played ARGENTAL. A 451-365 win for Joshua, the piano man.
Anlaug Frydenlund (Norway) may not be having the best event playwise, but she sure looks good! She has on a bright sundress today (with a jacket over it due to the ac) and she has on seafood green sneakers. I asked her if I could say they were that color and she said, "Well, they are some sort of green, aren't they?" :)
Onto the last round. YES!!!