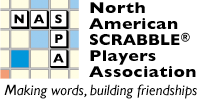 Go to: Early Bird Commentary Games Players Photos Standings Prizes
... tsh Reports (A B C D CSW)
... Scoreboard (A B C D CSW)
Back to NSC 2013 Live Coverage
NSC 2013 Commentary: Round 5
[ ]
Go to: Before the Tournament, Round 1, Round 2, Round 3, Round 4, Round 5, Round 6, Round 7, Round 8, Round 9, Round 10, Round 11, Round 12, Round 13, Round 14, Round 15, Round 16, Round 17, Round 18, Round 19, Round 20, Round 21, Round 22, Round 23, Round 24, Round 25, Round 26, Round 27, Round 28, Round 29, Round 30, Round 31, After the Tournament.
---
Round 5
Sam Kantimathi (Sacramento, CA) defeated Joel Wapnick (Montreal QC) last round by bingeing out with AISLINGs# in their game. He got to make it a bit better by presenting the last NSC's prize for "best strategic play" to Joel before this round began. The award is for a play that is clever and inspired. It is a prize that was once awarded at NSCs, but discontinued. Nice to see it back. Oh, btw, Joel was presented a beautiful lucite red board with his name engraved on it and the reason he won the board on another plaque. Classy.
The plot thickens. Eric Tran did show up to help, but very late. Why? Well, he and Jesse Day (Berkeley, CA), Edward De Guzman (San Francisco, CA), and Ben Schoenbrun (Ardsley, NY) decided to eat off strip. Well, as things happen, they ran late and the players entered the room with three minutes left on their clocks! How will this work out!?
Dan Stock observed the play DIT/DAH challenged: both are good!
Kevin Bowerman (Chapel Hill, NC) vs. Daniel Moglen (Davis, CA) at table 2 in division 4: ADDRESs, GUNNIES, NESTLER, and RETINUEd are on their board. Neither are at all used to a spying woman in their midst and I coiled tell I was stressing them out so I moved on. Good looking board!
Table 2, division 3, Supriya Devnani (Orlando, FL) vs. Lynn Gunn (Mission Viejo, CA). I see REINlESS and HOTTIEs, both played by Supriya.
Jackie Wong (Brooklyn, NY) comes up with his iPhone again. "Want to see who else whaled on me?" This time it was Chris Patrick Morgan (San Francisco, CA) who opened with EQUATORs and later got down a bingo/bango/bongo: TRAWLING, HEROINE, and STALLED. Jackie lost big, again. I tell him to bring me a win next time!
Collins friends, Chris Lipe (Rome, NY) and Brian Bowman (Villa Hills, KY) were going at it this round. Their board, for many of us here in North America, was amazingly incoherent. I see Bryan's ECLOGITE (blank L), AURELIA#, and VIOLeRS#. Chis played VENTROUS# and he lovely nonbingo ETIOLIN#. It was Bryan's win, 486-418, but only because Chris was thwarted in his magic thoughts about the bag. He had the case S and had such master plans for it on the right triple lane and Bryan just kept getting in his ways and then getting the good tiles on top of it. :)
Further news from Collins land. I see a table 1 game left up between Geoff Thevenot (Austin, TX) and John OLaughlin (Cambridge, MA): ThEREWITH, PLeDGORS, MASSIER, and MOTLEYER. Fun Collins words: JINNE#, BOAB#, UHURU#, and TAWAI#.
Kate Fukawa-Connelly (Lawrenceville, NJ) wanders over and signs. She lost to Kenji Matsumoto (Berkeley, CA) this round by 200. In part, this spread came from his 149-point triple-triple, FARINOSe. He played through the S. She sighed and shrugged that she had to get her bingo down, so......
Evan Berofsky (Oxford, MI) vs. David Eldar (Australia). Well, first off, David looked tired. Knowing he was from Australia, I sympathized with what I assumed was jet lag. No such luck. He's actually been in Vegas for four weeks already for "no apparent reason." He said, "Why do you start these events so early? Nothing should start before 2pm." I asked him how old he was. He said 23. I suggested his age might be coloring his idea of start times since most people wouldn't want to play until midnight. He reluctantly agreed. So the fatigue was real, but not jet lag related! He had a barn burner game with Evans that came down to the very last play. Each had a triple-triple: Evan's ENDoCAST through the C for 140 and David's GLONOINS for 131. Evans played OTARINE for 85 and David got down ORADLIUM for 78. With one in the bag, David was trying to figure out what his choices were and configuring options. And then it came down: RAMJETS for 96 (+5 for the challenge). Evan's win, 541-461.
So, Jesse Matthews (Kelowna BC) won his game with time left on his clock this round against Matthew Tunnicliffe (Ottawa ON)! Edward De Guzman (San Francisco, CA) forfeited his game since by the time he reached the room, his clock was down to 1:58. Ben Schoenbrun (Ardsley, NY) won his game despite going over by 50 seconds. He played Avery Mojica (Overland Park, KS) and there was a director call that may have affected the game outcome. Perhaps to run Ben down on his clock, Avery did a quick "trade 4," but when he drew four new tiles, he then tossed the new tiles back into the bag, instead of the ones he'd put down in front of his rack. John Robertson was called over and the play was ruled a pass because after he'd announced the trade, he'd hit his clock. He had to play with that same rack again next turn.
Jesse Matthews (Kelowna BC) had four bingos in his game with Jason Li (Dollard-Des-Ormeaux QC): GENSENGS through the N (which drew a challenge_, SHORTIE, BORrELIA played through the first R, and ANISOLE (which he picked right out of the bag). Jason got down PaNETELA with about 4 overlaps above ANISOLE, which Jesse admired.
Jeffrey Nelson (Burlington, VT) got to play Joe Edley (Port Jefferson, NY) this round and got down two early bingos: LINdIES and EVERTING. Then Joe played RHAMNUS for 108. Then Jeffrey got down UNDERdOG, which had him up by 60, but then the "wheels came off the cart" when he forgot which part of "bon mot" is good and which isn't. BON*, which he played, is the bad one, and Joe challenged it off and went on to win by 12. Jeffrey was happy to be in the game for as long as he was.