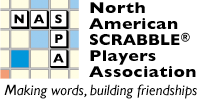 Go to: Early Bird Commentary Games Players Photos Standings Prizes
... tsh Reports (A B C D CSW)
... Scoreboard (A B C D CSW)
Back to NSC 2013 Live Coverage
NSC 2013 Commentary: Round 28
[ ]
Go to: Before the Tournament, Round 1, Round 2, Round 3, Round 4, Round 5, Round 6, Round 7, Round 8, Round 9, Round 10, Round 11, Round 12, Round 13, Round 14, Round 15, Round 16, Round 17, Round 18, Round 19, Round 20, Round 21, Round 22, Round 23, Round 24, Round 25, Round 26, Round 27, Round 28, Round 29, Round 30, Round 31, After the Tournament.
---
Round 28
Dan Stock noticed on a Cathy Poole (Winston-Salem, NC) vs. Nancy Bowen (Charlottesville, VA) board that BESMIRCH was played and then later extended to BESMIRCHED.
Still at table 2 this round, Nigel Richards (Malaysia) is playing Noah Walton (Portland, OR). Nigel sips out of his water bottle on Noah's clock. They both sit quietly, intensely focused. PAgURIDS, IRONIZES, SEGUEING, SCAPOSE, and mASONED are on the board 488-422, Nigel's win.
At the the end this table, the "other Nigel" is playing Trip Payne (West Hollywood, CA). Nigel Peltier (Portland, OR) sits casually but only on about half of his chair (the right side). I bet someone small could sit in that chair with him! Trip is looking very summer cool today in long white pants and a striped shirt in many shades of blue. I circled their table for a bit, writing down their plays and going to look at other games before peeking back in again. I see CEMENTS, ENTeRAL, RATLINS, and SHEEtED. And then the game was over and a new word was on the board: CLANGIER* from the C. I can tell that something is up and Trip points out the phony. I said, "you played it?" He nodded. And he won the game, 549-323. I gleaned from asking a few questions and listening that Nigel was figuring out the endgame, sensing that the Q was coming his way. He went through all the options of tiles left in the bag and what Trip's possible plays might be. And in his mind, he saw CLANGIER* as one of them and because he foresaw it, when the play came down, it just didn't register and he didn't challenge. He knew he was probably going to lose, but spread matters now and this play ate at spread he didn't want to lose. Don't get me wrong, Nigel is an easygoing guy, but I could tell that he was upset with himself. In some ways, the fishbowl of elite SCRABBLE is pretty unforgiving and the pressure to make the "optimal play" every single time is ever-present.
Trip Payne (West Hollywood, CA) just had a 567 score last game, so he's cursing.
Dave Wiegand (Portland, OR) vs. Will Anderson (Croton, NY). To say that Will is driving a steamroller would be an understatement. He went 5-2 yesterday and 7-0 today, including this win, 455-350. And this makes Dave's 6th loss today, in a row, ouch. The board is covered in nice plays: ARILLOdE, REPRISE, OUTBOXED, CODRIVE, CANOLAs, SMALTI, and BATTIK.
Matt Canik (Austin, TX) makes it to the top row of games in division 1 this round, playing Joseph Gaspard (St Paul, MN). Glancing at scoresheets, it appears that Joe opened with PLUVIAtE for 62. He also got down MISLEAD for 89 and TOOLBAR. Matt played HEXAGON. AWEIGH and TYPY are there, too. Joe's win, 416-314.
That Kenji Matsumoto (Berkeley, CA) has been in first place twice today, temporarily moving Nigel Richards (Malaysia) down to second has been generating great excitement and "attaboys." So, it was with GREAT interest that everyone watched the Kenji Matsumoto (Berkeley, CA) vs. Komol Panyasophonlert (Thailand) annotated game at board 1 in division 1. Players encircled the red roping around the players and their annotators, craning their necks to see what was going on. It was a nailbiter! Do check it out in the annotated game section. Sorry to spoil the end, but it went to a recount with Komol up by one point and afterwards that one point held true. Komol's win, 372-371.
Thus, we end day 3, with only 3 games to go, with Nigel with 2 games over the pack, 23-5. Kenji and Komol are in 2nd and 3rd at 21-7 and the only two that are with range are Noah and Will, both at 20-8. It is going to be exciting tomorrow!
Division 4s table 1 featured Kay Adam (Volin, SD) vs. Daniel Moglen (Davis, CA). A new face at the top table! It was her win, 442-299. I see GATHERED and tIDINGS on their board. This loss for Daniel puts a new leader at the top of 4, Phil Seitzer (Davis, CA), who is 22-6, one game ahead of Daniel, who is 21-7.
Andy Hoang (Cary, NC), who was in division 3's first place for a round, lost, 357-359, this round to Brett Jackson (Pensacola Beach, FL). He was happy to be in first for one round and was standing in front of the his division's command table as result slips streamed in. Guy Ingram (Ellenwood, GA) takes over 1st, 21-7, Brett and Andy are 2nd and 3ed with 20-8 records, and Katya Lezin (Charlotte, NC), with her 19.5 wins is in 4th.
A 2-point loss for Morris Greenberg (Brookline, MA) to Kay Patterson (Fair Oaks, CA) at division 2's table 1, 359-357. Gerry Greenside (Las Vegas, NV) was waiting to pick up his equipment to head to dinner, so I got that RECItER, CALXES, and POURPINS* was in the board. The phony was Morris' and Kay said she suspected it wasn't good. When I looked down to find another play, the board was cleaned up!
Table 2 in division 2 featured Sam Towne (Kempton, PA) vs. Nick Fraher (Los Angeles, CA). I see STEADIER, BrAVUrAS, TENTORIA, STERICAL, GLAZERS, and BIGLY. As he did in their matchup in round 26, Nick won the game, 489-383.
Whoa Nelly on the folks still in contention in division 2! Siddharth Murali (Collierville, TN) takes 1st with the sole 20-8 record. Joshua Sokol (Montreal QC), Mark Rosenberg (Atlantic City, NJ), Morris Greenberg (Brookline, MA), and Kay Patterson (Fair Oaks, CA) take up 2nd to 5th place all with 20-8 records. Tomorrow is going to be interesting and intense!
Triple-crown winner (CNSC, NSC, and WSC), Joel Wapnick (Montreal QC) squared off with John OLaughlin (Cambridge, MA) at table 1 in the Collins division. I see MELANOID, TODDLERS played through the E, EARTHING, GAMBLER, and ZOOSPERm on their board. As I watch, John played FRIST and goes out. Both pull out their cell phones and start tapping away to see what they might have played. It was John's win, 581-341. Joel says to me, "I had a tie and then won 9 games in a row and John had won 8 games in a row. Now it is his turn to have 9 consecutive wins."