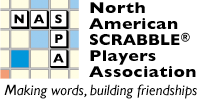 Go to: Early Bird Commentary Games Players Photos Standings Prizes
... tsh Reports (A B C D CSW)
... Scoreboard (A B C D CSW)
Back to NSC 2013 Live Coverage
NSC 2013 Commentary: Round 11
[ ]
Go to: Before the Tournament, Round 1, Round 2, Round 3, Round 4, Round 5, Round 6, Round 7, Round 8, Round 9, Round 10, Round 11, Round 12, Round 13, Round 14, Round 15, Round 16, Round 17, Round 18, Round 19, Round 20, Round 21, Round 22, Round 23, Round 24, Round 25, Round 26, Round 27, Round 28, Round 29, Round 30, Round 31, After the Tournament.
---
Round 11
The first game to finish by far this round was between Andy Hoang (Cary, NC) and Margo Kuno (Philadelphia, PA). They finished very quickly! She got down TARRIES and ARTISAN and he played SERINGA. Her win, 437-391. Andy was a bit worried about what he was going to do for two whole hours. I suggested the pool!
A pretty game between Orlet Bullock (Miami, FL) and Jim Lamerand (Chandler, AZ). I see Orlet's TRUNDLING for 70 (played through separated T and I. He had UDLNNR?, that is a GREAT find!), BUTANOIC# for 81, PIERHEAD# for 70, and VAULTING for 64. Jim played WrITEUPS* for 67. Orlet's win, 488-329.
David Eldar (Australia) vs. Geoff Thevenot (Austin, TX) at table 1 in the Collins division. I see ALgATES# and GAROTTE for Geoff and DENTALS for David. Other words: JIRRE#, BLORE#, and KANEH#. So, I figured out why the tape. David keeps his even tinier tracking sheet beneath the small scoresheet, so he tapes it to keeps the top one from moving and revealing the bottom one? His tracking sheet is one of the reverse ones. The letters are white on a black background and he uses a black magic marker to mark them off. The leftover letters just shout at you, even on a teeny tiny tracking sheet!
Robert Linn (Potomac, MD) was playing Evan Berofsky (Oxford, MI) at table 2 in the Collins division. And while I was trying to take notes, they went to the challenge machine. I just had to know: OVERBEND* came off the board, ruled unacceptable. Later on, as if to help me, Evan taught me this cute way to remember. You can play the anagram of VERBOTEN in Collins games: OVERBENT#, but you can never play the non-anagram word like it. Does it help you? So, it looks like Evan played OUTRAVES (in the very spot he challenged Bob's word) and SCOPINg. Bob played MODULATE, CANDIDAS, DEBONER, and AIERIES#. Bob's win, 502-456. Other words: VROT#, CEBID, and KRONEN.
Division 2, table 2, Joshua Sokol (Montreal QC) was playing Morris Greenberg (Brookline, MA). HERNIAL for 78 was followed by UnLOOSE for 72 by Morris. Josh got down ANOMIES for 75 and SILICaTE for 80, but it was Morris' last bingo of EGGIEST for 64 that knocked it out of the park. Joshua admits to trying two plausible phonies that got called off: NONWASTE* and BEASTILY#, but he admits he was desperate. And he says to add that he was "luck boxed." A 463-383 win for Morris.
Curran Eggertson (Calgary AB), who actually laughed at my attempt to spell his name without his name badge helping--AGERSTON), played David Slavin (Hawthorne, CA) this round. Curran got down PEASANT, ROPABLE (which drew a challenge), and EVERSION. David put down ALARMiNG, but called the blank and N when he meant I and Curran felt terrible, but challenged it off. Fortunately, there were two spots to play it, and they weren't both blockable, so ALARMiNG came down on the next turn with the right blank designation! It was Curran's win. Check him out, by the way, on youtube. He has created a web series on how to play SCRABBLE better!
Trip Payne (West Hollywood, CA) walks across the room to tell me about the best Las Vegas word his opponent played: SALVAGES by Ross Brown (Ottawa ON). Can you guess why it is the best Las Vegas word?*
Nick Fraher (Los Angeles, CA), a friend of Trip's, walks by and is bit demoralized. He's only lost four games so far, but three of them were this morning, one by a recount and two others by few points. He needs a cheer-up hug!
Heather McCall (Toronto ON) vs. Connie Creed (Philadelphia, PA): a barn burner of a game that came down to 10 points! Connie opening with ENTASIA for 66, Heather replied with DREAMERS for 71. Then Connie played mAJORITY for 84 and Heather replied with ARENOSE for 76. Alright then! Later on, Heather got down SHEITaN for 86. I see QUARTO there, too. Anyway, it came down to the endgame. Connie had one tile left and Heather had a bunch of junk: a ZW and a few vowels. She got the Z out of her rack, but didn't manage to lose the W and lost the game, 455-445. Woah Nelly!
Heather's boyfriend came by then. In his game with Gary Skowronski (Silver Spring, MD), Gary played four of the Ss and a blank in the first four turns. Crayne was down, 180-90 after that. Crayne got a blank and was looking to play a bingo somewhere when he noticed an N in the triple lane. Maybe... did he? He DID! He found INTEGRAL for a 131-point triple-triple, but still lost the game, 403-372.
Will Scott (Versailles, KY) has had 14 bingos in four games. He wonders if he is making up for a bad yesterday or planning for a bad afternoon today!
I hear that Joyce Stock (Rocky River, OH) had a 517 game against Evelyn Callaway (Bryan, TX) this round. Evelyn told me! She said it was Joyce's bingo/bango/bongo that did it for her: SLINKIER, TABLEAU, and CReMATe. Way to go Joyce!
Estelle Matthews (Calgary AB) brings me to his game with Marut Siriwangso (Thailand). This kid Jesse is a lot of fun and if he isn't poking at himself a bit, with a bit of humor, then he isn't talking. He says, "It came down to the endgame and I played AUNTIE to close things down, but I forgot a few things. Like, I was creating a few new bingo lanes, but more importantly, I was forgetting the front hook for AUNTIE. It takes a V." I look on the board, sure thing, DAVY on the triple lane front hooks to make VAUNTIE for 55 points. Oops. I see Jesse's OOSpORES ("it takes a Z front hook, Sherrie, did you know?"), REPAINTS,DANSEUSE from the D, and HAWK for 54 on the triple. Marut played CRAALING to the G, blank L, nice play and tried the phony BLITTER#, but it got called off the board. Jesse got AROQMCG from Marut's rack and went on to win, 486-333.
They are hurrying off to lunch, so I only get that Jan Cardia (Hockessin, DE) defeated Joel Sherman (Bronx, NY) this round, 463-296. I see SaPROBe, BIOTITE, and BOOTEES on the board.
Maddy Kamen (Covina, CA) at the next table, tells me that she's won 9 in a row.
Sam Kantimathi (Sacramento, CA) played Quinn James (Charleston, SC) this round and had a monster 605-314 game. Sam played ZaNJEROS# for 118 points!!! He also got down GOMBRELS*, DETENTe, and he went out with PRELOADS. Quinn got down RICIEST and made a fun play of CARLE down the triple lane which hooked to make PODIAL#, which drew a challenge from Sam. Note: during lunch Sam sent me a link to a Los Angeles Times article that used the word ZANGERO!
Lila Crotty (Metairie, LA) and Kate Fukawa-Connelly (Lawrenceville, NJ) are off for a business lunch at the hotel pub to discuss tournament preparation for this Crescent City Cup!
The players had mostly streamed out for lunch and I stumbled upon John Chew, Jim Pate (Birmingham, AL), and John Morse from Merriam-Webster gathered around looking at a dictionary, the 2008 ESL dictionary issued by Merriam-Webster. John Morse was suggesting it as a possible source dictionary for the next dictionary update. Two of the OSPD source dictionaries are no longer being updated: Random House and American-Heritage. So, this new dictionary might be a good replacement. John Morse said, "it contains words that Americans might well encounter." No decision has been made yet.
Jan Lapierre (CHERRY HILL, NJ) stopped by my desk and said this is the "most fun ever." This is her second NSC and she'll never miss one if she can help it. "A great experience."
Eileen Johnson (Charlotte, NC) stops by. She's relocated to North Carolina to help out her family. The folks in New York are sure missing her and the tournament circuit she was a regular on has noticed her absence. I'm happy for her that she got a chance to come to the NSC this year. I'm one of the North Easterners that misses her!
Art Moore tells me before he heads to lunch that he had someone sitting one of his tables today, ready to go for round 8, but her opponent wasn't there. He looked at her and said, "Uh, Gigi Miller (Reno, NV), aren't you in division 3?" She jumped up and realized she was sitting in division 4! I want you to know that the way we've been crowded in, I, too, have gotten the divisions confused!
*SALVAGES is the only anagram for LAS VEGAS!