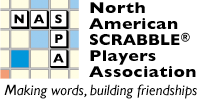 Go to: Early Bird Commentary Games Players Photos Standings Prizes
... tsh Reports (A B C D CSW)
... Scoreboard (A B C D CSW)
Back to NSC 2013 Live Coverage
NSC 2013 Commentary: Round 14
[ ]
Go to: Before the Tournament, Round 1, Round 2, Round 3, Round 4, Round 5, Round 6, Round 7, Round 8, Round 9, Round 10, Round 11, Round 12, Round 13, Round 14, Round 15, Round 16, Round 17, Round 18, Round 19, Round 20, Round 21, Round 22, Round 23, Round 24, Round 25, Round 26, Round 27, Round 28, Round 29, Round 30, Round 31, After the Tournament.
---
Round 14
Once again, the first game to finish this session is one in which Andy Hoang (Cary, NC) plays. He is now 10-4 and ready to leave for the day. I ask him about his equipment. It is in use at another table. He promises to come back from his room in 20 minutes to pick it up.
Ted Rosen (Rochester, NY), done his three games, said something akin to, "Wine, women, song, and SCRABBLE victories have the power to make me happy." And off he wandered. I check his record and see he won all three games this afternoon and game 14 was against KC Frodyma (San Francisco, CA). I wonder if she sang and offered him a glass of wine during the game......
Division 4, board 2: Daniel Heck (Des Moines, IA) vs. Nikhil Joshi (Davis, CA). The game ends just as I arrive and Daniel says, "I broke 500, wow..." Then they shook hands over the 504-341 game. I see Dan's AILERON for 65, TRIAGES for 87, AEGISES for 83 (drew a challenge), and ELATIONS for 66.
One of the top tables in division 3 (not sure which one, in preparation for the move, table numbers were removed after the players found their tables!) featured Mary Pastore (Pearland, TX) vs. Katya Lezin (Charlotte, NC). I see four bingos: UNBEARED for 67 and RESIDUAL for 72 (blank L) for Katya and HASTIeR for 78 and AMREETAS for 65 for Mary. While I watch, Katya plays POLICY down the top middle triple, hooking to make YAH for 51. It was a 423-377 win for Katya.
Brian Nelson (Los Angeles, CA) vs. Guy Ingram (Ellenwood, GA): ELaSTICS, mALIGNED, and QUIPU are on the board. Guy is down to 1:20 on his clock and Brian has 10 minutes. Brian is retracking, carefully combing over the board to see what tile he's mistracked or overlooked. It is 371-313 in Brian's favor at this point. I walk around the table and see some decent tiles on Guy's rack, so I just keep moving. All he needed was me lurking. Later I find out that it was a 409-345 win for Brian.
John OLaughlin (Cambridge, MA) vs. Orlet Bullock (Miami, FL): INCLINERS, NEBULISE, ErINITE#, rOZITS#, PENSILE, and QUIM# were on their board. When I next walked by, it was all done and nearly all picked up. Orlet's win, 470-388.
Michael Donegan (Austin, TX) sadly reports that he did not have a 7-bingo game today, but hope springs eternal! He went 3-4 again today.
Chris Canik (Austin, TX) defeated Bob Becker (Jefferson, MA) this round, 399-344. I see Bob's SANtERA for 74 and Chris' AEROGELS for 70 and DEsTINE for 81.
Shelley Ubeika, the Division 2 assistant, said to me, "You know how random things just happen to you and they throw you off?" I nodded. She said, "Well, I was cleaning up the tables, bopping along and doing my thing, when I looked up at the Zyzzyva-equipped laptop and it said 'DOGTOAD* is not acceptable.' Why would anyone be looking up DOGTOAD? I mean, really!" I had to agree, that was a weird one!
Chris Lipe (Rome, NY), ever cheerful, is 4-3 for the second day in row. I asked him to tell me a story about his games today. He said, "I got away with an embarrassing phony in my game with Sandy Nang (Malibu, CA)." I make him tell me and he has me write ENTR'ACTE. He says, "I played it, but without the '." He explains that it is the music between the acts of a play. And, it needs the ' to be spelled properly. Sandy did catch his other phony though. He tried PROSERE* and she called it right off.
Stefan Rau (Hudson, NY), my favorite Dr. of radiology, comes up to me dressed to the nines. He said, "Sherrie, I dressed up in the brightest thing I had and I was sure it would make you visit me, but I haven't seen you all day." I checked him out: lime green tennis shoes, the loudest, brightest colored pants I think I've ever seen, and a bright orange top. The outfit actually goes together smashingly, but it isn't your staid khakis with a white izod. I apologized for not visiting. It's been a day full of so many things to see. I'm afraid my observation deck got overloaded. I'll try harder tomorrow!
Connie Creed (Philadelphia, PA) brings me over to her game with Gary Perman (Blairsville, PA). He played GRAINED and then beside his play, down the triple lane, Connie played SEAfOOD/EGO/ARE/fA/OI/ON/DE for 88. Wowsa on the overlapping, Connie! She also played CRaWLIER and won this matchup, 444-341.
Mack Meller (Bedford, NY) is 9-5 after today's games and he won 5 today.
Rob Robinsky (Hopkins, MN) invites me over to see his game this round with John Luebkemann (Bermuda). It was a game of back and forth with plays coming down with force: it was a battle and Rob loved every minute of it! The plays flowed, not necessarily one after another, but in this order: John opened with ABALONE for 74. Rob played ATONIES for 77. A turn or two later, John played SPONDEE for 68 and Rob got off STYRENE for 87. Rob tried WITHERTO*, but John called it off. Knowing Rob's rack, John played in a way that created a 47-point HOTTER/EH (hanging the R in the triple lane). Rob knew John saw it because he corrected Rob's math without looking at or counting the play. He'd recounted and expected it (this impressed Rob). The R came in handy for John to slap down INJURE on that triple through that R for 63. John later got down BRuX for 53 and MURRS/STYRENES for 57, but he couldn't overcome Rob's DIPLONTS for 83 (blank L) and ultimately lost, 473-475.
We end today with Nigel Richards (Malaysia) at 12-2 in division 1. Kenji Matsumoto (Berkeley, CA) and Ben Schoenbrun (Ardsley, NY) are the 11-3 duo just behind him.
Morris Greenberg (Brookline, MA) is the only 12-2 in division 2. Gerry Greenside (Las Vegas, NV) and Heather Steffy (Atlanta, GA) are breathing down his neck at 11-3.
Katya Lezin (Charlotte, NC) is the 12-2 leader in division 3. Trailing her at 11-3 are Benjamin Ritter (Redondo Beach, CA), Guy Ingram (Ellenwood, GA), Margo Kuno (Philadelphia, PA), Clay Koziol (Fullerton, NE), and Brian Nelson (Los Angeles, CA).
Kevin Bowerman (Chapel Hill, NC) and Daniel Moglen (Davis, CA) are the 12-2 duo in division 4. Nikhil Joshi (Davis, CA) is only one game behind and he's knocking on their door.
Despite two losses today, Geoff Thevenot (Austin, TX) is still two games ahead of the pack in the Collins division at 12-2. Brian Bowman (Villa Hills, KY), Evans Clinchy (Boston, MA), Evan Berofsky (Oxford, MI), and Bradley Whitmarsh (Attleboro, MA) are all at 10-4.
Tomorrow should be fun in our new and expanded playing room!