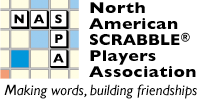 Go to: Early Bird Commentary Games Players Photos Standings Prizes
... tsh Reports (A B C D CSW)
... Scoreboard (A B C D CSW)
Back to NSC 2013 Live Coverage
NSC 2013 Commentary: Round 1
[ ]
Go to: Before the Tournament, Round 1, Round 2, Round 3, Round 4, Round 5, Round 6, Round 7, Round 8, Round 9, Round 10, Round 11, Round 12, Round 13, Round 14, Round 15, Round 16, Round 17, Round 18, Round 19, Round 20, Round 21, Round 22, Round 23, Round 24, Round 25, Round 26, Round 27, Round 28, Round 29, Round 30, Round 31, After the Tournament.
---
Round 1
Justin Yurkanin is here from the Las Vegas Review-Jounral. He's been taking photos, short movies, and thinks a piece will be coming out later in the event. We'll let you know when that is! I introduced him to Jason Keller (Highland Park, NJ) and he said, "My son and I watched you on Jeopardy!" I bet Jason gets that all the time!
I failed to mention that Sue and Dallas gave all the staff a bag of candy this year. Dallas had the great idea to put different ingredient wrappers on a couple of the chocolate bars. Patty Hocker, from the now defunct National SCRABBLE Association (we miss them!) is taking photos this year and she'll get a shot of those wrappers for you to see!
I catch Canadian National SCRABBLE finalist, Ross Brown (Ottawa ON) at the challenge computer with Reid Hattaway (Moscow, ID). The word INSTATER* is ruled unacceptable. I later see Reed's rack, an unfortunate EIEEAEE, and the tiles are upside-down, sideways. He is NOT in love with them, I can tell. Ross ended up winning their game, he tells me later, due to his "normal, defensive style." He points out that Reed had a great play: NySTATIN. Ross said, "He's a chemist, he knows words like that!"
At table 1, Nigel Richards (Malaysia) and Mike Baron (Corrales, NM) are playing with the breast cancer tiles. They are pink letters on a white background with a pink ribbon on the blanks. A special edition from Protiles creator Bob Schoenman (who isn't here this year). Find their board 1, division 1 game in the annotated game section this round. A little bird tells me that the coyotes are rejoicing in New Mexico!
Stefan Rau (Hudson, NY) vs. KC Frodyma (San Francisco, CA). Their game is in progress and I can see KC's FLaUNTER and uNMOLDED. They both play a very open style so this board is WIDE open and ready for some plays!
Mark Pistolese (Pahoa, HI) vs. Matthew Ridout (Ankeny, IA). I see AIRWAVe, LITERATI, and COTTONS on their board. The fun FUNDUS jumps out at me. As I'm taking down notes, Matthew flips back his scoresheet to show me a photo of a pretty little girl. Methinks Daddy is showing off. :)
Chris Cree (Dallas, TX) vs. Roland Filio (Thousand Oaks, CA): BAkELITE, BRISANT, and sCIAENID are on their in-progress board.
Joe Edley (Port Jefferson, NY) won big this round, 486-322, against Robert Felman (Nokomis, FL), our clarinet-playing doctor. :) I remember Robert from past years because he plays music in the hallways and side rooms during evening down times. And he's very god. In their game, which is fast being picked up, I see DISPLANT on the board. Joe says, "I had INO?Y?A and I prayed he wouldn't block, but he did and I could not get down HYPOMANIA for a double-double." Good on ya, Robert, for the defensive block!
Mack Meller (Bedford, NY) was just on steamroller mode this round against Noella Ward (Calgary AB). He is a couple hundred points ahead and I see a sting of plays he made mid-game: CONTRAIL (blank L) for 76, GENTLED for 73, ZOUK for 72, INTREPiD for 64, and TAMPON for 41. I see her CANASTA for 80. This is Mack's first NSC and he isn't well-known yet. He played in the Premier division of this year's April Boston Area Tournament and was even in first place for a while. This kid can PLAY this game. Keep your eye on him!
Noah Walton (Portland, OR) is sitting cross-legged on his chair atop is stockinged feet. His sneakers are casually upside down on the floor beneath his chair and his face is in his hands. I walk over and ask how it went, his tiles were already quartered up. He smiled and said it went okay. I wandered off and about 1 minute later, his opponent ran up, iPhone in hand to show me Noel's "okay" game. Jackie Wong (Brooklyn, NY) said, "He opened with TUAtERA then he got down STOTINKI (on the triple lane), EMPYREAL, and CHAUNTER." If that is okay, I'd like to know what fantastic is! I showed the words to Noel's buddy, Rafi Stern (Seattle, WA) who said, "Wow, STOTINKI and EMPYREAL, nice words!" Now, he may have just been saying this to be kind to me. :) Rafi won his game this round against Bruce D Ambrosio (Los Angeles, CA) and tells me his favorite play was URTEXTS.
Robert Kahn (Plantation, FL) and Rob Robinsky (Hopkins, MN) had steam rolling out of their ears. I saw INEARTHS, SALTESt, and the fun AUCUBA on their board.
Yukiko Loritz (Anaheim, CA) vs. Jesse Day (Berkeley, CA): ILLUdES, DENOTES, INSHRINE, BiTTERN, and TAXYING on their board.
Jason Keller (Highland Park, NJ) won big this round, 534-271, against Lawren Freebody (Hawthorne, CA). He said he got down PENsiON and on the next turn won the challenge of adding an E: PENsiONE. Our Jeopardy! champ is looking very different these days, down 67 pounds. He said he was wondering if his increased stamina might help his game. I'd say it is what Joe Edley (Port Jefferson, NY) believes and it hasn't hurt Joe at all!
John Robertson, division 1 leader tells me, "This is my 10th NSC as a division leader. I was leader of division 7 (yep, 7) in New Orleans in 2004. I have been a sport official since 1973 (age 9). I'd always hoped I'd officiate a major event in Las Vegas. I thought it would be a world championship boxing match, but this is pretty close!"