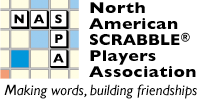 Go to: Early Bird Commentary Games Players Photos Standings Prizes
... tsh Reports (A B C D CSW)
... Scoreboard (A B C D CSW)
Back to NSC 2013 Live Coverage
NSC 2013 Commentary: Round 25
[ ]
Go to: Before the Tournament, Round 1, Round 2, Round 3, Round 4, Round 5, Round 6, Round 7, Round 8, Round 9, Round 10, Round 11, Round 12, Round 13, Round 14, Round 15, Round 16, Round 17, Round 18, Round 19, Round 20, Round 21, Round 22, Round 23, Round 24, Round 25, Round 26, Round 27, Round 28, Round 29, Round 30, Round 31, After the Tournament.
---
Round 25
Dave Wiegand (Portland, OR) vs. Noah Walton (Portland, OR): BITsIEr, INURBANE, TESSERAE, MAVIE, IMIDO, and FAERY. Noah's win.
Kenji Matsumoto (Berkeley, CA) won his second game against Nigel Richards (Malaysia) and is now in 1st place again. No rejoicing yet, many games to go.
Komol Panyasophonlert (Thailand) vs. Thomas Reinke (Middleton, WI): PRODDERS, DEFOcUS, OUTBLaZE, VEENA, VOGIE, and PRANG on their board.
Scott Appel (Elkins Park, PA) has a 481-371 win against Maddy Kamen (Covina, CA). I see her WARrENS for 76 and his IMPAIRED and GOMERILS. Other words: OVOLI, SOZINE, and EUCRITE.
The clarion bell of "Director!" wafts to the command center from division 1. John Robertson dashes to the game between Chris Cree (Dallas, TX) and Will Anderson (Croton, NY). Somehow, Will has managed to dump the entire tile bag onto the side of his lap and onto the floor to the side and beneath his chair. The tiles are a pretty purple that match swirly parts of the rug perfectly. Chris puts his tiles face down and Will sits perfectly still while John and I get down on all fours and pick the tiles off the carpet. We put them back into the tilebag (a BAT 2001 relic) and John gives the players the task of counting the tiles on the board and in racks so that he can count what is in the bag to ensure we have them all. In no time Chris and Will get a number and when John comes back with a count of 34, they agree and the game moves on. I see PERIODS, AILERONS, and FedEXED on the board and it is a 282-153 lead for Will at this point in the game.
Another Thai at a top table in division 1! Marut Siriwangso (Thailand) is playing Joel Sherman (Bronx, NY). Their game is not quite over, but I see ORIENTAL for Joel and ANTBEAR, STEROLS, NOIsOME, and INVERTS for Marut. A 492-337 win for Marut.
Amalan Iyengar (Chapel Hill, NC) is hanging out with his cronies from the School SCRABBLE set and he tells me he is 15-10 and having a great time at the NSC. His favorite play so far: DOMINEER as a 98-point double-double.
Morris Greenberg (Brookline, MA) vs. [ERROR: no such id: kentnelson}: GROUPED for 78, GALENItE for 79, and SHELTERS/STONING for 70 are Morris'. REORIENT for 58 and FUJI for 54 are Kent's. 449-346 win for Morris.
Table 1 in division 4, [gregfeldkamp] vs. Phil Seitzer (Davis, CA): FRONTES and StARTED.
Daniel Novinson (Unknown city, GA) vs. Kevin Bowerman (Chapel Hill, NC). I see VIOLA, JUKER, ZEINS, FAQiR, sTAYING, RESIDUE, and LOUSIER. As the game wrapped up, Daniel, who won, 375-373, said, "For the commentary, I actually tracked correctly this time!"
Andy Hoang (Cary, NC) vs. Guy Ingram (Ellenwood, GA) is over and Andy is surveying the board while Guy walks the result slip in. Andy focuses on me with intensity and says, this guy is "the best player I've played so far. He plays a great game." No faint praise from a former School SCRABBLE champ! I see Guy's BLATTeRS and DIsRATE. Andy got down YARDMEN and PENNERS. A 405-375 win for the "best player." :)
Katya Lezin (Charlotte, NC) and Brett Jackson (Pensacola Beach, FL) are doing a quick recount. I hear her say she got the blank on her last rack. She says quickly,"He won by 5, but we are checking." I move away. I see his LIAiSED on the board. In the end, it was a 358-350 win for him.
Piengkamol Intarasuwan (Oakland Park, FL) who won a division at a past NSC tells me she had a 3-1 morning today. She managed to eke out a 1-point victory despite her opponent playing a 167-point triple-triple UNGREEDY. She played FERTILE, CORNIEST, and GLASSIER. The did a recount and the score stayed the same.
At table 1 in Collins land, Quinn James (Charleston, SC) vs. Marty Gabriel (Charleston, IL): HONDLeS, MINERAL, TWEENER, and SUNDARI#.
In a "case of poetic justice," Robert Kahn (Plantation, FL) tells me about his last game. It ended a tie, 341-341, and they decided to not do a recount. His opponent missed an outplay to win by 3, which led to the tie. After the slip was turned in, Robert did a recount anyway and found he missed 2 points on his score. They both screwed up, thus the tie was fitting.
Troy Millington (Calgary AB) tells me about a round 22 game he had with Mary Logullo (Dallas, TX). He played a bingo/bango/bongo of LOUSIEST for 70, DARLING for 75, and DIATRIBE for 63. Then he got down MOSAICS for 78. She played FEASTING as a 65-point bingo outplay. His big win, 460-358.