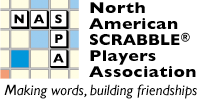 Go to: Early Bird Commentary Games Players Photos Standings Prizes
... tsh Reports (A B C D CSW)
... Scoreboard (A B C D CSW)
Back to NSC 2013 Live Coverage
NSC 2013 Commentary: Round 3
[ ]
Go to: Before the Tournament, Round 1, Round 2, Round 3, Round 4, Round 5, Round 6, Round 7, Round 8, Round 9, Round 10, Round 11, Round 12, Round 13, Round 14, Round 15, Round 16, Round 17, Round 18, Round 19, Round 20, Round 21, Round 22, Round 23, Round 24, Round 25, Round 26, Round 27, Round 28, Round 29, Round 30, Round 31, After the Tournament.
---
Round 3
Just as this round was beginning, Lester Schonbrun (Oakland, CA) stayed at table 1 in division 1 and was soon joined by Nigel Richards (Malaysia). They joked about how Nigel still owed Lester an apology for the beating he handed him at the WSC held in Melburne in 1999! Turns out that the years were only slightly kinder to Lester in that he lost, but by less this time, 386-458. Check out their annotated game!
So, Sam Towne (Kempton, PA) and his buddy, Pablo Moreno, drove here from Oberlin College in Ohio. Their plan was to vacation and hit some national parks. I heard that they saw Zion and the Arches in addition to others. The reason that I'm bringing this up at all is that we were one helper short this year. Jason Idalski was short a helper. He said, "My division in the smallest, I'll be okay." But, lo and behold, Pablo came forward. He'll be helping part-time during the morning sessions and Jason could not be happier. Turns out that SCRABBLE isn't exactly Pablo's game, but he plays a mean oboe. He's doing graduate work in music at Oberlin. We need to get him to join in the hootenanny tonight! We thank Pablo for donating his time to our CSW brethren and sistren*.
Art Moore has played at our NSCs in the past, but this is his first year working in one. As division 4 leader, he's enjoying himself. His wife, Diane, is his division assistant this time around. They are working well together, he says. He directs tournaments in Florida where he lives and talked a bit about the balance of working vs. playing. He acknowledges that he likes to play, a lot, but that someone has to be willing to work so that there are good events. He said he feels like he's giving back a bit to our community by doing this division directing. Just then a "director" call was heard and off he went. When he returned he explained that his giving back entailed explaining how much the blank is worth point-wise on opponent's rack after the game is over. The answer: 0 points.
John Morse is here again at his red draped Merriam Webster table. He was so enthralled in dictionary talk with Janet Griesel (Madison, WI) that he actually tipped his coffee over and onto an ESL dictionary he was referring to on the table. He mopped at it with napkins and seemed unruffled. He an replace it easily. Just then, Joe Neff (Warrington, PA) came over to ask if he could buy a new TWL book for a club member in need. Our beloved NSA used to sell this book to our membership, but now Merriam Webster has taken this over. He gave Joe the card with a 1-800 number to dial to order a new book. John asked if anyone had figured out yet. I said, Well, isn't it just MW for your company? Actually not, he said. It is Noah Webster's own monogram (he started the company eons ago). So, there you have it. The hat is even more special than we'd imagined!
A new game company has rented a table here for the event, Enigmazé. The company owner, Dexter Tiggs, designs games and you can discover and order: Binary Word, Enigmagories, Word Mosiacs, and Word Relay at www.enigmazegames.com. At least one of the games can be played using the tiles we already have! The company motto is "Pleasantly puzzled, in an enigma of games."
Cindy Zimmerman (Unknown city, NE) vs. Jennifer Zinn (San Antonio, TX). They are finishing up paperwork, a 366-255 win for Cindy. I see SOARerS on their board.
Nicky Huitson (United Kingdom) is 0-3, but having fun and she's happy to be here playing in our NSC. Her opponent this round, Sandy Nang (Malibu, CA), needed the win, but feels badly about beating Nicky. There are so many more games to do!
Rob Robinsky (Hopkins, MN) finds me and brings me over to a great game he and Kenji Matsumoto (Berkeley, CA) played this round. Kenji started the fun of it all with the gorgeous hAGGADOT for 90. Rob played TRItOMA for 76 then got down NEURALLY for 76. Kenji played BRACED for 57 and Rob replied with FRESHED/hAGGADOTH for 96 (wow!). It was a real game, smoke and all. Then Kenji happened upon a few more great plays: STOUTEN for 74, WHOOPIE for 80 and the fun ANVILTOP to the triple (he extended Rob's ANVIL). Rob contends it was the best he's played all day and he lost, 463-526. Way to go to both of them!
Amit Chakrabarti (Hanover, NH) calls me over to show me his game with Joel Sherman (Bronx, NY). At one point, Joel was down by 200 points, 384-194, and he almost came back to win on a fantastic play of GIdDYuP for 96. They exchanged early big bingos: Amit's EYELASH for 103 and Joel's VITAMERS for 102. Of his loss, 452-497, Joel said, "I scored 452 and was only in the game for the duration of one turn!" Amit's better plays: opening play of ZLOTE for 48, TAVERNA for 64, and GELATION from the G for 80. Joel also got down CONFIRMS.
Alice Ching-Chew is outside the playing room at the event registration desk that is now the hospitality desk. She and Robin Gates (Dallas, TX) are helping on the hospitality end of things, but unlike at the past NSCs, Robin is actually playing this year. Much of her work was done, and there was a lot of it, prior to the event. Alice admits the the morning was spent updating the laptops attached to the projectors with the latest Windows software, so she's mostly been wrapped up in that. Oh, and she gives awesome directions to the hotel bathrooms! She is excited about her music thing tonight since there is a piano that is going to be wheeled in and an accordion is slated to be played. She's been working on a Bollywood Folk Smash with Supriya Devnani (Orlando, FL). I can't wait to see this!
Win Inthara (Orlando, FL) tells me about his game this round. AXE was on the board and he played uNDERTAXED for a 126-point double-double, take that!! Win managed to eke out a win despite letting his opponent get away with MOJITOS# and a late bingo of INSURED.