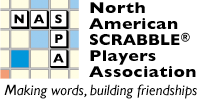 Go to: Early Bird Commentary Games Players Photos Standings Prizes
... tsh Reports (A B C D CSW)
... Scoreboard (A B C D CSW)
Back to NSC 2013 Live Coverage
NSC 2013 Commentary: Round 13
[ ]
Go to: Before the Tournament, Round 1, Round 2, Round 3, Round 4, Round 5, Round 6, Round 7, Round 8, Round 9, Round 10, Round 11, Round 12, Round 13, Round 14, Round 15, Round 16, Round 17, Round 18, Round 19, Round 20, Round 21, Round 22, Round 23, Round 24, Round 25, Round 26, Round 27, Round 28, Round 29, Round 30, Round 31, After the Tournament.
---
Round 13
White we were milling around waiting for the round to begin, I wandered by table 1 to check on Nigel Richards (Malaysia) to see how he was getting along having moved in a few rounds ago. I didn't even get to ask when Murali Balasubramanyam (Collierville, TN) walked into the cordoned off board 1 area to introduce himself to Nigel.
Division 4, table 1: Diane Kerner (Beverly Hills, CA) vs. Kevin Bowerman (Chapel Hill, NC): REDEFINE, DARTINGS, RIOTInG, TRIeNES for 72 played by Kevin, and INFANTS. I was trying to glean information from their scoresheets, but they aren't used to being spied on so I walked away.
Division 4, table 2: Gil Baker (Chicago, IL) vs. Nikhil Joshi (Davis, CA): The game was just a few plays in and the only big play I could see was a nicely nestled AZINe.
Division 3, table 1: Guy Ingram (Ellenwood, GA) vs. Katya Lezin (Charlotte, NC). This game was wrapping up around the time that I got there. He played FROTTAGe and she got down nINNIES. He was busy blushing and perhaps stammering over the definition of his bingo and she said, "don't worry, I almost was able to play GASSABLE* in this game," which was a going theme based on her earlier FARTERs*! She is a funny one, that Katya. She told me she enjoyed Guy a lot, despite losing to him, 362-418.
Table 1, Collins division: Geoff Thevenot (Austin, TX) vs. Bradley Whitmarsh (Attleboro, MA). Well, the other shoe is continuing to drop and Geoff has been delivered his second loss of the event, 482-361. I was writing down some of their plays and Geoff pointed out that I'd missed Bradley's opening bingo of ANTICKS for 86. He also played IRISATED#, INPHASe, and OUtWRIT. That's four bingos. I saw a fifth, Geoff's outplay of TELSONIC from the T. Of the play he said, "This is the only bingo I've played in two games." Ouch. Other fun plays: GYRON, TAAtA# (takes an A front hook, also #), PIRN and EVOE#.
Table 2, Collins division: Travis Chaney (Portland, OR) vs. Brian Bowman (Villa Hills, KY): LITANIES, PRaUNCED#, SERVLET# (blank L), and MERISTIC. JYNX#, VARIX, and IPPON# are also on the board.
Table 2, division 2: Joshua Sokol (Montreal QC) vs. Chris Canik (Austin, TX). I see Joshua's STATIONS for 70 and Chris' NITROGEN for 86. ZIRAM and FIQUE are looking nicely placed, too. Chris won, 423-414. High scores all around.
Table 2, division 1: Orry Swift (Houston, TX) vs. Maddy Kamen (Covina, CA): FELsITES, sEIGNEUR, and DURAMEN.
Noah Walton (Portland, OR) is wearing two name badges today, neither are his: One for James Leong and another for Dave Wiegand (Portland, OR). Noah played Scott Appel (Elkins Park, PA) this round and won, 459-442. I see ANTIPORN and AROUSING, which I think were Scott's. DEFRAyERS, DEcLAWED, TRASHED, and BUSTERS were Noah's. This is Scott's second game in a row where he lost to someone on an 8-game winning streak. Last round it was Dave Wiegand (Portland, OR) and this round it is Noah. Though I can tell he is disappointed, Scott shrugs and moves on: he's got Zen.
Darin True (Pontiac, IL) finds me and brings me to a beautiful game he played with Jason Ubeika (Mississauga ON). This was a terrific game that was anyone's to win at any point. The game flowed in a tit-for-tat fashion, one great play by one followed by another great play by another. So, it started with Darren's RObOTIC for 72, then Jason's FIXATES for 95. Darren then got down bELIEVES from the blank B and Jason played TARGETED through the R for 64. STRUDeL for 83 was Jason's and then the game got interesting. Darren wanted to open up the board a bit to give himself an opportunity to pull ahead, so he boldly played OCKER. Not able to resist, Jason played BINARY/ROCKER for 50, keeping the U which put him up comfortably by ~100. He knows that AEIDMNSVY is left in the bag. He just needs Darren to have one of the two bad boys in that bag. The chances are high, right? What did Jason get out of the bag to go with his U? You guessed it, the VY. And then it went down, MAIDENS, above BINARY on the triple lane for 90. A 500-479 win for Darren: sometimes it pays to be bold, eh?
Mack Meller (Bedford, NY) is now 8-5 and seems to be enjoying himself a lot, chatting it up with the other players between rounds.
As I stand by the division 1 command center, Brian Galebach (Columbia, MD) comes over with a slip and says, "They still go here, right?" He is being facetious. This is his first win of today, ouch.
Rob Robinsky (Hopkins, MN) asks if I want to hear about his 5-bingo game. Um, yup! He played Amit Chakrabarti (Hanover, NH) this round and got away with DOLEMITE to the E for 80 (the first E should be an O). Amit played MITERING through the first I for 67. INBOARDS through the N for 65 was Rob's next play and Amit slapped down DEPRIVEd to the blank D for 92 and then got down BINAURAL through the R for 64. Rob got down YEASTED for 79. Amit played JOIN for a mere 57 and then Rob found a 149-point triple-triple through the C: LINOCuTS. In the endgame, Rob knew he needed to block, so he slapped down GRAVLAX. Amit held DEFINS? and realized he could have played DEFINIENS through the EN an board had Rob not blocked. They wer both amazed by the word, the kind of thing Dave Wiegand (Portland, OR) and Nigel Richards (Malaysia) would see. A Rob win, 564-421.
We know that the cat people are moving on today and their space, which has been assigned to us, will be moved into. So, we all were instructed to get our stuff out of the room by the end of next round so the tables could begin to migrate over. I've heard some worry that the residual cat dander might cause allergic reactions. However, the air filtration here is pretty good: heck they manage to keep us smoke-free in a casino, so I'm hopeful it will be smooth and spacious and sneeze-free.