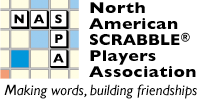 Go to: Early Bird Commentary Games Players Photos Standings Prizes
... tsh Reports (A B C D CSW)
... Scoreboard (A B C D CSW)
Back to NSC 2013 Live Coverage
NSC 2013 Commentary: Round 4
[ ]
Go to: Before the Tournament, Round 1, Round 2, Round 3, Round 4, Round 5, Round 6, Round 7, Round 8, Round 9, Round 10, Round 11, Round 12, Round 13, Round 14, Round 15, Round 16, Round 17, Round 18, Round 19, Round 20, Round 21, Round 22, Round 23, Round 24, Round 25, Round 26, Round 27, Round 28, Round 29, Round 30, Round 31, After the Tournament.
---
Round 4
Jason Idalski tells me that he's learned a new word that he's seen on many boards in his round thus far: AGOOD#. I wander down the CSW section and see Anlaug Frydenlund (Norway) vs. Eugene Capriata (Trinidad and Tobago). Their game is in progress and they are packed in cheek to jowl so all I can see is MATURES and AURATE on their boards. I find out later that he lost that game and is starting the NSC 0-4. I remind him that it can't go anywhere but up!
Randall Thomas (Calgary AB) vs. Sandy Nang (Malibu, CA). First things first: Randall's rack is painted bright yellow and has four toy-sized monster tread tires on it, so it can be "driven" side to side on his side of the board. Secondly, as I watch the rack, Sandy decides to wake me up to what I'm really there for. She slaps down MINIATED# to the triple from the M for 86 points. He challenges, the word is good! I see his REPAINTS for 61 and her bingo/bango of ICEBOATS and FORLENDS#. She later tells me that she won that game.
Carl Durdan (Waltham, MA) squeaks out a win against Winter Zxqkj (Houston, TX), 394-381. I see OURaRIS, SATINET, eNDOWER, and KLAXON down the triple.
Christine Engle (Rockledge, FL) had a tough time coming this year. She flew in from Florida, but due to the Las Vegas airport being closed, she was diverted to Los Angeles. The plane refueled and eventually brought them to Las Vegas, but very late in the wee morning hours, 3am. The most surprising thing: when they arrived at the Riviera and unpacked their bags, their clothing was soaking wet in their suitcases. They suspect a leak in the luggage compartment.
Shelley Ubeika, a division 2 assistant this year and not a player, is working with Reese Daniel (son to Robin Pollock Daniel (Toronto ON)) who is doing data entry for that division. They are having too much fun making jokes and being totally silly. Shelley has kept count and only two people have called her Sherrie today. She complains that she died her hair red so that people would stop confusing us. Since their division is so large, and since they are printing out on so much paper, Shelley asked Reese if he could do something to save paper. He said, "Reese is my name and shrinking fonts is my game.... in the hood." Now, this tore them up for a good long time.
My notes say: UNBELTED is good. Must have been left up on the challenge machine!
Kate Fukawa-Connelly (Lawrenceville, NJ) just played Paul Sidorsky (Calgary AB). She opened with REtINATE and later played AVIATORS, JIBER for 48, and FIREARM. She won that game. She is now 3-1 and happy with things so far.
Eric Tran is here. I'm thrown off: he is not a player. He said he came to hang out for the weekend. I asked if he was working and he said, no, and I suggested he come to me and I put him to work. I give it a 10% chance of happening!
Eric was watching the board 1, division 1 game with Maria, partner to Cesar Del Solar (Alhambra, CA), who was playing at table 1 against Carl Johnson (Beaverton, OR). They were being the stanchions and wanted to know who won. I walked in and saw the players in and endgame chat, their slip sitting there completed. I offered to hand it in. Cesar's win.
Will Anderson (Croton, NY) vs. Jeremy Hall (New York, NY). I am drawn to this board by Will's play of KERYGMA. Then I see his GUSsETED and UNLODGEd. Jeremy got down COsIGNS, but lost this game, 327-448.
Carolyn Easter (Birmingham, MI) has convinced her sister to come to this year's NSC. While Carolyn is 3-1, her sister, Constance J Creech (Metamora, MI), is 1-3. They are having a blast in Vegas. So far they have taken in the cat show next door, gambled during the storm of the year with their dealer jumping back every time lightening struck outside the window, and tonight they plan to dance the night away.
Cecilia Le (Cambridge, MA) defeated Peter Armstrong (Milwaukee, CA) this round, 396-386. I see ARILLATE, ATOMY, oVERTONE, FROGMEN, CURVET, PISOLITE, and VIROIDS on their board. I think it came down to the last rack for Peter: COUHQXT. Ouch!
An ever-smiling Mark Milan (Laguna Niguel, CA) comes over and asks if I want to hear about his game with Nigel Richards (Malaysia). I do! I do! He says, "Well, he backed up for a running start by trading three. Then he played BOATNECK, FLYTIERS, ANTSIER, and later got down TOILWORN and PERIDOT. Mark played OVERSEERS through the separated E and S (very nice) and LOUNGEDm but it was all Nigel: 544-374. He and buddy Michael Baker (Portland, OR) were laughing about just how good Nigel's plays were. Mark was just happy to be there and keep it somewhat competitive!
Jesse Matthews (Kelowna BC) vs. Jim Burlant (Grapevine, TX). Jim opened with FIXIT, Jesse replied with DOwNHILL through the I. Jim played ZOON, hanging the Z out in the triple lane and Jesse played AZYGOS to the triple. Then, Jesse played REyNARD, hooking to make FIXITy! Later on, Jim played BEATNIKS and BREAMING. Jesse got down GAIETIES. It came down to their final racks. Jesse got WESTECV and Jim got all the good stuff: DOREENE. Jim won, 458-429.
Michael Gincel (Lakewood, NJ) is delighted. After starting the last NSC 0-7, this year he is 2-2. He feels a bit bad about getting away with DERAILER# for 80 in one of his games.