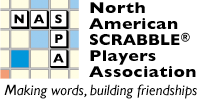 Go to: Early Bird Commentary Games Players Photos Standings Prizes
... tsh Reports (A B C D CSW)
... Scoreboard (A B C D CSW)
Back to NSC 2013 Live Coverage
NSC 2013 Commentary: Round 7
[ ]
Go to: Before the Tournament, Round 1, Round 2, Round 3, Round 4, Round 5, Round 6, Round 7, Round 8, Round 9, Round 10, Round 11, Round 12, Round 13, Round 14, Round 15, Round 16, Round 17, Round 18, Round 19, Round 20, Round 21, Round 22, Round 23, Round 24, Round 25, Round 26, Round 27, Round 28, Round 29, Round 30, Round 31, After the Tournament.
---
Round 7
Division 4, table 1 featured a game between Kirk Troutman (Ralston, NE) and Daniel Moglen (Davis, CA). It was in progress when I walked by and early on, so nothing much had happened. Later on, Daniel told me that he won, 334-315. He is now the sole undefeated player in his division! His favorite play today has been OVERLATe, a 90-point double-double through the L.
John Green (Lealman, FL) vs. Robin Gates (Dallas, TX). In progress board shows EMPTIEs, OVERLANd, and LATCHER.
Division 3, table 1 was Shah Ali (Leesburg, VA) vs. Lynn Gunn (Mission Viejo, CA). I see ALATIONS (blank L), SHInIER and SALTINg on their board. He won, 439-360 and ends today in second place with a 7-0 +504 record.
First place in division 3 by spread goes to Gary Skowronski (Silver Spring, MD), who is 7-0 +522.
David Pearl wandered in to visit. He isn't able to play this year due to family obligations cramping his studying time. We'll have him around a bit over the weekend, though.
Andy Hoang (Cary, NC) defeated Risa Horowitz (Regina SK) this round with plays like BAgGIEST and OMELEts. He said, "I got to play a food item." Risa and I both asked if there was a food item category. He said he wasn't sure, but he'd be sure to ask Dallas about one! Andy is now in 3rd place in division 3 and will square off against Shah Ali tomorrow am!
In the CSW division, table 1 was a Geoff Thevenot (Austin, TX) vs. Brian Bowman (Villa Hills, KY) game. I see TOWERInG, NAKEDLY, UNMITReD, PEASECOD, CEAZE#, and SHENT. It was a 442-359 win for Geoff who is the only undefeated player left in the CSW division Coming after him are Steve Polatnick (Miami, FL) and Travis Chaney (Portland, OR) who are at 6 wins.
A woman at table 1 in division 1! Lisa Odom (St Louis Park, MN) vs. Orry Swift (Houston, TX). The game was a long one and the room had to be shushed a few times to keep the end of the day noise to a lower hum. Do check it out in the annoyed game section! A spoiler is that Orry won and is in first place as the only undefeated player in the division. There are a total of seven 6-win players with Jesse Day (Berkeley, CA) and Adam Ginzberg (Swarthmore, PA) at the top of the pack.
The 13-year-old Mack Meller (Bedford, NY) played Kate Fukawa-Connelly (Lawrenceville, NJ) this round. I caught them in an endgame that might have been tense, but oddly didn't seem so. She was down to 13 minutes on her clock and he was close to through his clock. He played leaving himself with one tile, R, and the score was 396-393. I circled the table and saw her rack: DSTWF. I thought "uh-oh, can she get enough of them played off in this turn?" So, I walked away to let it breath. I came back to a recount that turned into a 412-407 win for Mack. He's now 4-3 and Kate is 3-4. On their board, I see Mack's ANTEPASt and RARItIES for 58. Kate played DECLARING for 63 and PEtRONEL for 70. Other fun words: LYTTAS, EIKONS, ANOPIA, AECIA, and GUIMPE.
Just as I stand there, Joel Sherman (Bronx, NY) bingos out with TABLATURE through the AT for 63. The play received the requisite challenge, but was good. His opponent, Scott Jackson (Minneapolis, MN), won the game, 457-419. Joel admitted he was never really in it. I look more closely and see Scott's dEIFIES for 66, AMOtION for 69, PENLITE for 87, RESPITED for 74, and the fun QI for 64. Joel caught Scott with BDOORSU on his rack which added 20 more points that lessened the game spread.
Michael Early (Fort Worth, TX) finds me and chats about a game he had with Ben Schoenbrun (Ardsley, NY) today. Ben tried to block the triple lane with JUS and Mike played UNJUSTER and only lost their game by 17 points. It was a victory to Mike to play that well against such a high-rated player.
Jeff Fiszbein (South Lyon, MI) tells me that today in a game with Scott Garner (Memphis, TN), Scott opened up with RIVIeRA. Shouldn't there be a prize for that!?
Reese Daniel is killing me. He did put cat photos into the scoreboards for division 2! I had someone come up to me this round and say, "I'm tired of being a cat, can you take a head shot of me?" I sent them to Patty for that shot, but what a hoot! Check it out if you haven't checked out the live coverage round 2 scoreboard link!
Division 2, which has been woefully undercovered by me today, I realize, is being led by Sarah King (Cave Creek, AZ). She and Siddharth Murali (Collierville, TN) are both undefeated, he is in second place. She just played Brian Leavitt (Fresno, CA) this round and won, 425-357. I caught that Brian got away with TAGLINED* before the tiles were whisked away!
Chris Lipe (Rome, NY) vs. Evan Berofsky (Oxford, MI). As I walked up toward them, Evan said, "You are going to like this end score!" Indeed I did, a 563-511 win for Evan. Chris played AGISTED for 80, ENVIRONS for 62, and RObOTIZE for 101. Evan opened with CATENAE and played MANTEAUS for 74 (+5), CRUMPLE for 82, and STUdIER for 92.
I found Anlaug Frydenlund (Norway) chatting in the aisle with other Collins folk and I asked her how her day had gone. Not as many wins as she may have liked, but she was enjoying herself. This is the largest tournament she's ever played in and only her second one in the US. She played at the Utica one-day last week. She has represented her country at the WSC in Warsaw and will play in the WSC equivalent event in Prague in early December.
An exciting first day! Onto to John Robertson's trivia contest later tonight. Teams of maximum of 7 (and some can be less, too), some of which were formed weeks ago and others that will be formed tonight when he gathers folks in for the whole event. History, geography, literature, science, movies, art, tv, pop culture, sports, etc. It is ALL there, he says!
Liz Ashby (Eureka, CA) is here at an NSC for the first time in years! She's been busy working and raising her kids. She is selling jewelry and will give all comers a 20% discount if they order through her or online. Hey dealmaking in Las Vegas is a part of the experience, right?