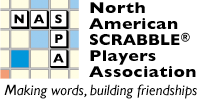 Go to: Early Bird Commentary Games Players Photos Standings Prizes
... tsh Reports (A B C D CSW)
... Scoreboard (A B C D CSW)
Back to NSC 2013 Live Coverage
NSC 2013 Commentary: Before the Tournament
[ ]
Go to: Before the Tournament, Round 1, Round 2, Round 3, Round 4, Round 5, Round 6, Round 7, Round 8, Round 9, Round 10, Round 11, Round 12, Round 13, Round 14, Round 15, Round 16, Round 17, Round 18, Round 19, Round 20, Round 21, Round 22, Round 23, Round 24, Round 25, Round 26, Round 27, Round 28, Round 29, Round 30, Round 31, After the Tournament.
---
Pre-event
Thursday
Dallas Johnson, NSC 2013 Director, and Sue Grogan-Johnson, NSC 2013 Assistant to the Director, had already been here a day when I reached the Riviera around noon on Thursday. Even that far ahead of game play some event volunteers were on hand to help set up the room: Mark Przybyszewski (Depew, NY), Andy Hoang (Cary, NC), Ryan Fischer (Charlotte, NC), Danny Kidd (New Boston, MI), Michael Donegan (Austin, TX), and Darin True (Pontiac, IL). A bit later, Michael Early (Fort Worth, TX) helped set up the big board with Dan Stock's newest tableau and Kenny Hoang (Cary, NC) helped his big brother Andy count T-shirts so that we'd be sure we had enough to hand to each contestant during registration.
Much of the underpinning infrastructure was done by that point, the command center was up on small risers, the higher and rounder challenge tables were scattered around the room, and the big board was set up. However, the player tables had not arrived. Early organization on the part of Dallas and Sue left much less work to be done on site (player folders were already stuffed and shipped in ready to go).
The playing space we will start with on Saturday will change come Monday morning. We are in a smaller space for the first two days. We still fit, but we'll feel the increased air when the room opens up. Currently, part of our expansion space is being used by a cat convention--Jazzy Cats! A room full of cats and paraphernalia!
Friday
While registration goes on today, John Chew will be directing and playing in this year's NSC early bird in the main event playing room. As in the past few NASPA-run NSCs, this early bird is open to directors and event workers only. The event came about because John Chew had only been able to play in one NSC, his first on Los Angeles. Since then, he's worked the NSCs. So, when NASPA was formed, he brainstormed a way that folks like him could play: an early bird for event workers and directors only. This year's event had 25 players, four in the CSW division.
Jackson Smylie won the TWL early bird with an undefeated record of 4-0 +796 and Jean McArthur won the CSW division with a 3-1 +81 record. The entry fee of $5 per player was to cover NASPA fees and to create a small prize fund. And small it was! Jackson earned $20 plus a $3 high word prize for the 149-point INCUDATE. Jackson will also likely be the only player to go undefeated in the year's NSC as he is going to be working the event as an annotator at division 1's board 1 with Kate Watson. Jean's win was special, too, she was seated 4th in her small division. She, too, is working this year's NSC as a division 3 assistant.
John Chew didn't do so swell in this year's early bird. I think he credits jet lag from his trip to Bangkok, but when I asked him about his games today he said, "the game-winning play in my game with Marty was NIMMERS#." Marty's win. And I think Jean eked out a two-point win in her game with him.
Gloria Miller (Santa Monica, CA) is playing this year. It has been years since she's been at an NSC! Nice to see her!
Michael Early (Fort Worth, TX) looks like Nigel Richards (Malaysia), he's grown a long beard that he claims he just trimmed prior to the NSC. With the red Merriam-Webster hat that came in his contestant gear bag, he looks very nearly like Santa Claus, too!
Not letting the after-hours room go to waste, players like Risa Horowitz (Regina SK) and Crayne Spanier (Toronto ON) squared off for some pre-event warm up play. As I watched, Crane got down ATTENDS hooking to make GROZES against Risa. She looks unphased and determined to come back.
Helping a female in need, Steve Polatnick (Miami, FL) sat down beside Samantha Orleans (Bryn Mawr, PA) who was in a battle with Marty Fialkow (Moorestown, NJ). She was sparkling in diamonds and gold jewelry.
A few people are having flight problems due to tornado warnings near and far. We've been told to expect some bad weather here, too, maybe.
Once again, unlucky Lisa Odom (St Louis Park, MN) has been beset by plane mechanical troubles. She may be rolling in late. (She did come in late, but is here in time!)
John Robertson is looking forward to running his trivia show on Saturday night. And Alice Ching-Chew is excited to do her sing along. Bring an instrument!
Winning Moves, one of our event sponsors, provided NASPA with games to give away during registration: Scattegories cards, TriBond, Super SCRABBLE, and SCRABBLE Tile Lock. The NSA donated SCRABBLE Slam card games and another prize and NASPA purchased a few crossword books to ensure that all registrants could leave with a prize. Each player, at registration, got to turn a "Spin-A-Prize" wheel to win one of these prizes, randomly distributed.
Staff Dinner:
The NSC staff dinner, which was held a couple hours after the staff meeting, was at the nearby Peppermill lounge, the highlight of which was breakfast served all day! Twenty-four showed up and we gathered around four separate tables. Chris Cree (Dallas, TX) hopped from table to table, visiting, and if we were willing, sharing a bit of our meal.
Chris Cree's alma mater's football team, the Oklahoma Sooners was playing Notre Dame's team last fall. John Robertson is a huge Notre Dame fan. Chris casually said to John, "we should bet on that game." Well, even though the Fighting Irish were 13-point underdogs they won the game! Months later, honoring their semi-bet, Chris Cree gave John $50 and sang the Notre Dame fight song, the "Notre Dame Victory March," in the restaurant: nice moment. Then Chris said that John had better bone up on the Sooner song "Boomer Sooner" because those lyrics are hard.
During the dinner, the skies darkened, trees blew over, and the storm of the year blew in. Rain was pouring down, flooding the streets and cutting off power to much of the city. I had to catch a cab to the Mirage to see the Beatles Cirque du Soleil show, Love, and in order to get a cab, I needed to carry my shoes and wade through ankle-high waters to cross the street. I was drenched from top to bottom as was anyone else who was out during the storm. Many streets turned into rivers and were impassable. A 10-minute drive drew out to half an hour as we dodged stalled and drowning cars stuck in the deep water. The Mirage was leaking like crazy from their dome and much of the lobby was cut off with buckets trying to catch the water. The Love theater wasn't spared either and many seats had become soaked from leaks. Everyone was moved to dry seats and the show proceeded as if nothing had happened (true professionals!) and it was fabulous. All we need is love, indeed!
The Las Vegas and Los Angeles airports were closed due to the storm and our host hotel had some minor flooding around automatic doors. However, it was handled well and the power returned and the air dried out and we recovered!
Saturday
Nigel Richards (Malaysia) arrived early this morning and told me he'd flown in on Wednesday from Thailand where he'd played at, and won for the ~9th time, the King's Cup. He heads to Sri Lanka after the NSC for another tournament there.
Andrea Michaels (San Francisco, CA) is her awesome sunny and smiling self. She is continuing to do puzzles for the New York Times, but her recent project has been making book reading appearances around the country. She and 36 other very funny women, think Margaret Cho, wrote chapters for a book No Kidding: Women Writers on Bypassing Parenthood.. Look for her at your local bookstore!
Speaking of readings, Katya Lezin (Charlotte, NC) will be reading from her book But I Just Grew Out My Bangs on Monday night here at the hotel. Come get your autographed copy of this very funny (yet serious) book!
Then the event announcements began and Chris Cree (Dallas, TX) had us all sing Happy Birthday to his daughter, Faith Elizabeth, who turns 5 today. He recorded it on his iPhone and will share the song with her later today.
Alan Stern (Shadow Hills, CA) told us some funny jokes to warm us up and reminded us that the Las Vegas motto can work for us too: our ratings losses can just stay in Vegas and no one has to know about them! He drew some parallels between us and the cat convention: CAT/QAT, LITTER/LETTER! He reminded us to use our 775 minutes of game play well. The most touching part of his warmup, however, was reminding us of the first NSC in 1978 and that six people in this very room playing this year, were at that 1978 NSC. They stood when their names were read and received a loud applause from us all: talk about diehards! They were: Paul Avrin, Carl Stocker (Miami, FL), Joel Wapnick (Montreal QC), Steve Polatnick (Miami, FL), Emely Weissman (Menlo Park, CA), and Jim Pate (Birmingham, AL). From the news too good to not share department, Paul Avrin is our eternal Peter Pan. At age 70, and for the first time in his life, he is getting married this summer. Congrats from all of us to you both, Paul!
Dallas Johnson then took the microphone and asked the players to not try to use the security mirrors at the top of the walls to look at opponent tiles. We tested and couldn't see them at all, but some with super long distance vision have suggested they "might" be used nefariously. So, Dallas reminds us that it would be a violation of the NASPA Code of Conduct.
And then, we began!