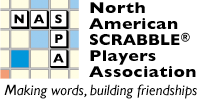 Go to: Early Bird Commentary Games Players Photos Standings Prizes
... tsh Reports (A B C D CSW)
... Scoreboard (A B C D CSW)
Back to NSC 2013 Live Coverage
NSC 2013 Commentary: Round 20
[ ]
Go to: Before the Tournament, Round 1, Round 2, Round 3, Round 4, Round 5, Round 6, Round 7, Round 8, Round 9, Round 10, Round 11, Round 12, Round 13, Round 14, Round 15, Round 16, Round 17, Round 18, Round 19, Round 20, Round 21, Round 22, Round 23, Round 24, Round 25, Round 26, Round 27, Round 28, Round 29, Round 30, Round 31, After the Tournament.
---
Round 20
Canik brother update: Chris Canik (Austin, TX) and Matt Canik (Austin, TX) are both 11-9. Matt says, "So, I come all the way here from Dallas to spend the afternoon playing Jim Burlant (Grapevine, TX), Michael Early (Fort Worth, TX), and Darrell Day (Richardson, TX)." I tell him it is a "down home" afternoon for him.
Phil Seitzer (Davis, CA) defeated Daniel Moglen (Davis, CA) at division 4's table 1, 453-408. I see Phil's STATELY (blank L) and URANIDES. Daniel played three bingos: SCORERS, REASONED, and INGRAIn which was a challenged outbingo. Daniel won their first game this NSC, so the other shoe dropped.
Game in progress between Quinn James (Charleston, SC) and Geoff Thevenot (Austin, TX): INTERNED, BUTENES, BUFFOON, REALNESS, IRONIEs, and QUIVeRS so far.
Lexington, MA, clubmates, Bradley Whitmarsh (Attleboro, MA) and Carl Durdan (Waltham, MA) square off this round: BIPEDAL, HyDriae, TERMINAL, and ARBUTEAN.
Laurie Cohen (Tempe, AZ) and Travis Chaney (Portland, OR) are going up to the challenge machine and UPSWOLLEN is ruled acceptable. It was a 65-point outplay for Travis, played from UP. I see DECLARED, NICOTINE, OVERRODE, and BETHANKED. Travis tells me that THANKED was on the board and Laurie front-hooked BE to the triple for 57. Though th outbingo draws him close, Laurie wins this game, 465-424.
ALTEZA# jumps out of the David Eldar (Australia) vs. Evan Berofsky (Oxford, MI). More office products for David: he tossed in a very small post-it note atop his tracking sheet for the endgame analysis of leftover tiles.
Will Anderson (Croton, NY) is at table 3 in division 1 this round. He's won 8 games in a row and this makes 9!, 447-361. I watch Noah Walton (Portland, OR) and Will jump up to challenge Will's outbingo, VAULTIeR from the V for 72. I see OBELISED, AUREOLAS, and EUPNOEA. Noah admits he tried an outrageous phony: KABLOOEY*. Will admits to holding him for at least 3 minutes, mulling it over. Didn't Rick Wong use this as an email handle? Would he choose a phony? In the end, he challenged and off it came. Noah was stuck with the rack ADGSNT?, but after his last play, he kept ADNT and picked the rest from the bag, then the outbingo went down. He never got to play with the blank.
A group started gathering around the this board and someone pointed out that Dave Wiegand (Portland, OR) has lost only one game since day 1! He is 16-4 now.
Katya Lezin (Charlotte, NC) is having a wonderful tournament so far. She is 2.5 games ahead of the pack. The tie was a 383-383 that survived a recount. She was astonished about that part.