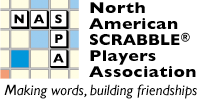 Go to: Early Bird Commentary Games Players Photos Standings Prizes
... tsh Reports (A B C D CSW)
... Scoreboard (A B C D CSW)
Back to NSC 2013 Live Coverage
NSC 2013 Commentary: Round 19
[ ]
Go to: Before the Tournament, Round 1, Round 2, Round 3, Round 4, Round 5, Round 6, Round 7, Round 8, Round 9, Round 10, Round 11, Round 12, Round 13, Round 14, Round 15, Round 16, Round 17, Round 18, Round 19, Round 20, Round 21, Round 22, Round 23, Round 24, Round 25, Round 26, Round 27, Round 28, Round 29, Round 30, Round 31, After the Tournament.
---
Round 19
Estelle Matthews (Calgary AB) is playing in the Collins division this year. She said she has little opportunity at home to play it, but sheen she travels to Israel and Britain she does enjoy it. This is her 8th Collins event.
Merriam-Webster's Editor-at-Large, Peter Sokolowski, has joined us this afternoon. You may recognize him from his great youtube videos about words and language. A very nice and animated man.
Orlet Bullock (Miami, FL) did change his shirt! An all-black one now!
Announcements for the afternoon session were quick. First things first: Catherine had a baby boy! Jesse Matthews (Kelowna BC) asked folks to take part in his honors project (he just graduated from the University of British Columbia in psychology) on the affects of organized competition on well being. I think he'll get a lot of takers here!
Division 4, table 1, Charles Dupont (Seattle, WA) vs. Daniel Moglen (Davis, CA). I see VALETING for 74 and REEfiNG.
Division 4, table 2, Kevin Bowerman (Chapel Hill, NC) vs. Daniel Novinson (Unknown city, GA). As I walk up, they take a field trip to the challenge machine to look up BRUXED played by Daniel, it is good. I see Daniel's TOENAiL for 77 and SToNIER for 78. Kevin is caught with CMVRUG and loses this one, 317-373. Fun other plays: ZOUKS and OLEINE.
Kenny Hoang (Cary, NC) vs. Nikhil Joshi (Davis, CA): RESTAGED and ANEMIAs. Nikhil won, 421-377.
Okay, the shirt change has helped, Orlet Bullock (Miami, FL) won his game this round against Kay Faust (Baltimore, VT). Kay opened with LETTErS and later got down NAILERS. Orlet played TEASING and the 9-letter PEDERASTy through the DE. His win, 503-389.
Scott Appel (Elkins Park, PA) vs. Kenji Matsumoto (Berkeley, CA). I sit down and Scott explains that Kenji is being too hard on himself. He had two places to play BAILORS and he picked the "wrong" one because it gave Scott a place to play WAITERED through the R. I see SLURB and SLuRBAN on the board. I ask Kenji what it is and he said, "I challenged it! I have no idea!" Scott played SHOT one short of the right triple lane, hoping to get the last S and "cash in," but it was Kenji who got to it first, playing GETUP/SHOTT. Scott's win, 425-388.
Mark Pistolese (Pahoa, HI) tells me that he got the chance to play BEWRAYS earlier in the tournament!
More color from Anlaug Frydenlund (Norway). She rode the Circus Circus Adventure Dome roller coaster over lunch with David Eldar (Australia). It was a fun!