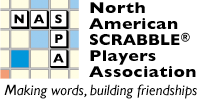 Go to: Early Bird Commentary Games Players Photos Standings Prizes
... tsh Reports (A B C D CSW)
... Scoreboard (A B C D CSW)
Back to NSC 2013 Live Coverage
NSC 2013 Commentary: Round 31
[ ]
Go to: Before the Tournament, Round 1, Round 2, Round 3, Round 4, Round 5, Round 6, Round 7, Round 8, Round 9, Round 10, Round 11, Round 12, Round 13, Round 14, Round 15, Round 16, Round 17, Round 18, Round 19, Round 20, Round 21, Round 22, Round 23, Round 24, Round 25, Round 26, Round 27, Round 28, Round 29, Round 30, Round 31, After the Tournament.
---
Round 31
In division 4 , Daniel Moglen (Davis, CA) squared off against Phil Seitzer (Davis, CA) for the fifth time this NSC. Daniel won the game and the division. I see his NEARSIDE and UNITERS through the T as a double-double and Phil's ENTOILS.
Katya Lezin (Charlotte, NC) is in the endgame, I walk by and she said to me, "he's got it, Sherrie." I see OUTGAVE and OATMeAL (blank L), DIESTER (which drew a challenge by the look of the challenge slip), and PLANTED. I see BRISTLER* and she challenged it off. After the game was over, which Katya lost, 283-454, she said Andy made her cry. She fears people will think she cried because she lost, but he so touched her by telling her that there was no one he'd rather have played against, how much he's enjoyed getting to know and play with her children (Noah, Hannah, and Eliza), and how scared he was when she got cancer. He was happy she was here and well. How's that for a future great in our game?
Guy Ingram (Ellenwood, GA) vs. Gary Skowronski (Silver Spring, MD): UNvEILED and PIASTRE.
Division 2, table 1: Siddharth Murali (Collierville, TN) vs. Mark Rosenberg (Atlantic City, NJ): RETAINER and LAVISHLy. Mark won this game and the division. Congratulations Mark!
Michael Gincel (Lakewood, NJ) tells me he played an amazing word: AMAZING for 103. He is happy with his performance this year and looks forward to coming back. This kid is positive and eternally optimistic!
Table 2, division 2, Joshua Sokol (Montreal QC) vs. Glenn Dunlop (Brantford ON). I see RETAILED, OUtSHEEN, and BITTING. While I watch, Glenn circles an O on the challenge slip and then continues to look at his rack for almost another minute before he scratched out the O with his magic marker. Fearing I was stressing him out, I moved on.
So, I missed that John OLaughlin (Cambridge, MA) had already won the Collins division and had been Gibonsized (he won his last 12 games, wow!) and I peered at the board 1 game between Evan Berofsky (Oxford, MI) and Geoff Thevenot (Austin, TX). I see NOVALIKE, TRIOXIDS, RUBOUTS, and SCREEDED. Evan won, which earned him second in the division, not first since John had already cinched it up.
At board 2 in the Collins group, Joel Wapnick (Montreal QC) played David Eldar (Australia). I see TABRETS#, DOVEkEYs, BARRENS, DIAPASE#, and TROOLIES#. David tells me he lost by 10 spread points in getting into the money. He could have played VACCINIA, but Joel blocked the spot it would have fit into. On his next turn, he chickened out of VACCINA, but it was good and would have made a difference in spread.
Trevor Halsall (Australia) played the anagram of AEICFHST# for 107 +5 (it drew a challenge) today. It is good in our book if we add a D. Talking about the way we play in the TWL (with our challenge penalties), David Eldar (Australia) said, "I am not sure I could stand playing that way. I'd have to learn the words!" Tongue planted firmly in cheek, methinks.
Trevor, btw, is here on holiday just for the NSC. He is delighted to see the CSW division in the event and hopes he can come back again next year! That is one long flight, too! He said it was a pleasure to play in the largest SCRABBLE tournament he's ever attended (in whole if not in division).
David explained that he so disliked the long flights from Australia to the rest of the world that he's relocated to England recently. Works fine for us; we can't tell the difference in the accents. :)
[error: no such id: will] continued his winning ways of winning big in his game with Kenji Matsumoto (Berkeley, CA) at division 1's table 2. I see Kenji's PINNACLE and TINGLER and Will's TAINTED, MORESQUE, REALNESS, and PENDAnTS.
The crowd was big around the ropes about board 1 this round as Komol Panyasophonlert (Thailand) and Nigel Richards (Malaysia) were replaying a matchup from last week's King's Cup event in Thailand. This time, Komol emerged victorious in the game, but he didn't win enough to get the title from Nigel Richards (Malaysia) who has held it 5 of the last 6 years. Komol explained that he had mistracked Nigel in the endgame by a tile or two, but when he looked at it more closely, he realized it made no difference. He won, 442-421. He wanted more spread, for sure!
From the bad news department, Matt Canik (Austin, TX) was playing basketball here in Vegas. He left his wallet and phone by some friends sitting around the game. Somehow the wallet (containing $500) and the phone were stolen. Fortunately, Matt's dad was here with he and his brother, Chris Canik (Austin, TX), and he was able to help with the money loss. But a young person without a phone? That is a super hardship! On the plus side, it appears that Matt won the NSC roto!
Trip Payne (West Hollywood, CA) played Mack Meller (Bedford, NY) this round. He said, "I had all 4 Ss, both blanks, and I lost the game by 100 points. When he played the natural MYELITIS to an S, I knew I was in trouble."
Carl Durdan (Waltham, MA) had a tie with with Brian Bowman (Villa Hills, KY) this round, 419-419. When Carl played out with his O for 8, he realized he could have played it for 12 elsewhere. Oh well, at least he gets the class prize!
A slip of paper is slipped into me: Matt DeWaelsche (San Antonio, TX) had a 6-bingo game today! His bingos were ANGELICA, PAROLEE, RUMINATE, FATTENED, RETINUES, and RELISHER*. Doug got down TRISOME. A monster win for Matt, 579-386.
So, we have our winners: 1. Nigel Richards (Malaysia). 2. Mark Rosenberg (Atlantic City, NJ). 3. Andy Hoang (Cary, NC). 4. Daniel Moglen (Davis, CA). Collins: John OLaughlin (Cambridge, MA). Congratulations to them and all the other prizewinners!