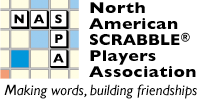 Go to: Early Bird Commentary Games Players Photos Standings Prizes
... tsh Reports (A B C D CSW)
... Scoreboard (A B C D CSW)
Back to NSC 2013 Live Coverage
NSC 2013 Commentary: Round 27
[ ]
Go to: Before the Tournament, Round 1, Round 2, Round 3, Round 4, Round 5, Round 6, Round 7, Round 8, Round 9, Round 10, Round 11, Round 12, Round 13, Round 14, Round 15, Round 16, Round 17, Round 18, Round 19, Round 20, Round 21, Round 22, Round 23, Round 24, Round 25, Round 26, Round 27, Round 28, Round 29, Round 30, Round 31, After the Tournament.
---
Round 27
Daniel Moglen (Davis, CA) had a big win this round against Robin Gates (Dallas, TX). He was happy to find LEMONADE through the M. 405-275, his win.
Table 1, division 4: [error: no such id: danielseitzer] vs. Charles Dupont (Seattle, WA): TUNNELS (blank L), WINGERS, and ALmONER. A tense game that went long. Phil's win, 373-334.
Maddy Kamen (Covina, CA) got a chance to play Nigel Richards (Malaysia) this round at table 2. She was nervous about me looking at the board because she didn't want me to be critical of her play. I assured her that wasn't my angle! Their board was actually quite pretty and unusual in that all 8 triple word squares were used! I see HORNISTS, LIMITARY, and ANABOLIC, all Nigel's. His win.
I watch Noah Walton (Portland, OR) play TAmELESS in his game with Komol Panyasophonlert (Thailand). He overlapped Om/EL/NE/AVOWS/AS for 81. They are focussing intensely on their game, both of them holding their chins in their hands. IGNITE, OUTWRIT, and ELEMI is on their board. Komol won and in the postgame analysis they discovered that when Komol played TOXIN through the XI, he could have played DIgITOXIN!
Will Anderson (Croton, NY) vs. Dave Wiegand (Portland, OR): DEMESNE for 67 is put down by Dave as I walk up. OUTCRAWL, ROLLINGS, UpTReNDS, APERIENT, PITHEADS, AQUAE, and DROPT on the board. Will won, 480-396.
Collins table 1: John OLaughlin (Cambridge, MA) vs. David Eldar (Australia). I see sORORATE, TRAILING, MOGgIES, TOWZES#, OODIAL#, and CUMBIA. Moments after I stop writing, the game wound up and David ran his hands through his hair and said, "This is the worst game I've played all my life. I screwed up all over the place." John said, "I screwed up, too." It was a 421-371 win for John. I felt the rawness of their vulnerability and when they bent their heads in to talk about the mistakes, I slid on by to spy on another game.
Becky Dyer (Austin, TX) vs. Geoff Thevenot (Austin, TX): ARTIStRy, HIOIS#, ANOLE, and DELFT. The game isn't very far in.
Robert Linn (Potomac, MD) vs. Joel Wapnick (Montreal QC): eGOITIES# and DEALATES are on their board.
Chris Lipe (Rome, NY) vs. Laurie Cohen (Tempe, AZ). TrITONE and FORELIES (blank L) are her bingos. Chris got down FLYTIERS, ABORNING, and CENTNERS.
Liz Ashby (Eureka, CA) walks up to me while I'm looking at the Collins boards and she is indignant that a four-letter word in CILT is not good in our dictionary. I leaned over and checked it out on the Collins-equipped Zyzzyva and it is good there. I told her she needed to switch her lexicon. She laughed and said that she thinks it so distracted her opponent (who challenged it off) that he did not go out in two as he could have.
A fun moment at table 1 in division 1: Scott Appel (Elkins Park, PA) and Kenji Matsumoto (Berkeley, CA) are laughing. I walk up and Scott points to a word and says, "It all came down to this." The word was STuDYING. Check out this annotated game this round to see what he is talking about!
I get called over to see bRITzKA for 94, played by Cesar Del Solar (Alhambra, CA) in his game with Jesse Day (Berkeley, CA). NASCENT, VAGINAE, DUELERS, and PAYOLA are on the board. Cesar's play wasn't enough. Jesse won, 398-376.
Sam Masling (Washington, DC) tells me he had a 598 game this round! He played TIERCED, DACITES, RUNDLET, and the 90-point FEAZES. His School SCRABBLE coach, Stefan Fatsis (Washington, DC) happened by when Sam was telling me this and started spelling the words with Sam (clearly he'd heard about this game already). After I got it all down, Stefan slapped Sam on the back and said with great warmth and pride, "That's my boy! Good job, Sam!"
Herb Lewis (Cherry Hill, NJ) comes up to tell me another humdinger. In his game this round with Supriya Devnani (Orlando, FL), she twice overdrew. And, each time he turned over three tiles and got the blank, which he returned to the bag. At the end of the game, she picked both blanks again and bingoed with them, essentially getting 4 blanks in the game! Her win, 425-284.