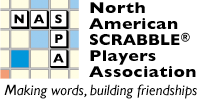 Go to: Early Bird Commentary Games Players Photos Standings Prizes
... tsh Reports ( A B C D CSW Youth )
... Scoreboard ( A B C D CSW Youth )
Back to NSC 2014 Live Coverage
NSC 2014 Commentary: Round 9
[ ]
Go to: Before the Tournament, Round 1, Round 2, Round 3, Round 4, Round 5, Round 6, Round 7, Round 8, Round 9, Round 10, Round 11, Round 12, Round 13, Round 14, Round 15, Round 16, Round 17, Round 18, Round 19, Round 20, Round 21, Round 22, Round 23, Round 24, Round 26, Round 27, Round 28, Round 29, Round 30, Round 31, After the Tournament.
---
Round 9
Rebecca Soble makes a happy announcement! Round 8 was the first round in which she had time to double check the data entry numbers before the next round ended! This is no small feat with 166 players!
Eileen Johnson (Charlotte, NC), perhaps trying to butter up the command station (it is working), brought us a giant container of her famous magic bars. SO GOOD! Thanks a bunch!
WGRZ (the local NBC affiliate) and Time Warner Cable are here with giant cameras on tripods, shooting event footage. Both have interviewed John Chew and they want to interview our phenom next, Mack Meller (Bedford, NY). He has been busily embroiled in a battle with Noah Walton (Portland, OR) at table 1 for the past hour. Fun words: FIREDOGS, CHALUPA, and somehow, BLATHERERS. Check out their game in the annotated game section!
Zachary Ansell (Los Angeles, CA) is back to his winning ways, defeating Doug Critchlow (Columbus, OH) this round. Doug got down OPIATED and iNVOLUTE and Zach played LARIaTS. This is only Doug's second tournament: way to aim high! I love seeing new people in our midst!
The secret of the sunglasses revealed! Nigel Peltier (Portland, OR) has been playing poker recently (like, serious poker) and a lot is revealed in the eyes (including, perhaps, board position as you plan your next play). Astute opponents can look for these signs in our eyes, but not in Nigel's eyes. He has a smile that could melt butter, but with his glasses he is trying to look "neutral" and not convey information. He is playing at table 2 in division 1, so maybe he is onto something! I watch his game with Kolton Koehler (Portland, OR) unfold. Nigel tries CUTENIZE* through a T for a triple-triple. Kolton calls it off (turns out that CUTINIZE is good!). I see dILATATE, UVEiTIS, and REEDIEST on their board. I notice they are playing with BAT tiles (tiles made for the Boston Area Tournament with small bats on the blanks).
So, a great game is going on at table 3 between Joel Sherman (Bronx, NY) and Conrad Bassett-Bouchard (Piedmont, CA). I see sCOTTIE, XYLOID, RAVISHER, ARuGoLAS, LIAISON, and PERORATE. It ended up being a 463-367 win for Conrad. I mention that it may be a 20 and under board 1 situation from now on and he admitted he was now 24. So, maybe a 25 and under! Conrad hoped I hadn't noticed the inadvertent phony on the board. Joel had played NEICE* and by the time Conrad noticed, Joel had already drawn tiles. Joel hadn't meant to get away with it: just an honest mistake.
Kevin Bowerman (Chapel Hill, NC) is continuing this win at table 1 in division 2. This time he played Gunther Jacobi (Portland, OR) and had a 461-376 result. I see COURIER, BETAINES, PLASTER, BOrTZ, and REVALUeS on the board.
Adam Logan (Ottawa ON) remains undefeated in Collins, no excitement in his game this round.
John OLaughlin (San Francisco, CA) vs. [ERROR: no such id: jessematthews} DAIDZeiNS, PURLINES, FERRATE, and TSARINAS on the board. John wins, 419-454. Smiling, Jesse says, "I'm earning high scores, just not high enough!"
Another person playing well, but not well enough to win, [markkenas], lost to Dave Wiegand (Portland, OR) this round. I see PROOTIC#, DISINVITE (on the triple line, not a bingo, but pretty), GRENACHE#, OvERLETS, AGONIST and MEDULLAE. He points out Dave's great find of FLATCAP through separated L and C. Mark admits that perhaps not playing a phony on turn one against Dave would be a good tip for further games. I ask him what the phony was and he won't divulge. I, however, have my methods. Most challenges are written down on the result slip that gets turned in at game's end. I have an "in" with the data entry person for the CSW division. He slipped me their result sheet. Aha, the word was ROUPILY*. There are no secrets!
Nuala O'Rourke (Northern Ireland) tells me about her favorite play today. Holding a bingo that wouldn't go down, her opponent played LUV. She enveloped it with ELUVIATE for 114 points. Thank you VERY much!
Ted Gest (Washington, DC) is still doing very well in division 3 at table 1. He defeated Diana Spiller (Ashby, MA) this round, 416-386. Their two bingos: SLENDER and REFUNDS.
Sal Piro (New York, NY) is in good spirits. He was 0-3 -500 or so and is now 6-3 with a bunch of spread.
Matt Dube is here from Merriam-Webster working a table full of dictionaries. He recognized me (and several others) from the National School SCRABBLE Championships which were held in Rhode Island this past spring. Robin Pollock Daniel (Toronto ON) walked up to him and they chatted about the AP article where Merriam-Wester and Robin were quoted extensively.