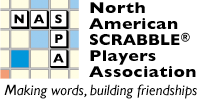 Go to: Early Bird Commentary Games Players Photos Standings Prizes
... tsh Reports ( A B C D CSW Youth )
... Scoreboard ( A B C D CSW Youth )
Back to NSC 2014 Live Coverage
NSC 2014 Commentary: Round 12
[ ]
Go to: Before the Tournament, Round 1, Round 2, Round 3, Round 4, Round 5, Round 6, Round 7, Round 8, Round 9, Round 10, Round 11, Round 12, Round 13, Round 14, Round 15, Round 16, Round 17, Round 18, Round 19, Round 20, Round 21, Round 22, Round 23, Round 24, Round 26, Round 27, Round 28, Round 29, Round 30, Round 31, After the Tournament.
---
Round 12
The battle of the preteens took place in division 4's table 6 this round. Chloe Fatsis (Washington, DC) squared off against Zachary Ansell (Los Angeles, CA). Chloe played ReNAILS and Zachary got down OUTINGS. I watched a bit and saw Zach make some plays upside down. The game was very close, but 12-year-old Chloe defeated 10-year-old Zachary, 364-361. They shook hands after the game, great sports!
Josh Kattsir (Toronto ON) vs. Charles Dupont (Seattle, WA): LYRICAL, GLUEING, and STUDdED on board (the last one drew a challenge).
Table 1 in division 3 featured Don Drumm (Clinton, NY) against Ted Gest (Washington, DC). I see Ted's PASTRIES And OLEINES and Don's STREWEd and PUTTInG. A high-scoring game, 435-414, Don's win.
Jillian Bathgate (Toronto ON) vs. Janet Gray (Royal Oak, MI): OvARIES, AIRATeD, FJELD, and AXLED are on their in-progress board.
I see POUTINES on board 1 between Kolton Koehler (Portland, OR) ad Noah Walton (Portland, OR). Defeating Noah in this game (check it out in the annotated game section!) maintains Kolton's first place status, a position he has enjoyed for four rounds now! Clearly, headbands rock!
I walk up to Jesse Day (Berkeley, CA) vs. Conrad Bassett-Bouchard (Piedmont, CA). I see Jesse putdown LEMMATIC* to the C. It is clear he is still thinking about it, so I walk away. I come back a few minutes later to see that ge opted for MALEMIUT instead. Other Jesse plays: NERVING, TRILLeRS, and NAIvETE. I see Conrad's VIOLATING through separated L and N, thank you very much. He also played the nice nonbingo BOSKAGE. Other plus I see are YANQUI, PANDITS, INJURERS, RESILES. Jesse won, 480-430.
Chris Tallman (Vancouver BC) faced Jerry Lerman (Foster City, CA) this round. I see AIGLET (nonbingo board opener/rack cleaner), OUTROARS, and KERATOiD. The board is very densely packed with many overlaps. It was Chris' win, 377-369.
Richard Spence (Tucson, AZ) got his crack at Nigel Peltier (Portland, OR) this round. If I am reading the scoresheet right, Richard had three bingos in a row: REDWOODS, AUREOLES, and TESTIFY. A bit later ROILIEST went down. I see Noah's DENATUREs. Richard's win, 466-408.
Former World/National/Canadian SCRABBLE champs squared off at table 1 in the Collins division this round. Early on I see LABELING and UNOPENED. In the endgame, Adam let Joel get away with SAIKERS* because it emptied the bag. Then Adam proceeded to bingo out with CEORLISH, to win, 465-360. Adam is the sole undefeated player in the room and is three games up on John OLaughlin (San Francisco, CA). Today's top three have been Adam, John, and Chris Lipe (Rome, NY), until this round, when Becky Dyer (Austin, TX) climbed into third place. Go Becky!
While he was recounting the game for me, Adam proceeded to define CEORLISH for me based on the word's stem in old english. Maddy Kamen (Covina, CA) had come up to me to tell me about her game and she swooned, "You mean, he actually knows what all this stuff means, too?!" We all giggled. Yes, he does, but I was so busy paying attention to Adam, I didn't write it down. So, go Google :).
Maddy Kamen (Covina, CA) played Matthew Ridout (Lexington, KY) and her last rack was AACEORU. Her opponent had just played SALVO to the triple, so she had the S to point her missile at, but no missile was forthcoming. And then it hit her! ARACEOUS for an 89-point out bingo. I thought the story would have been made perfect by this winning her the game, but no, she was way ahead anyway, so this just gave her even more spread!
Dave Wiegand (Portland, OR) has been quieter this NSC than I am used to seeing. Well, that is all over now. He's found his mojo, I'm convinced. He defeated John OLaughlin (San Francisco, CA) at table 2. I see KAPUTT, UNLOADS, CORRALS, GUDGEoNS (by Dave), and OVERMINED. As i write this down, John (who isn't exactly super excited to have lost) points out the wonder of it all. VERMINED# was played and Dave front-hooked it. Okay.... wow! I'm impressed! :)
Out of nowhere with a bullet ("I have picked well today," she confesses), Becky Dyer (Austin, TX) defeated Chris Lipe (Rome, NY) at table 3 in the Collins group. She tells me that Chris played ARCANiST which drew a challenge from her. She played JOTTIER, SCALADE, and UnFIXED. Chris got down UNROLLS and YSAME#. To prove she earned her 470-409 win, she played her own STANGE (to us in North America anyway) NABKS#.
THRENES# was ruled acceptable when Philip Nelkon (United Kingdom) and Geoffrey Newman (Brampton ON) typed it into the lookup machine.
Geoff Thevenot (Austin, TX) defeated Austin Shin (United Kingdom), 399-339. I saw Austin's INOSITE. Geoff played ALFAQUi around FA for a 72-point double-double and on his next turn got down DOGATeS/ALFAQUiS! Not too bad!
Mack Meller (Bedford, NY) defeated Jason Li (Dollard-Des-Ormeaux QC). 455-407. I see Jason's CONeLRAD, INGRAINS,and the nonbingo INVITAL. Mack played WItHERER, ETESIAN, and GASTRIN.
It was a good and close game, for sure, but it was a win for Rahn McKeown (Cary, NC), 456-401. George Asaka (Omaha, NE) played MAESTrI and DEBATER and Rahn played TRIPLING as a nonbingo triple-triple through separated P and second I (with a blank L) for 90, PERUSING, and RACINESS. George zoomed back and played BELOW creating ODE/EL/BO/AW for 64 points, negating one of Rahn's bingo spreads.