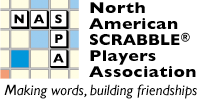 Go to: Early Bird Commentary Games Players Photos Standings Prizes
... tsh Reports ( A B C D CSW Youth )
... Scoreboard ( A B C D CSW Youth )
Back to NSC 2014 Live Coverage
NSC 2014 Commentary: Round 8
[ ]
Go to: Before the Tournament, Round 1, Round 2, Round 3, Round 4, Round 5, Round 6, Round 7, Round 8, Round 9, Round 10, Round 11, Round 12, Round 13, Round 14, Round 15, Round 16, Round 17, Round 18, Round 19, Round 20, Round 21, Round 22, Round 23, Round 24, Round 26, Round 27, Round 28, Round 29, Round 30, Round 31, After the Tournament.
---
Round 8
In "The Region" section of today's Buffalo News, there is a front page story about the NSC that spills over to an interior page. It features a cover photo of Nigel Richards (Malaysia) playing Noah Walton (Portland, OR), Thomas Reinke (Middleton, WI) vs. Matthew Tunnicliffe (Ottawa ON), and Michael Early (Fort Worth, TX) vs. Jeremy Hall (New York, NY). Inside there is a photo of Mack Meller (Bedford, NY) and a large group shot that contains most of the division 1 players. I think you can find it online easily.
Last night's Trivia contest, run by John Robertson, had 73 contestants broken into 11 teams. All I know right now is the team including Andy Saunders (Guelph ON) was in the lead until the last question, which they missed, so they came in third. And, the team containing Linda Wancel (Flushing, NY) won all the marbles. I clearly need more details!
Pete Zeigler, in his first stint as an NSC annotator, is enjoying the job. He's getting the feel for those who are used to annotation and those wish it wasn't happening. He can work with either type of player easily. He admits that he's learned a new word or two that he's never seen before!
Steven Gonzales (Boston, MA), at his first NSC, is 3-4 going into this morning's games. His favorite play so far is LATINAS. He admits he wasn't sure it was good! JOKED for an 81-point nonbingo has been a highlight, too.
Michael Early (Fort Worth, TX) excitedly confides that he got to play and defeat Nigel Richards (Malaysia) yesterday. This despite playing through two WU racks. In one turn he got down WUD and then picked the Q late in the game and still managed to eke out the win.
Mike Baron (Corrales, NM) recounted a humorous story about his grandmother in 1968 and the ever dry Robert Kahn (Plantation, FL) said, "Mike, that sounds like it falls between Annie Hall and the "pony" episode of "Seinfeld." So fast, so funny, so apt! Robert is a hoot!
Richard Spence (Tucson, AZ) won all three games yesterday afternoon, so he is still flying high this morning.
During morning announcements, we were told that Karen Richards (Australia) will talk about the World Youth SCRABBLE Championships in a meeting room downstairs, trying to drum up interest. A "ringer" she is going to have speak is Bradley Robbins (Windham, NH) who took part in a past World Youth event.
I decide to wander over toward Karen's game. She is playing Stefan Rau (Hudson, NY). I see SUNBELTS (blank L), ACERATE, RELIERs. She tried HALIRUS* and he challenged it off. He went on to win that matchup.
At the next game, Walker Willingham (Bainbridge Island, WA) points at a word on his board: POTBELLy, played through the T and then points at his opponent, Leslie Charles (Trinidad and Tobago). I see AGISTOR# on their board, too.
Jacob Bergmann (Lexington, MA) vs. Henry De Young (St. Marys ON): FISHPoND, VEINULE, and HEGARIS.
Mark Kenas (Madison, WI) vs. Steve Polatnick (Miami, FL): GOWLANDS#, QUINARY, AWEARIED#, and INPOURs.
Kevin Bowerman (Chapel Hill, NC), one half of the 2013 School SCRABBLE Championship team, currently in first place in division 2, played Robb Griffith (Cary, NC) this round. I see Rob's RENTING and PRORATA*. Kevin played RAVENED, OUTLIEs, and he tried SEEPErS*, but Robb challenged it off. On his next turn, he put down SEEPAGES, but then didn't like the S placement and rearranged to play ESCAPEES for 72 instead It was a 552-362 win for Kevin.
Table 2 in division 2 had a Rahn McKeown (Cary, NC) vs. Gunther Jacobi (Portland, OR) game. I saw Gunther's RINSIBLE and TUNICAE. Rahn got down NORITEs and gALLATE in the endgame (but, he said, "too little, too late."). His first play of the game was GRAPNEL through the A, keeping a C. A nice way to move tiles, for sure. Gunter's win, 463-427.
Geoff Thevenot (Austin, TX), resembling Flat Stanley a bit, comes to get me. Seems a steamrolling happened at his game. John OLaughlin (San Francisco, CA) had five bingos in his first five turns, one of them a 9: TOWNIES, WINDSUrF, FIGURING, MALLEATED (through the TE, of course), and KISTVAeN#. Then, he rested. Holy holy! Geoff managed two bingos of his own: METERAGE and SORBITIC#. A 597-336 win for the recent CA transplant (we in MA miss him!). I thanked Geoff for getting me!
Adam Logan (Ottawa ON) and Brian Bowman (Villa Hills, KY) had a fun age at table 1 in the Collins group. Adam played LIPOSOMES, ANTILOG, and the nonbingo UNITIVE. Brian played ARBiTER, TAIVERS#, and the late-game bingo ETiOLIN#. I see DEGU# and PUHA#. Adam explains how he is still undefeated, but not playing perfectly and giving away spread. In the endgame, he had to lanes to block. He opted to block then open L by play the AZ of AZAN and a bunch of parallel plays. What he should have blocked was the line where Brian's last bingo went down. It is mistakes like this, he explains, that makes the difference between winning and losing. Taking him seriously, I look at the standings. He is undefeated and in first place, 8-0 +791, but John OLaughlin (San Francisco, CA), in second place, is 7-1 +829. So, just one loss by Adam and he would slip to second place (provided John won). Stuff to think about, always....
Midway through the games this round, Joey Krafchick showed up. He must have overslept a bit. The Collins director, Kieran O'Connor, has a bunch of teenage kids, so he is used to it. :)
Dan Lichtblau (Los Angeles, CA) put an end to the winning steak of Zachary Ansell (Los Angeles, CA) this round. This is a first NSC for them both and they play each other in Bruce D'Ambrosio's Los Angeles SCRABBLE club. Dan expects Zachary to win their next game, if they have one, because they are pretty evenly matched. Dan is from Buffalo and is happy to come back and see family and get to play gobs of SCRABBLE at the same time. The game picked up when I arrive, Dan bingoed out with COUPLInG through the L. Zach got down AERATION on a triple line.
Jamie Chew is very excited. He and his playing partner, Charles, got down a bingo this round! Jamie had found an ERS on their rack and Charles had found PLAN. They searched for an N for PLANNERS, but then Jamie had an idea. What if there were PLANERS, maybe folks who live or work on planes, right? So, they tried it and it was good! It played on the triple line for 83 points and they won their game by 60ish! Woo hop!
I seem to only have eyes for Karen Richards (Australia) this round. I notice her shirt: SCRABBLE the Next Generation with X Y Z tiles on it, very clever! Her next round opponent, Caroline Polak Scowcroft (Australia) gives me a clip on koala bear carrying an Australian flag, cute! I have it clipped to my name tag!
Shelly Ubeika, a twinkle in her eye, shows me a result slip where challenges have been written. Someone tried LOVENEST*!!! We are giggling and loving it. And, now we are singing a changed version of "Rock Lobster."