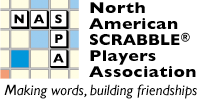 Go to: Early Bird Commentary Games Players Photos Standings Prizes
... tsh Reports ( A B C D CSW Youth )
... Scoreboard ( A B C D CSW Youth )
Back to NSC 2014 Live Coverage
NSC 2014 Commentary: Round 28
[ ]
Go to: Before the Tournament, Round 1, Round 2, Round 3, Round 4, Round 5, Round 6, Round 7, Round 8, Round 9, Round 10, Round 11, Round 12, Round 13, Round 14, Round 15, Round 16, Round 17, Round 18, Round 19, Round 20, Round 21, Round 22, Round 23, Round 24, Round 26, Round 27, Round 28, Round 29, Round 30, Round 31, After the Tournament.
---
Round 28
Peter Hopkins (Toronto ON) vs. Doug Critchlow (Columbus, OH). They have squared off already at this NSC and Doug won. This time it was Peter's turn, 424-345. I see EULOGIA, STOCKADE, THORNIEr, and REDDeST on their board.
Chloe Fatsis (Washington, DC) ends today 5-2 and she is 17-11 overall.
Robin Pollock Daniel (Toronto ON) takes me through her game with fellow Canadian, Max Panitch (Toronto ON) this round. Her game was situated in front of the Merriam-Webster and the editors there wandered over to hear the plays. Max played FLOATIER for 63 and she played OUTsTARE through the R for a 113-point triple-triple. He then played REDRIVES for 82 and then got down the double-double QUAdRIGA for a 118-point double-double. The next few big plays were hers: PEATIER for 78, ASHY on the triple which hooked to make REDRIVES, and SABOTAGE for 83 from an S on the triple lane. Max played FUZED to the triple for 54. It was 403-396, Max's lead at this point. She then got down SHIV on the triple, hooking to make SABOTAGES for 35. Then, demonstrating that he could back-hook, too, he played NEON, hooking to make QUAdRIGAE for 26. Suddenly Robin saw the X opening and slapped down OX for 52. Her win, 499-478. What a fantastic, high-scoring game!
Chris Schneider (Chicago, IL) brings me to his game with Wes Eddings (Quincy, MA). Wes' better plays: ATOMISER for 74, BOTaNIZE to the E for 104, AERY hooking to make BOTANIZER for 30, and CASTLED for 81. Chris' plays: ARRIVING for 74, TOOTLED for 78, ALANINE for 84, and OURARIS for 82. Wes was caught with a bingo on his rack (that couldn't go down): UNCAGED. Chris's win, 614-415. Nice combined scores!
Joel Sherman (Bronx, NY) was sitting over his game with Jeff Fiszbein (South Lyon, MI). I saw FLEURONS on the board and I tried to glean some more info from him, but he was in a snappy mood. The last tile in the bag was a blank and it wasn't supposed to be and if he knew it was there he might have played differently, but even if he did he may not have been able to win the game anyway. Ah, so he lost. I checked the paperwork, 383-378. A close loss. At the end of a tense day, that can make anyone a bit crazed!
Sandy Nang (Malibu, CA) brings me to her game with Karen Richards (Australia). Sandy played FILES, hanging the F into the triple lane. Karen replied with the pretty FILAZErS# for 137 (+5 for the challenge). Karen then emptied the bag: BEGHNY. We know these because Sandy then bingoed out with riVErMAN# from the blank R in Karen's play for 84. Adding in the 32 from Karen's rack, it was a 499-445 win for Sandy. Other bingos: Karen's ALATIONS and Sandy's CINEASTE and PRESTERS.
Jonathan Kent (Unknown city, NY) went 5-2 again today: I am sensing a theme! He had a 500-game this round where he played four bingos: GREENIE, OUTLINER, BODEGAS, and STAGIeR. His club director, Bob Krause (Maspeth, NY), like Jonathan is at his first NSC. They are finding the experience more intense than they expected, but they are glad they came. Bob compared the NSC experience to being "like work," where things are more serious. His club sessions are more relaxed.
Joe Edley (Port Jefferson, NY) vs. Jim Kramer (Roseville, MN). Board highlights: ORIGAMIS, ALEUROnE, sENDUPS, BATTLING, and QUOHOG (fun). Jim's win, 432-372.
Back over to Collins and to what may have been the best looking play I've seen yet at this NSC. In a game between Shan Abbasi (Mississauga ON) and David Whitley (Monrovia, CA), Shan played OZONATED through the E for 69 plus 5 for the challenge. David played SILTIER. Then Shan played ANOXEMIC through the M, creating ZA/ON/NO/AX/TE#/EM/DI# for 100 points. I can't quite express through words how tightly nestled it was and how long and many were the overlaps. Look for a photo in this round's photos. Shan also played GENTIER# and David got down the lovely AQuIFERS for 100. David's win, 460-430.
Orlet Bullock (Barbados) tells me about his game with Michal Josko (Rochester, NY). Three beautiful bingos: POtSHErD, AMOEBAN, and MORTARED, all Orlet's. Michal kept very good score in that game.
Matthew Rupert (State College, PA) tells me he is 14-14 with a spread of -14 in the year 2014. Sadly, he is player 13: it does not fit.
Mark Francillon (Marlboro, VT) was involved in one of the last games to finish this round with Marshall Resnick (West Orange, NJ). I see Mark's CrEDIBLY, which drew a challenge. Marshall got down RESITES. Mark confesses to trying CARMELED* and getting it challenged off. A 348-326 win for Marshall.
Ed Liebfried (Swanzey, NH) walked by us and sighed. He had just experienced deja vu all over again by having an opponent bingo out to create a tie game. Wow!