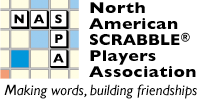 Go to: Early Bird Commentary Games Players Photos Standings Prizes
... tsh Reports ( A B C D CSW Youth )
... Scoreboard ( A B C D CSW Youth )
Back to NSC 2014 Live Coverage
NSC 2014 Commentary: After the Tournament
[ ]
Go to: Before the Tournament, Round 1, Round 2, Round 3, Round 4, Round 5, Round 6, Round 7, Round 8, Round 9, Round 10, Round 11, Round 12, Round 13, Round 14, Round 15, Round 16, Round 17, Round 18, Round 19, Round 20, Round 21, Round 22, Round 23, Round 24, Round 26, Round 27, Round 28, Round 29, Round 30, Round 31, After the Tournament.
---
Awards Ceremony
The awards ceremony was quick and fun. We held it downstairs in a smaller room so it was standing room only which led to a sense of togetherness. Winners were announced and called up to the stage to receive their prize and pose with Chris Cree (Dallas, TX) or John Morse from Merriam-Webster. The thing is, since we were so packed in, players often were in the middle of a row and they had to shimmy out to get to an aisle to run on down to the front to receive the prize. At times, it looked a bit like the Price is Right when constants are told to "come on down!"
Most stayed for the ceremony and all division winners received a standing ovation. Players were particularly excited for Chloe Fatsis (Washington, DC) who came in second in division 4. Her proud daddy walked her up and Art Moore, div 4 leader, took that moment to thank Stefan Fatsis (Washington, DC) for all he'd done for SCRABBLE.
Please check out Patty Hocker's great photos in the photo section and also please check out the prize link at the top of this page to see ALL the prize winners.
One note about Conrad Bassett-Bouchard (Piedmont, CA). After he posed with the giant check and we pelted him with thunderous applause, he took to the mic. He first thanked his dad for supporting him in anything he did including helping him run his first tournament. He thanked Jesse Matthews (Kelowna BC) and Noah Walton (Portland, OR) for being close friends and support systems. He said outright that his friendship with Noah made him a better player. He told us that he loved us all and we were part of the reason he played. There were several awwwwwws during his brief talk and I wasn't the only one who got a bit misty to see how much he cares for the game and the people that make it so great. He also thanked NASPA and the committee.
We will see you all in Reno next year!
(round 25 will be posted tomorrow! sorry for delay!)