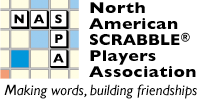 Go to: Early Bird Commentary Games Players Photos Standings Prizes
... tsh Reports ( A B C D CSW Youth )
... Scoreboard ( A B C D CSW Youth )
Back to NSC 2014 Live Coverage
NSC 2014 Commentary: Round 13
[ ]
Go to: Before the Tournament, Round 1, Round 2, Round 3, Round 4, Round 5, Round 6, Round 7, Round 8, Round 9, Round 10, Round 11, Round 12, Round 13, Round 14, Round 15, Round 16, Round 17, Round 18, Round 19, Round 20, Round 21, Round 22, Round 23, Round 24, Round 26, Round 27, Round 28, Round 29, Round 30, Round 31, After the Tournament.
---
Round 13
The Buffalo-area players all got together and ordered dark purple shirts with bright pink buffalos on them to celebrate their regional superiority. Or maybe, to celebrate that they know where the good restaurants are! Anyway, many of them are modeled today on players. Jerry Scheiten (Buffalo, NY) walked by me and was reminded that it is a striking and fine looking shirt!
Rahn McKeown (Cary, NC) played around with Daniel Blake (Guilderland, NY) this round, winning his fifth game in a row, 468-346. Daniel did play the beautiful DOnATIONS through TI, but Rahn got down refiling, ANCIENTS, ad KERATIN.
Conrad Bassett-Bouchard (Piedmont, CA) vs. Jerry Lerman (Foster City, CA) is wrapping up. Joe Edley (Port Jefferson, NY) wanders over to check out things. I see sTOOLED, EROSIVE, UNITIVE, FACToRS, and EUROKIES (Conrad got that one down!). A 424-351 win for CBB. Mack Meller (Bedford, NY) comes up, too, fresh off his win against Ben Schoenbrun (Ardsley, NY) ("I got everything.") and started to compare notes with Conrad. They are both 10-3 now. Conrad seemed oblivious to his record as he is concentrating on each game as it comes up.
Doug Critchlow (Columbus, OH) vs. Charles Dupont (Seattle, WA): INERTIA, HITCheD, and ACINOSE is on their in-progress board. I peek later and see SHIRAZ added.
Dan Lichtblau (Los Angeles, CA) is playing Lucille Thornton (Pennsauken, NJ) this round. A glance at the scoresheets has the tile gods heavily favoring Dan this round. He's played VANTAGES, HAIRNEt, and SUNDeRS.
Randy Morrison (Richmond, VA) vs. Martyna Domurad (Brampton ON). I see GENoCIDE, STAINED, and MATtERS. He leans over to me and whispers, "If they are good, they are hers." She ended up with that win, 455-320.
The battle of the A's at Collin's table 1:Adam Logan (Ottawa ON) vs. Austin Shin (United Kingdom). The accent was not enough to do Adam in and he won, 435-419. I see Austin's ANISEEDS through the S, SWIPeRs, and the fun TOZED# for 60. Adam played IODATING, VIBRATES, and ALIENES.
Last round today just commencing. Phew!