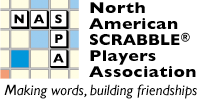 Go to: Early Bird Commentary Games Players Photos Standings Prizes
... tsh Reports ( A B C D CSW Youth )
... Scoreboard ( A B C D CSW Youth )
Back to NSC 2014 Live Coverage
NSC 2014 Commentary: Round 21
[ ]
Go to: Before the Tournament, Round 1, Round 2, Round 3, Round 4, Round 5, Round 6, Round 7, Round 8, Round 9, Round 10, Round 11, Round 12, Round 13, Round 14, Round 15, Round 16, Round 17, Round 18, Round 19, Round 20, Round 21, Round 22, Round 23, Round 24, Round 26, Round 27, Round 28, Round 29, Round 30, Round 31, After the Tournament.
---
Round 21
In-progress John OLaughlin (San Francisco, CA) vs. Adam Logan (Ottawa ON): KEEPINGS, ?UTTIES, DENTALIA (blank L), EXACTED, And OMRAH#. I learn later that this was Adam's second loss of the tournament, 415-433.
At table 2 in Collins, two other superstars faced off: Dave Wiegand (Portland, OR) vs. Joel Wapnick (Montreal QC). I see RAISONNE, POLYURIA, INTERNEE, and MORTArED. I come back and they are gone, but a flutter of paper says that Dave won, 494-377.
Puneet Sharma (Cambridge, MA) vs. Winter Zxqkj (Houston, TX). TONEARM and fACADES were Puneet's. SORBITE# and SHAULEd were Winter's. He won, 461-366.
AMNESTIC, VANLOADS, BETTORS, and FLEeRING are on the in-progress game of Becky Dyer (Austin, TX) and Austin Shin (United Kingdom). As I watch, he plays OSIEREd for 77. Austin won, 466-392.
Rahn McKeown (Cary, NC) lucked into another kind opponent, Doug Szymkowiak (North Ridgeville, OH). FORSAKEN and NEROLIS were Doug's and Rahn got down MARITAL. However, the game hinged on one crucial thing: a silly, game-changing transposition. Jokingly admitting he was too excited, Doug slapped down the 149-point, triple-triple INCOLSER*. We all collectively groan for the intended word. Rahn blocked and took the win.
A strange, right top, cramped board is under way for Jerry Lerman (Foster City, CA) vs. Jesse Day (Berkeley, CA) at board 2. I find out later that Jerry played QUIETEN to TEN already on the board. That cramped it a lot, but they eventually got out and I see SCALPInG, COOLISH, and CoDDERS. It ends up being a low-scoring win for Jesse, 353-349. He showed me his scorecard and all his games were lower today. He estimated yesterday's average to be 470 and today's to be in the 300s.
A bit on Jim Kramer (Roseville, MN) vs. Mack Meller (Bedford, NY). ALARUM and AIRGLOW were two fun plays. Mack played TIDIERs/AIRGLOWs. I also see RESONATES and FLOATING. After the game was over, I heard someone ask Mack if he wanted to play frisbee: he did!
SIDEMAN, SINOPIE, NUNCLES, and TURACO were on the board. Joe Edley (Port Jefferson, NY) defeated Kolton Koehler (Portland, OR), 438-375. When I asked him how it went he said, "I could do nothing wrong today." Indeed, he was 7-0. He approached Jesse's board and said, "Looks like it is NY vs. CA tomorrow: Joel Sherman (Bronx, NY) in 1st, me in 4th for NY and Conrad Bassett-Bouchard (Piedmont, CA) and you in 2nd and 3rd for CA.
Megan McMahon (Worcester, MA) had her crack at Doug Critchlow (Columbus, OH) at division 4's top board. I see his sTALLED and hear that he blocked her outbingo SCARRED. His win, 394-325.
Board 1 in division 3, Justin Bailey (New York, NY) vs. Mark Francillon (Marlboro, VT). DoTTING, REGAINED, RECODES, and KLIsTER are on the board. Mark won, 475-252.
Iliana Filby (Windsor, VT) had a great game with Rick Settle (Stephens City, VA). Between them there were 6 bingos! Rick played EERIEST and SPINATE. Iliana, pants on fire, played CRAFTED, RECOINS, InFERRED, and LATINAS. Her win, 499-322. Quite a high upon which to end the day!
Jonathan Kent (Unknown city, NY) delivered his end-of-the-day visit while I was roaming the floor this round since I was out there for a long time. He had another 5-2 day and is now 14-7. A favorite play today came after his opponent opened with BLAcKED and he replied with DEXTROUs from the D for 112. He won his last matchup today in a close endgame.
I catch the very end of Hannah Lieberman (Charlotte, NC) vs. Jason Eyolfson (Regina SK). She played RINGLeT and RESTRAIN. He got down ENOBLES and AUXiTE to the triple for mega points. His win, 368-365.
Aldo Cardia (New York, NY) finds me in the middle of division GIANT (oops, I mean 3--it is soooooo enormous!) and asks me to come see his wife's board. Jan Cardia (Hockessin, DE) has just played two 9-letter words in the same game: QUETZALES to the ES for 134 (it was on the triple lane) and VIGILAnTE through a separated I (first I) and E. She also got down RENNEtS. Her opponent, Morris Greenberg (Brookline, MA), played TREATERS and SINTERED. Jan's win, 572-306. She won 6 out of 7 today and is now 11-10: she is thrilled. Two things. 1. Morris went 1-6 today and you could not tell. He was sweet, polite, nice, and a terrific sport. 2. What a mensch that Aldo is, eh?
I catch Michael Early (Fort Worth, TX) on his way out of the playing room. He is wearing the red MW ball cap that Merriam-Webster gave us at another NSC (they are great, I still have mine, too!) and his 2008 World Players Championship T-shirt. I ask about his day. And he thinks a bit and tells me about two 9s:RESONATED to the ED and INCURRENT through the EN. He is 9-12 and pleased with his games.
Adam Logan (Ottawa ON) is 3 games up in Collins, Doug Critchlow (Columbus, OH) is 2 games up in div 4, Don Drumm (Clinton, NY) is 1 game up in div 3, Rahn McKeown (Cary, NC) is 3 games up on div 2, and Joel Sherman (Bronx, NY) & Conrad Bassett-Bouchard (Piedmont, CA) are one game up in div 1. This is say, all divisions are up for grabs. We start tomorrow with the chance to change the leaders in every division!