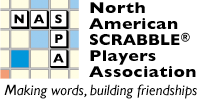 Go to: Early Bird Commentary Games Players Photos Standings Prizes
... tsh Reports ( A B C D CSW Youth )
... Scoreboard ( A B C D CSW Youth )
Back to NSC 2014 Live Coverage
NSC 2014 Commentary: Round 6
[ ]
Go to: Before the Tournament, Round 1, Round 2, Round 3, Round 4, Round 5, Round 6, Round 7, Round 8, Round 9, Round 10, Round 11, Round 12, Round 13, Round 14, Round 15, Round 16, Round 17, Round 18, Round 19, Round 20, Round 21, Round 22, Round 23, Round 24, Round 26, Round 27, Round 28, Round 29, Round 30, Round 31, After the Tournament.
---
Round 6
Kate has gone off for a 20-minute nap, so we'll have to do with me for now.
The TWL 2014 sales office has opened to sales for all attendees now, not just the ones who preordered. So, if you know someone here or if you are here and want the new TWL, feel free to get one from Kristen Chew and Alice Ching Chew in the first floor the convention center, just below our playing room. Get it now when it is postage free! Twenty each of a box of 10 for $180.
Aaron Finkel (Fairview, NC) is walking on a cloud. Playing Bob Krause (Maspeth, NY) this round, he watched Bob work with a two-blank bingo. At first, Bob put SUB?R?S on board, then switched the tiles around to make SU??RBS, and wrote down that blank 1 was U and blank 2 was B, making SUubRBS. Aaron held and accepted the play because it hung the S into the triple lane and he could reply with YEASTIER through that S for a 158-point triple-triple! Needless to say, this helped earn Aaron the win and reminds us all to look before we leap and challenge. Sometimes a bad word is actually good!
Jeff Fiszbein (South Lyon, MI) has the look of a kicked dog as he comes to get me. It wasn't his win he says, but he has to let me know about his opponent's great game. I get to the board and a smiling Paul Epstein (Ann Arbor, MI) is finishing the endgame paperwork. Jeff points out the games 7 bingos: six by Paul. HONOReR, MISDEAL, TRIENNIAL, TETANISE, PARRELs, and ELEGIST for Paul (wow!) and LIMNERS for Jeff. 601-346 for Paul.
A crowd is forming a distance from board 2 in division 1. Mack Meller (Bedford, NY) is squaring off against Darrell Day (Richardson, TX). I see Darrell's DURNDEST for 70 and Mack's BOOSTERS for 62 and CITOLAS for 76. In the very endgame, each has a blank on his rack (they got them quite late). Darrell is down on time and I don't want to add to the game stress so I walk off. I learn later that Mack won, 385-365, and he remains undefeated. He is in second place behind Nigel Peltier (Portland, OR). Both are 6-0, but Nigel has about 212 points in spread on Mack.
Evan Berofsky (Oxford, MI) walks up and deadpans, "You know, it is tough to win a game when your opponent gets 4 bingos in the first 5 turns. It is even worse when that opponent is Adam Logan (Ottawa ON)." I snicker and walk over to see the game. All picked up, of course. Adam writes down said bingos for me: BEANIES, STROAMED#, OVATORS#, and INSETTER. Enough said.
At the nearby table 1 in Collins, John OLaughlin (San Francisco, CA) defeats Chris Lipe (Rome, NY). I see John's REMIGiAL, ANTiCKE, and MoRENDO. This means John and Adam are the only undefeateds at 6-0 with John up 70 points in spread.
Shan Abbasi (Mississauga ON) is happy. He just won a game, making him 3-3, by extending ABS to ABSTAINER for 36 points. Style galore!
Jackson Smylie (Toronto ON) is now 4-2 and grinning ear to ear (well, for a quiet, shy kid, but I can see the grin under there!). He just won a game he was not seeing as a possibility. He was down by 3 bingos against Jim Kramer (Roseville, MN) when he "lucked" into ZILL for 69 (I asked him to spell it. He said, "ZED, I, L, L." He saw me hesitating as I did the Americun conversion thing and he sweetly said, "I mean, ZEE, I, L, L." What a kid.). Then he got down FRETSAW for 92 and TOESHOE for 87. Jackson won by a mere 5 points!