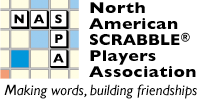 Go to: Early Bird Commentary Games Players Photos Standings Prizes
... tsh Reports ( A B C D CSW Youth )
... Scoreboard ( A B C D CSW Youth )
Back to NSC 2014 Live Coverage
NSC 2014 Commentary: Round 18
[ ]
Go to: Before the Tournament, Round 1, Round 2, Round 3, Round 4, Round 5, Round 6, Round 7, Round 8, Round 9, Round 10, Round 11, Round 12, Round 13, Round 14, Round 15, Round 16, Round 17, Round 18, Round 19, Round 20, Round 21, Round 22, Round 23, Round 24, Round 26, Round 27, Round 28, Round 29, Round 30, Round 31, After the Tournament.
---
Round 18
Adam Logan (Ottawa ON) played Matthew Bernardina (Durham, NC) at table 1 in Collins this round. I see Matthew's TARSIER and POLYGONS and Adam's kELPIES, HOTELING, ADORNED, and sIRRING#. Adam won, 488-408.
On an in-progress Mark Kenas (Madison, WI) vs. Marty Gabriel (Charleston, IL) board I saw LYRATED and GUESTEN#.
Laura Wolfson (Scarsdale, NY) is so very excited. She played her first bingo-bango-bongo this round and then two other bingos, too! Her eyes sparkled as she spoke about the bingos just falling onto the board in her game with Emily Brodeur (Nashville, TN). First was RETAKES, then later the BBB of RETARGET (drew a challenge), NOODLES, DEFEAT, and then later IMPOSTeR. Emily played CHEFDOm (which Laura challenged). A 487-358 win for Laura.
Before he goes to lunch, a smiling Gabriel Gauthier-Shalom (Montreal QC) is chatting with Matthew O'Connor (DeWitt, NY). Gabriel is doing okay at 10-8 and Matthew is fine with his 11-7. "Sherrie, do you know the front hook for EERIE? I just learned it," Gabriel asks, a twinkle in his eye. He KNOWS I do not know! He suggests I start writing and make sure I have space. Pen poised, I write WHIGMAL. I wonder if he is telling me about some sort of anamonic or something. So, he walks me over to the Zyzzyva-equipped laptop and types in WHIGMALEERIE. It is acceptable. We all gasp! Someone asks him if he actually played it and he admits he didn't.
Robin Pollock Daniel (Toronto ON) played Ben Schoenbrun (Ardsley, NY) this round. They both passed small on their first turns and then Robin opened PETRALE for 74. Ben replied with TENSING/PETRALES for a 92-point double-double. Robin's next plays were AGITaTOR from the A for 74, FEIJOa to the A for 30, and YAHrZEIT to the T for 76. Ben replied with BANZAI for 44 and CHAY for 44. She got down KEX for 47 and then GROOVY for 42 on the triple. HE replied with MELD for 41 on another triple. Then she played WITS/YAHrZEITS for 44. Ben, not giving up, then plays the bingo-bango of FROWNERS for 65 and PERUSALS for 74. In the end, she won, 502-410, but it was a serious battle. Robin is 4-0 so far today!
Joel Sherman (Bronx, NY), of the "I beat Nigel Richards" shirt fame, actually played him this round. I see FEDERATED, LOOKING, INsTEAD, oSSEOUS, and BERRYING on the board. A 451-396 win for Joel! He is 4-0 so far today.
Mack Meller (Bedford, NY) played Matt Graham (New York, NY) at table 4 in the top division. I walk by a couple of times and see plays on the board: Matt's MiNUTIAL for 80 and Mack's ARENOUS for 56, EpIGEOUS for 61, and ApPOSITE for 91. SCAVENGED was a play that was made in pieces. I walk up and Mack is wondering aloud if his play of MOPER was okay or not. Matt, busy packing up into his small case of goodies said, "Of course MOPER is good. What do you think I am doing now?" That is when I noticed the score, 582-366, Matt's win.
A close game between Scott Appel (Elkins Park, PA) and Cesar Del Solar (Albany, CA). I see Cesar's LACIEST and Scott's SANTERA and ODOnAtE for 71. The air was charged around their board and there was a sense "down to wire" going on, so I skirted and came back a bit later. What I was sensing was the incredible drawing skills of Cesar. His last 9 tiles were MBLWWRJRA and he was having a devil of a time playing them off. Scott got the win by the hair of his chinny-chin-chin, 355-346.
Kolton Koehler (Portland, OR), of the young bucks, played Jerry Lerman (Foster City, CA), of the wise sages at a top division 1 table this round. A lot of concentrating was going on. I spotted ELUSION, EXEDRA (not a bingo, but fun!), CHICEsT, and GEARBOx. Their buddies wanted them to head to lunch, so I didn't get much juice, but the wise sage won this one, 412-366.
At division 1's table 2, Nigel Richards (Malaysia) was setting up his picnic for one. A loaf of white sandwich bread came out of his bag first and then a package of honey ham. I asked if he made it stretch out for two meals, but he said he thought it was a single serving and looked on the back of the package for edification before sticking it into his sandwich. He said, "You aren't writing about my lunch, are you?" He had an image of a took-took on his T-shirt. He mentioned that he put two racks out at table 1 when the event started, but now only one of his racks remained. I suggested he check the lost & found but accept that someone may have stolen it, wanting to own a bit of him. :) A bit later, I see someone in a loose SCRABBLE-themed shirt sit down opposite Nigel. There is something about the shirt, loose and soft, and as I get closer I see that it is indeed pajamas! Jen Cranberry Thomsen (Upper darby, PA) is chatting with Nigel in her pajama top. She explained that it gets cold in the room and she packed no coat, it being August and all, and the pajamas keep her warm! Brilliant and styling all at once.
Dan Lichtblau (Los Angeles, CA) and Doug Critchlow (Columbus, OH) squared off again this round. Whereas last time Dan won, this time it was Doug's turn, 378-318. I arrive just as their game winds up and Doug points to the blank in the word he sees me writing into my pad: FAR?ING. He says, "It is a T." Suddenly we are in the fourth grade and laughing. That was Dan's contribution. Doug played BEATNIKS and READIEST.
Lois Lockhart (Newark, NJ) had a tough loss this morning. She was up by 1 then lost in the recount. She looks for the good in things and points out that she is 3-1 this morning, having just defeated Steven Gonzales (Boston, MA).
Self-effacing Marc Goldstein (Brighton, MA) confesses that he played three phonies this round, two of which were challenged off. Not everyone confesses to the underbelly of SCRABBLE (the stuff we do SOOOO wrong every so often), so I bend toward him, interested. He first tried LEPROSY and I asked if he spelled it wrong, perhaps. He said, "Oh no, THAT part was fine, it was my hook. I tried BIOL*." I tried to keep a straight face, but we both ended up laughing. "Then," he said, "I tried PLOYING* and she challenged it off, too." His opponent was Petronella Read (Cambridge ON). Later in the game, he did get away with LAGUNAE*. I suggested that maybe Petronella was weary from going to the challenge machine. Anyway, somehow, he managed to pull a win out anyway, 443-330.
Before he heads out the door for lunch, Chris Lipe (Rome, NY) reports that he went 2-2 this morning, is now 11-7, and all is well in the world.
Mark Kenas (Madison, WI) brings me to a board that has been sitting up the entire lunch break (we are about 15 mins from starting the afternoon session). It was his game with Marty Gabriel (Charleston, IL). Mark starts talking about the game toward the end. His rack was AIRGAPA and he needed to turnover tiles to get a chance at the the ?S in the bag, so he played AIRGAP# one lane above the triple line. He knew he was going to get a 50 or so point reply from Marty, but he got a 60-point reply of IMAGES/CODAS. So, Mark drew AIOONRR instead of the other stuff he wanted. Making lemonade, he played the bingo ORARION# knowing the J was out and Marty might hit him on another triple line. Marty does. He slams down RIOJa for 79, making a bunch of parallel plays. Then Mark finally hit with the tiles he wanted and he bingoed out with LiSSOME, hooking to make WHELPS, for 97 on another triple lane. Or, as Alan Stern (Shadow Hills, CA) likes, he had a walk-off bingo. Mark's win, 511-410.
In his game with Lisa Odom (St Louis Park, MN), Joel Horn (Reading, MA) had his first opening play bingo of the tournament: PICANTE. Lisa replied with INTERNAL. Joel spent the rest of the game hoping for the right letters to make a dream come true. At one point he had IZINEAD with a G and ? unseen. He played off a vowel, going for it, but he never got that perfect tile and INTERNALIZING did not go down.